Student-Run Career Ready Closet Featured on NBC CT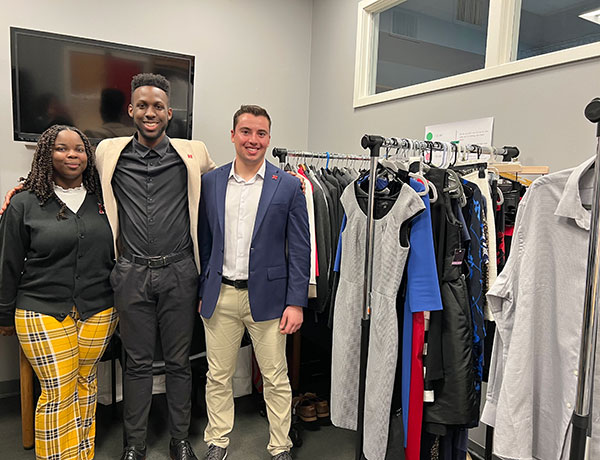 The old saying advises to "dress for the job you want." When you're a college student, that can be easier said than done.
Until now: Barney School of Business students have opened the Career Ready Closet, offering fellow University of Hartford students the chance to rent professional attire for free. It's all available for interviews, networking events, trips to businesses and big corporations, award ceremonies, and any other days requiring an elevated ensemble. NBC recently featured the Career Ready Closet in a news segment.
Students from all majors and schools and colleges can frequent the closet, which is run by the Barney Leadership Council.
"You want to make a good first impression and dress to impress," says Samuel Coates, a student in Barney's 3+1 program who is currently earning his MBA, and serving as the BLC's vice president. "You can go to an event and stand out, and have conversations that can lead to new opportunities."
The closet opened this fall in Barney with ties, dress shoes, high heels, dresses, blazers, button-down shirts, sweaters, and even a pair of irons and ironing boards, all donated by fellow students, faculty, and staff. Students appreciate the closet's presence on campus because not everyone can afford a work wardrobe, some don't have transportation to get to a store, and last-minute opportunities can surface at any time, says Alec Capasso, BLC's president who is about to complete his undergraduate degree in the 3+1 program at Barney.
Each item can be "rented" at no cost for 14 days, and some can be purchased for between $3-$8. Money collected from purchases will be used to dry clean certain items, or to purchase other needed clothing for the closet. 
Barney ambassadors assist with closet operations by tracking inventory, completing the check-out process for student customers, and sorting and tagging donations—and are getting real-world, hands-on experience of running a business.
The closet currently offers more than 200 clothing items, with plans to continue growing.
"It can be difficult for students to access clothes like these, and that can hinder their participation in networking events and other experiences on campus. We want to give students the opportunity to be as prepared as they can be," says Maliqa Mosley-Williams, also a 3+1 Barney student who is in her undergraduate senior year, and communications chair of the BLC. "It's going really well so far. I don't think we realized how popular it would be among students, but I love that it is."