Jewish Learning Fellowship is Back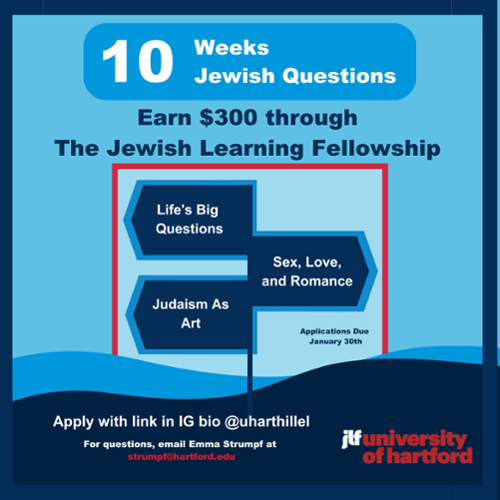 The Jewish Learning Fellowship is back for Spring 2023!
What is JLF?
The Jewish Learning Fellowship (JLF) is a 10-week experiential, conversational seminar for students looking to deepen their understanding of Judaism on their own terms. We're interested in asking big questions. You know, the big stuff — like: Who am I? What communities am I a part of? What is worth committing myself to, and why?

JLF adds two critical components to traditional study: (1) it builds a cohort of students within each class who befriend one another and support each other in their entrance into Jewish communal life, and (2) it teaches classical Jewish texts by drawing on the life experience and intuition of college students, conveying some of the building blocks of a vibrant Jewish life. We make no claims about the "right" way to practice or not to practice Judaism. Our job is to help you explore the tradition in a safe space and find your own place, on your terms, in Judaism's Great Conversation.
Today, JLF serves over 5,000 students annually, with a growing number of local Hillels and students who would like to participate each year. The program has become the largest Jewish educational provider on North American college campuses, and the only pluralistic one of its kind.