Barney Holds Spring 2023 Business Plan Competition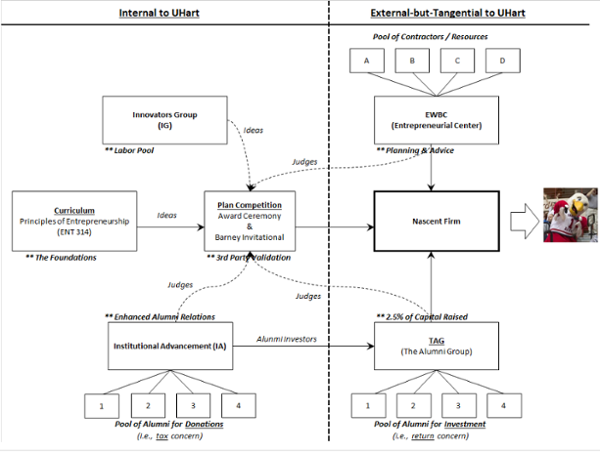 We are proud to announce the winners of the Spring 2023 Business Plan Competition alongside invitees to the inaugural Barney Invitational, which is an inclusive tier extending a high honor to select alumni and students that have immediately operationalizable ideas.
The Barney Invitational serves as a barometer of high quality, and our inaugural invitees were:
Monica Sadil '22 - Higher Education Industry
Edwin Almanzar '24 - Hospitality / Higher Education Industry
The winners for this Spring 2023 Business Plan Competition include:
Jacob Zappone
Economic Space: Residential Real Estate
College of Arts & Sciences (1st year)
Barney (Management)
Gabrielle Floyd
Economic Space: Retail
The Hartford Art School (Illustration)
Noah Gibson
Economic Space:  Footwear
Barney (Risk Management & Insurance)
David Katz   
Economic Space:  Telecommunications
Hartt School of Music (Music Theatre)
It was an absolute delight to see the diversity across the winners, with four different schools and colleges represented across the University of Hartford.   
College of Arts & Sciences
Barney School of Business
The Hartford Art School
The Hartt School of Music
College of Engineering, Technology, and Architecture (1st place in Fall '22 – graduate)
This type of cross-campus collaboration captures the very spirit of entrepreneurship, and I invite all students from across all schools and colleges to enroll in ENT 314. Take your hand at constructing your very own economic Frankenstein!
This competition would not be possible without the following supporters of the program, and so this is a special and heartfelt thanks to those who have believed and continue to do so:
The Finelli Family Fund
The Broomer Family Fund
The Pious Fund
The Entrepreneurial Center (EC) (Jim Lofink, Jeannette Dardenne, Lacey Banks)
The Alumni Group (TAG) 
Institutional Advancement (Alex Coury, Amanda Trothier, Roberto Fabian)
Barney Judges (Dr. Irina Naoumova, Dr. Rebecca Ranucci)
Dean Hisham Alnajjar and Dr. Takafumi Asaki at CETA for their gracious hospitality, allowing us to use the Makerspace and being an early support mechanism for us.  
Dean Carmen Cotei at Barney for judging and the generous awards. 
…and, a special, special thanks to ENT 314 Students!
Perhaps equally exciting is the newly configured entrepreneurial ecosystem!  The University of Hartford can now boast an end-to-end entrepreneurial process with the following capabilities offered to the student body: 
Experiential learning: an end-to-end entrepreneurial process
Strategy development and operationalization
Student-alumni relationships via the pitch and plan competitions
Access to advisors and a pool of resources via the Entrepreneurial Center and SPA grants
Access to various pools of investors
Students present at the Spring 2023 Business Plan Competition.