Hartt Alumna Named 2024 Sphinx Medals of Excellence Honoree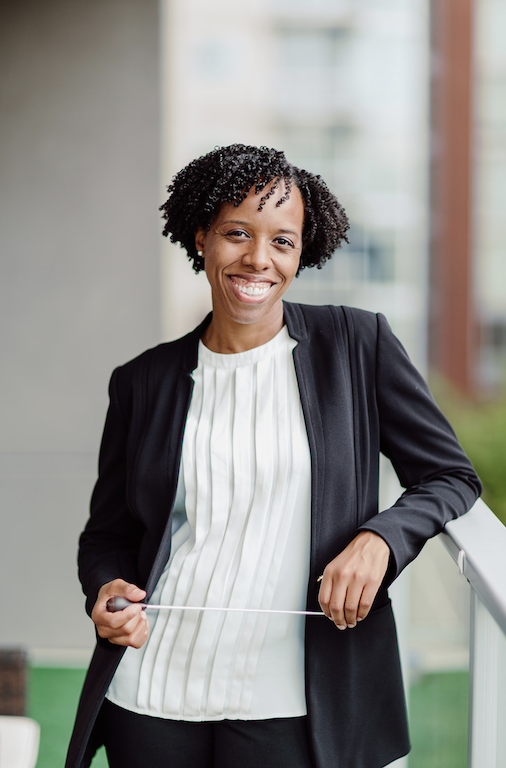 The Sphinx Organization, a social justice group dedicated to transforming lives through the power of diversity in the arts, has announced its prestigious 2024 Sphinx Medals of Excellence honorees. Among the outstanding individuals recognized is Hartt alumna Kalena Bovell MM '14, GPD '15, who is a Panamanian-American conductor, poet, and advocate.
Bovell's remarkable talent, passion, and commitment to breaking barriers have made her a deserving recipient of this esteemed honor.
Bovell's musical journey followed a unique path, which also informs her artistic philosophy.  Her relatively delayed entry to the classical world was that as follows: she started playing violin when she was 11 years old, yet due to the lack of musical resources meant that she didn't have her first private lesson until she was 18. Her love for classical music and pursueing this passion guided her toward the pursuit of a career in conducting. Bovell's talent was nurtured at The Hartt School, where she honed her skills and further developed her unique artistic vision. At Hartt, Bovell thrived under the guidance of her many professors and mentors. The school's rigorous training and exceptional education provided Bovell with a strong foundation for her successful career.
Hartt was Bovell's "dream school," as she says, and her experience there have shaped her remarkable career.
"Hartt allowed me the room to explore and discover the type of musician and conductor I wanted to be," she says.
Her professors, including Edward Cumming, supported her individuality and helped her transform weaknesses into strengths, and "made my strengths even stronger." At Hartt, Bovell "learned humility, grace, and developed a deep appreciation for music, composers, and fellow musicians." 
Bovell's musical achievements have extended beyond her education at Hartt. She has made notable appearances as a guest conductor with renowned orchestras, including the Cincinatti Symphony, the Oakland Symphony, and the Chicago Sinfonietta. Bovell has also conducted performances at prestigious venues such as the Kennedy Center and the Royal Albert Hall in London for the BBC Prom, and was the first black woman to conduct an opera in Canada. In addition to the 2024 Sphinx Medal of Excellence, she has been the recipient of prestigious awards such the Taki Concordia Conducting Fellowship. These honors highlight her exceptional talent and the impact she has made on the classical music landscape.
Bovell's journey from a talented Hartt alumna to a 2024 Sphinx Medal of Excellence honoree is a testament to her unwavering passion, dedication, and artistic brilliance. Through her music and advocacy, she continues to break barriers and inspire others in the classical music community. As the Sphinx Organization celebrates its honorees, Bovell stands as a shining example the bright future for classical music.