An Inside Look at the Hartford Art School
The Hartford Art School always has something new and exciting to offer its students, faculty, and alumni. Whether it's our annual Auerbach Lecture Series or our student exhibitions, we're dedicated to providing you with an array of opportunities to connect and engage via art. Check back frequently for updates!
Also be sure to visit our Galleries website for the latest exhibition information. 
Spring 2022 Exhibitions and Events
Senior Thesis Exhibition 3
Visual Communication Design: April 30 – May 10  
Joseloff Gallery
Reception: Saturday, April 30, 5-7 p.m. (Koopman Commons)
Ceramics: April 30 – May 10  
Silpe Gallery

Reception: Saturday, April 23, 5-7 p.m. (Koopman Commons)
NEWS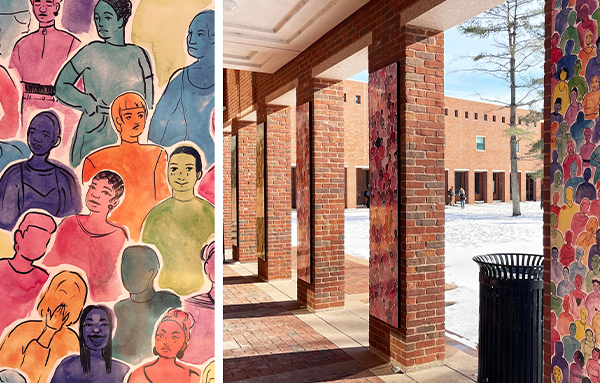 New Murals on Campus
Harry Jack Gray Center Mural
Nevaeh McKinney '23 and Lukas Struppe '21 led the creation of the mural installed on the pillars of the Harry Jack Gray Center. Their goal was to illustrate the different types of beautiful people here on this campus. Thanks to a generous donation aimed at improving diversity and inclusion on campus, they gathered a group of students and artists to realize this goal, creating a stunning visual to celebrate the diversity and individuality of humanity. The design was led by creative director, artist, and student Evelyn Mtika '22. 
Artist's Statement: 
This mural project was created with the intent to see and perceive everyone. It can be a challenge when you feel misrepresented or not represented at all, so the artists who took part in this project tried their best to represent their peers and people they see in their everyday life. There are tiny details within these pieces that add to the thought and intention behind even aspects which may seem insignificant, like the clothing, expression, and posture. All of this reinforces the idea of community and individuality. We are not all the same, but we can feel and empathize with each other. We should take time to appreciate the small differences between us! ~ Evelyn Mtika '22
Artists involved:
Red banner: Samuel Swap '22
Blue banner: Elli Koval '23
Yellow banner: Anna Blanco '23
Green banner: Magdalena Grabber '23 and Evelyn Mtika '22
Orange banner: Alexis Cook '22
Purple banner: Evelyn Mtika '22
Multicolored banner 1: Sam Miller '23
Multicolored banner 2: Evelyn Mtika '22
Additional student support and involvement: Dariana Rosario '23 and Georgia Rolle '21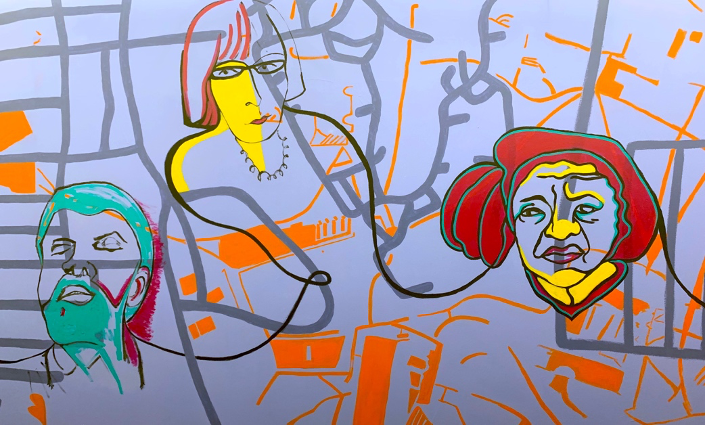 Hartford Art School Junior Painting Studio Mural 
On April 28, 2022 a new mural on the lower level of the Harrison Library was unveiled! The mural project depicts a diverse range of artists connected by a single line, and a design based on maps of the UHart campus. This mural seeks to honor the marginalized and/or underrecognized artists who made and continue to make significant contributions to the field of art. Professor Billie Lee and the Junior Studio II painting class invited the Hartford Art School community to take part in the process by nominating creative figures that have been underrepresented in the art world.
The artists represented include: Anna Atkins, Betye Saar, Dave the Potter, Cristy C. Road, John Pule, Judith Scott, Maria Montoya Martinez, Kiayani Douglass, Jerry Pinkney, Nikau Hindin, Suzanne Valadon, Martin Wong, Floyd Cooper, Emily Kame Kngwarreye, & Pavlov Makov.
The junior studio painters, Naiylee Atwood, Emily Desantis, MacKenzie Gaulin, James Hiatrides, Max Holsbeke, Olivia Mas, and Melissa Massicott collaborated to honor the artists in the mural, stating "this mural gives acknowledgement to the greatest artists that have influenced us as artists at the Hartford Art School."
Students recapped their favorite parts of the project: 
I really enjoyed painting the base layer and doing some research on some of the underrepresented artists.
My favorite part was learning more about these artists and appreciating their work.
My favorite part was painting on a scale larger than I ever have. I learned how to overcome the nerves and doubt that comes with painting on such a large surface as well as how to successfully organize and create a project in a group setting.
I liked working together as a class, and having a group project to look forward to.
John Chervinsky Emerging Photographer Scholarship Award Winner
Justin Michael Emmanuel MFA '21 is the winner of the John Chervinsky Emerging Photographer Scholarship Award for 2021. Learn more.


Drawings by professor, Martha W. Lewis are on view as part of The Quantum Revolution: Handcrafted in New Haven
Martha Lewis is a visual artist, curator, educator, and radio presenter who has exhibited nationally and internationally. Her current and recent work includes the COVID-19-pandemic project, "Quarantine Cine Gram," and "Plants & Insects," a collaboration with artist Marion Belanger on a permanent commission for the Jenkins-Waggoner Laboratory at the Connecticut Agricultural Experiment Station. She is resident curator at The Institute Library.

Lewis's work is in many public and private collections and has been exhibited at The Museum of Modern Art, Oxford, the Oxford University Botanical Gardens in the U.K., and in the U.S. at The DeCordova Museum, The Tides Institute and Museum. 

In addition to her studio practice, Lewis hosts two radio shows on WPKN. She has taught various studio art courses at Hartford Art School at the university of Hartford, the University of Hong Kong, The Art Students League in New York, Choate-Rosemary Hall, Columbia University, and through The College Seminar Program at Yale University. She holds an MFA from Yale University and a BFA from The Cooper Union for the Advancement of Science and Art. 
Learn more by visiting the New Haven Museum.
What's New?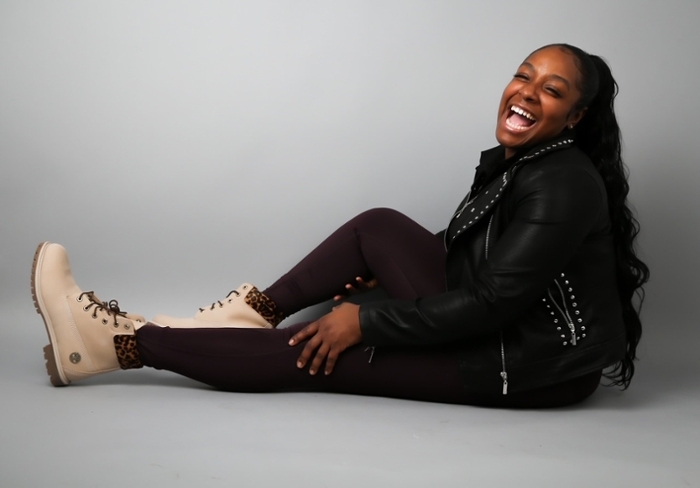 Rondasia Lamaria '13, '17 - Royally 
As a photography major at Hartford Art School, Rondasion created a project called the Sundays Best Collection, a series of photos of her family going to and from church. This collection of portraiture helped her realize that photographing people was her passion. She is now the founder and owner of Royal Lilac, Photo & Design Studio.
Terrel Grant
Photography, Fall '13
It wasn't until Terrel took an Art Appreciation class at his community college that he realized his passion for photography could be developed into a rewarding career. 
Terrel will be a panelist at the Hartford Art School's Alumni Forum on April 8, where he will discuss his internship experience. Before the event, you can read his full story online.
My professor at the time was a photographer and took interest in my work when he found out that I took photos. After seeing my work, he said I had an eye for it and that I should think about pursuing it further. With that, I switched majors.
Watch Now
A day in the life -
A quick peek into the daily adventures of our sculptors, painters, printmakers and more. Whether they're in the studio or in the gallery, our students are always striving to be, create, and showcase their best. 
Share Your News
If you are a University of Hartford student, faculty/staff member, or alumni and have news to share, we'd like to know!
Please submit it to UNotes here.
If you have an idea, a story suggestion, or need help, please contact our marketing team here.
If you are a journalist and would like more information about the University of Hartford, please contact a member of our media relations team here.