At the Hartford Art School, you will build the skills that will enable you to successfully enter the professional world. We offer nine studio majors leading to the Bachelor of Fine Arts (BFA), one Bachelor of Arts (BA) program in Art History, and two Master of Fine Arts (MFA) programs. Hartford Art School students have the best of both worlds. We educate the whole artist through rigorous studio-based disciplines that are an integral part of a thriving liberal arts university environment.  
Undergraduate Students
We have 310 full-time undergraduate students, 62 percent of whom live on campus.
15:1 Student-Teacher Ratio
With our small class sizes, you can count on lots of personal attention from the professional artists, designers, and historians who teach our classes in nine diverse studio areas and art history, leading to a retention rate of 85–90 percent, nearly double the national average.
65,000 Square Foot Facility
This includes senior studio spaces, and 100 Apple computer stations.
Learn More
Nationally Accredited
We are accredited by the National Association of Schools of Art and Design (NASAD).
Scholarships
We offer merit scholarships ranging between $15,000–$22,000, as well as a minimum of one full tuition scholarship awarded each year via our Scholarship Day competition.
Study Abroad
10% of our students choose to study art abroad during their undergraduate years.
Learn More
Our History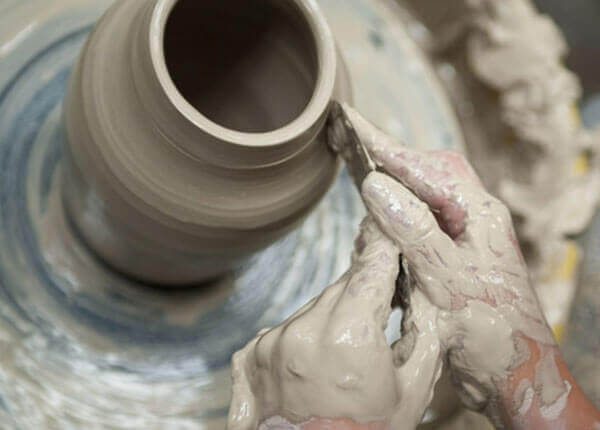 Harriet Beecher Stowe, Olivia Clemens, Elizabeth Colt, Susan Warner, and Mary Bushnell Cheney–the most prominent women of the 19th century in Hartford–founded the Hartford Art School in 1877. The school these visionaries created is now one of the most highly regarded art schools in the country.
In 1957, the Hartford Art School merged with The Hartt College of Music and Hillyer College to form the University of Hartford. Today the University has seven schools and colleges, more than 4,000 undergraduate students, a total enrollment of 6,000 students, and includes graduate and professional programs.
The University of Hartford combines a traditionally strong commitment to shared community values of support and encouragement with academic challenge in a wide variety of programs and disciplines to prepare our students for success in the world.
The Hartford Art School's mission and vision have a viable relationship to the purposes of the University of Hartford. The vision reflects the University's strategic focus on career readiness.
The Hartford Art School cultivates creative careers in art and design by fostering dexterity with materials and ideas.
Our mission is to honor a dynamic balance between the traditional and emerging arts, reflecting an ever-changing world. With a history of educating creative practitioners and critical thinkers, we encourage our students to be proactive and to develop their unique artistic vision. Together we value the local and international communities and participate in the culture at large.
We will become the school of choice for 21st-century students seeking to change the world through the arts by providing students the tools and the cultural literacy to engage in lifelong learning.


We will strengthen our commitment to the fine arts while growing disciplines in the Applied Arts, both grounded in the study of art history. The dynamic balance between the two, on a comprehensive campus, is our competitive advantage.


To honor this balance, we will foster multidisciplinary opportunities by increasing a student's ability to choose art electives while adhering to the National Association of Schools of Art and Design (NASAD) guidelines regarding the number of credits required for a discipline to be considered a "major."


At the same time, we will redesign the sophomore distribution requirement to increase flexibility and choice.


Our programs will develop intentional and transferable skills in students that allow them to connect, collaborate, and succeed in the art economy.


Our focus on workforce readiness will be supported by a rigorous professional practices curriculum that builds year to year and provides significant (preferably paid) internship opportunities.


To remain sustainable and mitigate enrollment challenges due to the downward demographic of traditional high school graduates, we will become more productive by 1) offering multidisciplinary sections in appropriate courses; 2) requiring a 400-level course in each HAS minor; 3) establishing articulation agreements with area community colleges; and 4) designing a BA in Studio Art to attract traditional liberal art students.


We will explore 4+1 graduate programs in art education with the College of Education, Nursing and Health Professions and Art Entrepreneurship with the Barney School of Business School to attract students through these formalized career paths.


Finally, we will begin exploring the potential of international recruitment, through University-wide partnerships already established.
Aviva Kapust
BFA Graphic Design, 2000
The potency of civic art inspires Aviva Kapust, Hartford Art School alumna and executive director of the Village of Arts and Humanities in Philadelphia, to infuse creativity in one of the country's most disinvested urban cities.
"Making art in this environment, you work with people's trauma," she says. "You work with their issues, their baggage, their dreams, their wishes, and their limitations. You work with their brilliance. You have to want that. We forget that the materials of art aren't strictly film, clay, or paint—the tools are people and the structures that connect us. We have a responsibility to that, and it's not easy."
Contact Us
Do you have questions?
Phone: 860.768.4827
Fax: 860.768.5296
Email: artschool@hartford.edu
Address:
Hartford Art School
200 Bloomfield Avenue
West Hartford, CT 06117