Discover yourself around the world
Stretch your parameters by spending a semester studying abroad. Immerse yourself in another culture while representing our school at some of the world's best institutions of art and design, including the University of Tasmania, Slade School of Fine Art, Glasgow School of Art, and many more.
Sicily Painting and Photography
Our painting students explore the processes and develop the techniques of gathering on location reference sketches, painting and photographic documentation and then utilize these techniques during spring break travel to Sicily. The results include a series of studio works based on the travel period.
Our photo students get an overview of travel photography. Through a series of local assignments, our students develop ideas and strategies for overseas assignments. A joint exhibition with painting students is mounted the following fall.
For the last two years, Chelsea Norwich '14 has worked as the lead painter at an architectural model making firm, Radii Inc., where she is responsible for all of the finishing work on their models. She credits much of her HAS experience for providing her with the tools necessary to create models that are realistic and accurate.
I was also able to study abroad in Italy, twice with Jeremiah [Patterson] in Sicily and once for a semester in Florence. Having the opportunity to study (and paint) in a place with the most incredible architecture, art, and landscapes, has led me to create artwork inspired by my travels as well as continuing my desire to paint cities around the world."
Sustainable Studio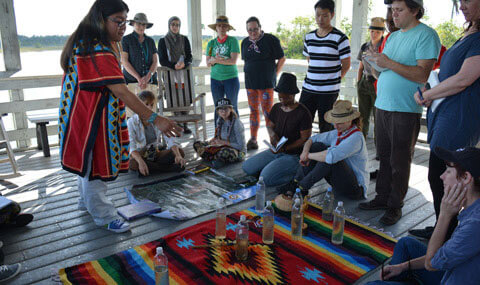 "Sustainable Studio" covers traditional art forms, such as printed fabric design, wood carving, basket weaving, and ceramics, as well as contemporary artists' work focusing on the environment. In the big picture, you will take away a better sense of the planet as a whole and of humanity in the developing world. In regard to development as artist and designer, an interdisciplinary studio class offers the opportunity to make art and learn about art and culture in a non-Western environment.