Visiting Artist Highlights
Learn from icons. Every year, established artists, designers, and critics come to our campus to offer the intellectual energy and inspiration to our students.  
The Ingaugural Whitney Artist In Residence: Chiraag Bhakta 
Chiraag Bhakta
is a multidisciplinary artist whose practice is rooted in collecting objects and stories from various times and environments. Raised in an independent motel on a New Jersey freeway surrounded by a rotation of extended family, Bhakta received his BFA in Graphic Design from the Hartford Art School in 1999. While working as a graphic designer he has been exploring his own work, at times under the pseudonym *Pardon My Hindi. His work varies in medium, including printmaking, collage, photography and assemblage. His work has been shown at the Whitney Museum, the Asian Art Museum in San Francisco, the Smithsonian National Museum of Natural History, and the Brooklyn Museum, among other institutions.
Designing the Dream State
February 23 - March 25 | Joseloff Gallery
This exhibition features new work created by Chiraag Bhakta during his tenure as the Hartford Art School's inaugural Whitney Artist-in-Residence. Graduating from HAS in 1999 with a degree in graphic design, Chiraag is now expanding his understanding of design beyond graphics. Designing the Dream State looks at empire building, specifically the evolution of South Asian-American identities post 1965, when new immigration policies were designed to bring highly educated South Asians to the U.S. in pursuit of the "American Dream." The exhibition includes new work in video, sculpture, screenprinting, and assemblage, alongside Bhakta's ongoing photo-documentary series, The Arch Motel Project. Taken together, the artwork sheds light on the many ways that design enters our everyday lives, from banal marketing to the construction of personal memories.  
The exhibition and related programming are made possible by the International Distinguished Artist Symposium and Exhibition Fund and the Beatrice Fox Auerbach Foundation Fund held by Hartford Art School Endowment, Inc.
Koopman Distinguished Chair Artist in Residence
The Koopman Distinguished Chair honors some of the world's most vibrant, contemporary artists, who spend a semester sharing their expertise with our community.
2022–2023 Distinguished Chair in the Visual Arts: Genevieve de Leon
Genevieve de Leon
is an artist and MFA graduate from Cranbrook Academy of Art. Her work has been exhibited at the Minneapolis College of Art and Design Main Gallery and DC Artspace, among other galleries. Her writing has appeared in such publications as the
Midway Atlas
and
H+N Magazine
. She works on community-based projects and is a member of the Burn Something Collective.
To Order the Days / Para Ordenar Los Días
February 23 - March 25 | Donald and Linda Silpe Gallery
The Georgette and Richard Koopman Distinguished Chair in the Visual Arts is an annual artist-in-residency program that brings prominent artists to teach at the Hartford Art School. During her tenure as the 2022-23 Koopman Chair in the Painting Department, Genevieve de Leon has produced solo and collaborative artwork focused on the knowledge–intellectual and embodied–that she has received as part of her study of the Maya calendrical cycles. Maya cosmology, mathematics, and mythology are at the center of an ancient Indigenous knowledge system that is vast and geared to help us locate our place in the cosmos. De Leon's practice is the outgrowth of her study of this ever-evolving knowledge and her desire to place it in conversation with other systems of knowledge. The exhibition To Order the Days / Para Ordenar Los Días features de Leon's newly completed, large-scale paintings of constellations in the Maya Zodiac, alongside her multimedia collaborations with students at the Hartford Art School; Indigenous artists in the Native Youth Arts Collective; and the University of Connecticut's Milky Way Laboratory.
The exhibition and associated programming are made possible by the Georgette and Richard Koopman Distinguished Chair in the Visual Arts fund held by Hartford Art School Endowment, Inc.
2021–2022 Distinguished Chairs
In collaboration with the Office of Diversity and Community Engagement, the Hartford Art School is pleased to exhibit illustrations by Floyd Cooper in the Joseloff Gallery as part of the Georgette and Richard Koopman Distinguished Chair in the Visual Arts Exhibition. Floyd Cooper, a celebrated children's book illustrator, illustrated over 100 children's stories chronicling African American history and depicting life of Black Americans and celebrating Black joy. His illustrated children's stories were masterworks of warm, vintage, earthy pastel impressions of Black life, that strove to recount chapters of African American history that he felt weren't taught enough in classrooms.
Floyd Cooper illustrated more than 100 children's stories chronicling African American history and depicting life of Black Americans, including many events that were rarely, if ever, taught in classrooms. Cooper, who grew up in Tulsa, Oklahoma, illustrated 2021's "Unspeakable: The Tulsa Race Massacre." The book tells the story of the destruction of Tulsa's Black neighborhood of Greenwood in 1921. The book posthumously earned a prestigious Caldecott Honor for Cooper, who passed away in July of last year.
John Jude Palencar is a Georgette and Richard Koopman Distinguished Chair in the Visual Arts. He has enjoyed a remarkable career that has placed him at the top of the illustration profession for more than 35 years. His work has appeared on hundreds of book covers for nearly every major publisher in the U.S., and in more than 30 countries around the world. He has created cover art for such renowned authors as H. P. Lovecraft, Stephen King, Ursula LeGuin, Marion Zimmer Bradley, P.D. James, Charles deLint, R.L.Stine, Octavia Butler, and David Brin. In his NY Times Bestseller, Eragon, renowned author Christopher Paolini named the lead character's birthplace "Palancar Valley" after Palencar (who painted the book's cover). Palencar's artwork from the book, The Secret: A Treasure-Hunt, by Byron Priess (published by Bantam Books), has been the subject of episodes of the Travel Channel's "Destination Unknown" with Josh Gates television series; and he was commissioned to paint the 2019 calendar art exhibiting Martin's "A Song of Fire and Ice" series, which inspired HBO's "Game of Thrones" television show.
Palencar has won the most distinguished awards in the most prestigious illustration competitions, including the Hamilton King Award (Lifetime Achievement Award) and numerous Gold and Silver Awards from the Society of Illustrators. He also has been recognized with the Spectrum Fantastic Art Grandmaster Award, Gold Awards in the annual Spectrum International Competitions, and the Lifetime Achievement Award and six Chesley Awards (recognizing individual achievement in a given year) from the Association of Science Fiction and Fantasy Artists. His work has been regularly recognized in prominent national and international competitions conducted by the Society of Illustrators, Communication Arts, Print Magazine, Graphis, the Society of Publication Designers, and the American Illustration Annual. Palencar also has created editorial work for prominent publications, including Time Magazine, National Geographic Magazine, and Smithsonian Magazine; and entertainment projects for Paramount Pictures, Lucas Arts, and Vivendi Universal. 
In addition to his illustration work, Palencar has earned major awards from the National Society of Painters in Acrylic and Casein, earning each of their most prestigious honors, including the Sanstrom Prize, The Judy and Elias Newman Memorial Award, the Nemeth Memorial Award, and the Newman Medal (the organization's major award honoring their founder) in 2016. This national competition is in its 64th year and is described as "the foremost National Showcase for the two Aquamedia – acrylics and casein." Additionally, he won first place in Artist's Magazine 30th International Competition and was a "Top 100 selection" in American Artist Magazine. He also has been a guest of honor at numerous conventions and had his work shown in a long list of national exhibitions. His work is included in many corporate and private collections.
During his career, Palencar has previously taught as an adjunct at the Columbus College of Art and Design, taught at The Illustration Masterclass, been a visiting artist at eight universities, taught watercolors to artists at American Greetings, was the Specialized Education instructor at the Illuxcon Fine Art Symposium of Imaginative Realism, and worked with students at the Cleveland institute of Art and Illustrators in the Northern Ohio Illustrators Society to develop portfolios.
John Jude Palencar lives and works in Medina, Ohio, along with his wife, Lee, who is a high school art teacher.
February 24–March 26  |  Joseloff Gallery
The Hartford Art School is pleased to exhibit illustrations by John Jude Palencar and in memoriam Floyd Cooper in the Joseloff Gallery for this year's Georgette and Richard Koopman Distinguished Chairs in the Visual Arts Exhibition.
Auerbach Lecture Series
Each year, the Hartford Art School has the opportunity to welcome visiting artists for a series of lectures through the Auerbach Lecture Series. This series of lectures are a great opportunity for UHart students, alumni, and members of the community to engage with compelling artists in a variety of art forms. 
The series is made possible every year by The Beatrice Fox Auerbach Foundation Fund of the Hartford Art School Endowment, Inc. 
2021–22 Lecture Series Season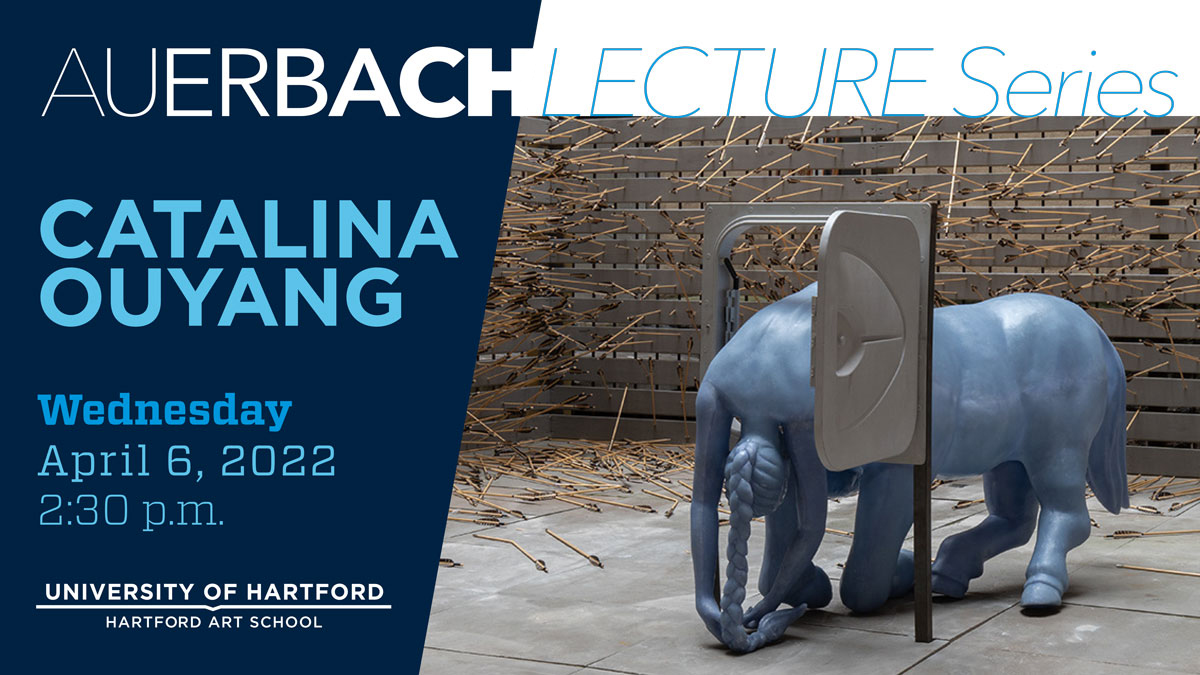 Catalina Ouyang
About Artist
Catalina Ouyang is our featured artist for the third lecture in the series.
This lecture was hosted by the Sculpture Department.
Auerbach Archive 2020-22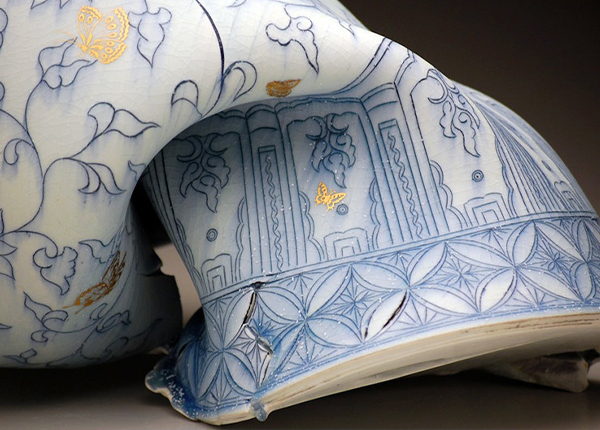 This first lecture in the 2021 series was hosted by the Ceramics Department at the Hartford Art School, featuring artist Steven Young Lee.
Steven Young Lee has been the resident artist director of the Archie Bray Foundation for the Ceramic Arts in Helena, Montana since 2006. In 2004-05, he lectured and taught at numerous universities throughout China as part of a one-year cultural and educational exchange in Jingdezhen, Shanghai and Beijing. In 2005-6 he was a visiting professor at Emily Carr Institute of Art and Design in Vancouver, B.C. Steve has lectured extensively in North America and Asia. He is represented by the Duane Reed Gallery, Ferrin Contemporary and The Archie Bray Foundation Gallery. His work has been collected by the Smithsonian Museum, the Daum Museum of Contemporary Art, the Four Seasons Hotel in Seoul, Korea, as well as many private collections.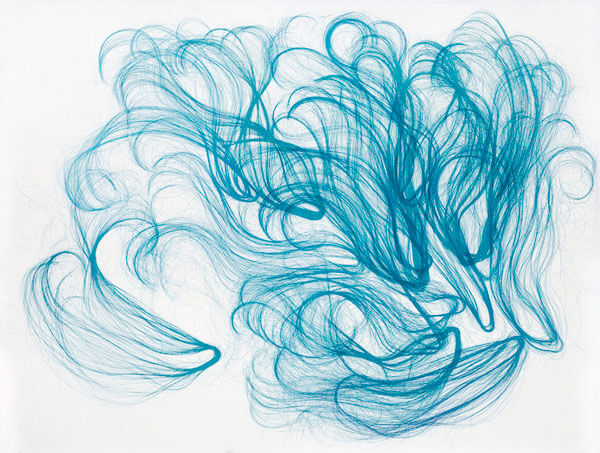 Hosted by the department of Printmaking
Inspired by the social implication of beauty and its relationship to female identity, women and culture. Topics of real and false, decoration, and imitation are explored in two and three dimensional working methods, using traditional and non-conventional approaches to printmaking, and sculpture.
Althea Murphy-Price began her studies in Fine Art at Spelman College before receiving her Master of Arts in Printmaking and Painting from Purdue University and later studying at the Tyler School of Art, Temple University where she earned her Master of Fine Arts. Her artwork has been shown widely throughout the country as well as international cities in Spain, China, Japan, Italy and Sweden. Her writings and work have been featured in such publications as Art Papers Magazine, CAA Reviews, Contemporary Impressions Journal, Art in Print, Printmaking: A Complete Guide to Materials and Process., and Printmakers Today.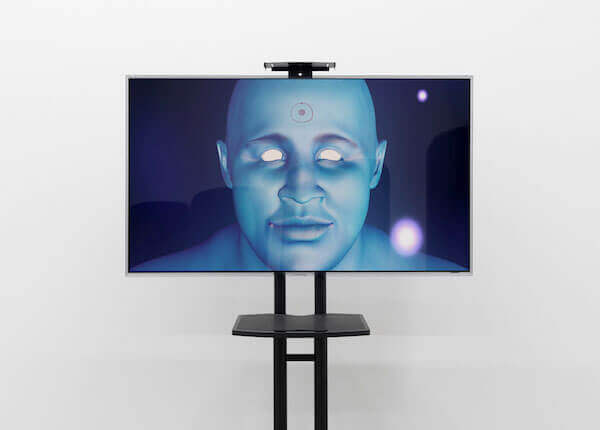 AMERICAN ARTIST (b. 1989 Altadena, CA, lives and works in New York) is an artist whose work considers black labor and visibility within networked life. Their practice makes use of video, installation, new media, and writing. Artist is a resident at Red Bull Arts Detroit and a 2018-2019 recipient of the Queens Museum Jerome Foundation Fellowship. They are a former resident of EYEBEAM and completed the Whitney Independent Study program as an artist in 2017. They have exhibited at the Museum of African Diaspora, San Francisco; the Studio Museum in Harlem; Museum of Contemporary Art Chicago, and Koenig & Clinton, New York. Their work has been featured in the New York Times, Artforum, and Huffington Post. They have published writing in The New Inquiry and Art21. Artist is a part-time faculty at Parsons School of Design and teaches critical theory at the School for Poetic Computation.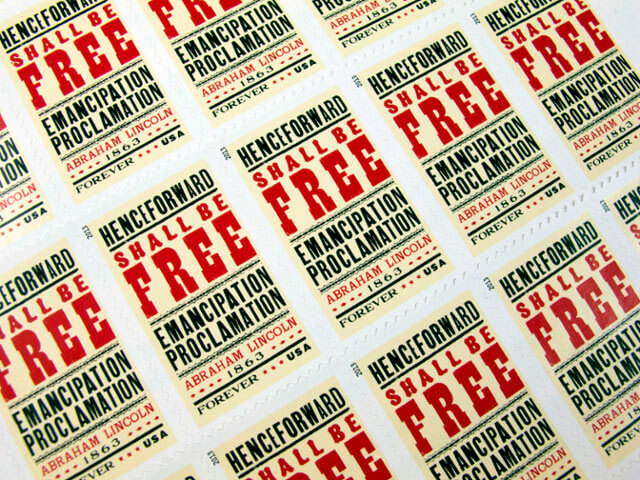 Designer | Educator | Writer
Hosted by the department of Visual Communication Design
Gail Anderson is a NYC-based designer, educator, and writer. She is Chair of BFA Design and BFA Advertising at the School of Visual Arts, and the creative director at Visual Arts Press. Anderson has served as senior art director at Rolling Stone, creative director of design at SpotCo, and as a designer at The Boston Globe Sunday Magazine and Vintage Books. She has taught at SVA for thirty years and has co-authored 15 books on design, typography, and illustration with the fabulous Steven Heller. Anderson serves on the Citizens' Stamp Advisory Committee for the US Postal Service and the advisory board of Poster House. She is an AIGA Medalist and the 2018 recipient of the Cooper Hewitt, Smithsonian Lifetime Achievement Award for Design. Her work is represented in the permanent collections of the Library of Congress, the Milton Glaser Design Archives, and the National Museum of African American History and Culture.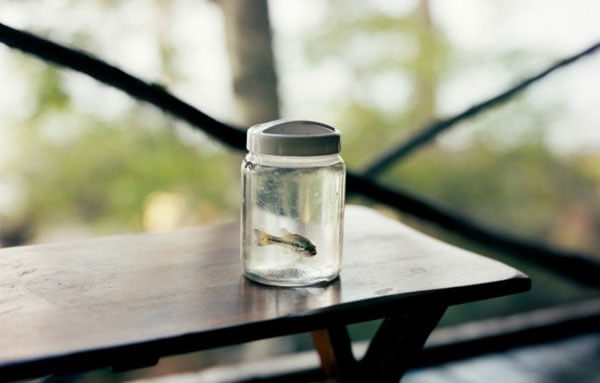 Hosted by the department of Photography
Barbara Bosworth is a photographer whose large-format images explore both overt and subtle relationships between humans and the rest of the natural world. Whether chronicling the efforts of hunters or bird banders or evoking the seasonal changes that transform mountains and meadows, Bosworth's caring attention to the world around her results in images that similarly inspire viewers to look closely. Bosworth grew up in Novelty, Ohio. Over her long career, Bosworth has photographed in both black and white and color. Her single images display a generous attention to small facts, while her large-scale triptychs reveal a panoramic awareness, one that lets viewers glimpse relationships between frames across a wide field. While all of Bosworth's projects remind viewers not only that we shape the rest of nature but that it also shapes us.Bosworth's work has been widely exhibited, notably in recent retrospectives at the Denver Art Museum in Colorado and the Smithsonian American Art Museum in Washington, D.C. Her publications include the recent, The Heavens (Radius Books, 2018), and The Meadow (Radius Books, 2015).
International Distinguished Artists Symposium and Exhibition
The weeklong International Distinguished Artists Symposium and Exhibition brings artists of international stature to campus. Students have the opportunity to assist artists in the construction of their artwork, benefit from visiting artists' critiques, and attend a variety of lectures, culminating in a symposium moderated by an internationally known art critic, and view an exhibition of work by some of the leading artists of our time. This event is supported by the International Distinguished Artist Symposium and Exhibition Fund of the Hartford Art School Endowment, Inc.
Alumni Forum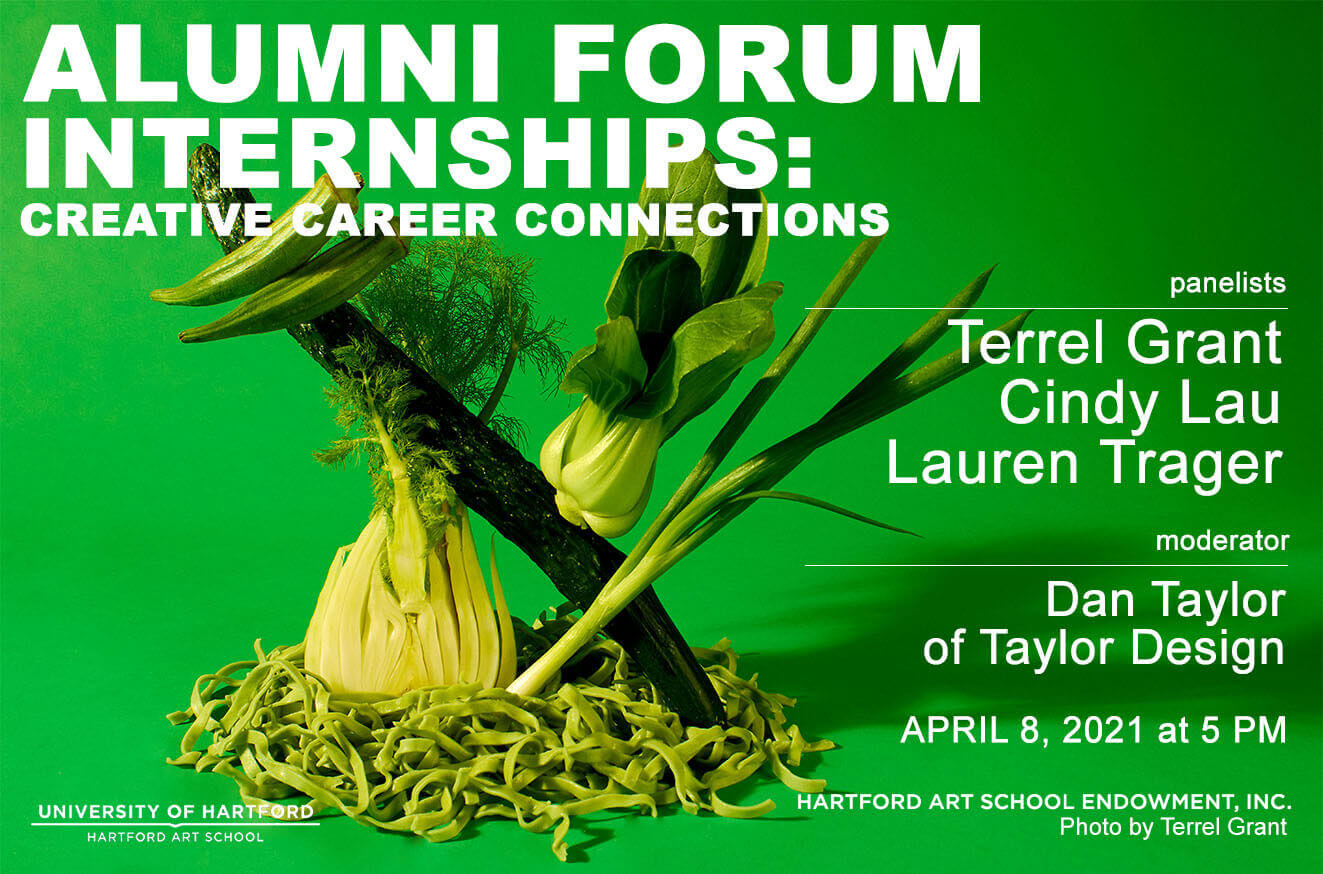 Each year, a panel of Hartford Art School Alumni are invited to join us for a conversation highlighting their professional experience and achievements as artists, bringing their knowledge on a number of topics to our student body and prospective students. Funded by the Alumni Forum Sponsorship Fund, made possible by the Hartford Art School Endowment, Inc. 
Creative Career Connections, the 2021 alumni panel joined us virtually to discuss their experience with internships.
Moderator Dan Taylor is the president and creative director of Taylor Design in Stamford, CT. Taylor Design has hosted many HAS students as interns throughout the years as well as provided jobs for our talented graduates.
Panelist Terrel Grant interned at Synthetic Cinema International as an on-set still photographer. He is currently a digital technician and works closely with the photographer and art director to capture, edit, and archive fashion/still life sets.
Panelist Cindy Lau interned at both NBC Connecticut and Defining Studios. She is currently a full-time designer at Taylor Design and has previously worked at ESPN.
Our final panelist Lauren Trager interned at Christie's, Five Points Gallery, and Robert Blackburn Printshop. She is currently a professional fine and scenic artist in NYC.
Watch the 2021 Alumni Forum Webinar here.
Master Artist Workshops
You will experience numerous opportunities to study professional artists at work. No matter whether you're planning to work as a graphic designer, or to carve out a career in stage lighting production, you're bound to learn something from the working artists we invite to come work with you during your time at Hartford Art School.