College of Arts and Sciences
BS in Biology
If you are planning a career in research or plan to go on to graduate, medical, dental school then the Bachelor of Science in Biology program is recommended for you.
About the Major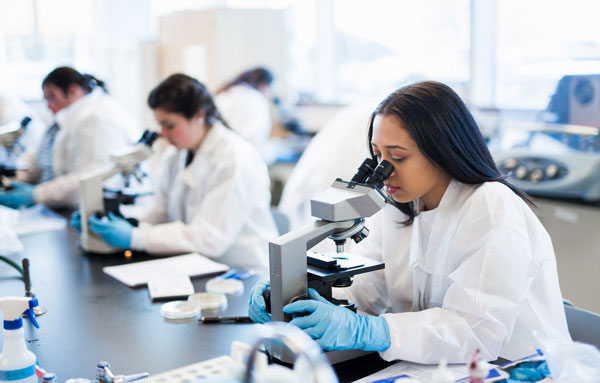 The curriculum includes a broad approach to biology and offers a comprehensive background in mathematics and the natural sciences.
About the Minor
We offer a minor in biology that can be paired with another major to help give you an edge when seeking employment. If you choose to minor in biology, you must complete a minimum of 18 biology credits approved by the department chair and apply for a minor in biology not later than the end of your sophomore year. The curriculum is planned to meet your individual academic and career goals.
For more information, and to see a complete list of minor requirements, visit the Course Catalog.

Degree Requirements
A total of 62-64 credits are required and includes a combination of biology, chemistry, mathematics, and physics courses.
You must complete 24 credits of biology, 12 credits of upper-level biology, 8 credits of chemistry, and 6 to 7 credits of mathematics courses. Examples of core courses include:
Introductory Biology I and II  

Ecology  

Genetics  

Molecular Cell Biology

College Chemistry

Organic Chemistry

Calculus I and II

Algebra-Based Physics I and II
For more information, and to see a complete list of degree requirements, visit the Course Catalog.
Learning Outcomes for BS in Biology Students
Foundational concepts:
Students will be able to describe and apply foundational concepts of biology.
Analysis and critical thinking using the scientific method:
Students will be able to design a well-controlled experiment, collect and analyze data, and write a report in scientific paper format.
Transfer of knowledge and analytical skills from one course to another:
Students will be able to analyze and evaluate foundation concepts of biology in upper level biology elective courses.
Written or oral communication of concepts or experimental results:
Students will be able to communicate, in a written or oral format, experimental results or biological concepts clearly and cogently to an audience of peers (other biology majors).
Yousuf Al-Abduladheem
Biology, '21
Yousuf Al-Abduladheem is heading to the University of Pittsburgh's School of Pharmacy to pursue a Doctor of Pharmacy degree. An international student from Jordan, he graduated rom the College of Arts and Sciences with a Bachelor of Science in Biology and minor in Chemistry. Yousuf says his dream is to eventually attend medical school and he's made countless strides toward this goal by doing academic research with professors and getting hands-on experience outside of the classroom. Read more. 
The University of Hartford has presented me with a golden opportunity to grow as a person and a professional through its innovative student programs.
Bachelor of Science in Biology with Pre-Pharmacy Option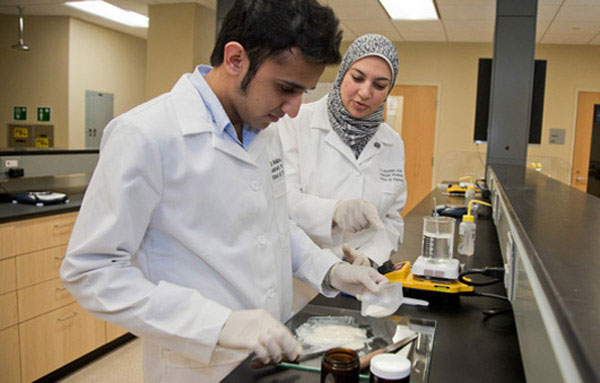 In conjunction with the University of Saint Joseph Pharmacy School, UHart offers a Bachelor's degree in Biology and a Doctor of Pharmacy degree in six years. If you are interested in this program, you should discuss this option with your advisor and Department Chair and Associate Professor of Biology Aime Levesque.
Once you are accepted into the Pharmacy Program at Saint Joseph's, you complete requirements for the BS in Biology at Saint Joseph's during your senior year and begin your pharmacy coursework. Learn more about the PharmD curriculum.
"Choosing biology as my major has opened up so many doors for me. Through this experience, I was directed to research opportunities, internships, and volunteer work. I recently finished an internship at a local dental clinic where I was able to get a feel for the field of dentistry."
Tanaya Williams '19, Biology