College of Arts and Sciences
BS in Computer Science and Engineering
Computer Science and Engineering is our newest major within the department that helps you open up your career options by studying both computer science (software) and computer engineering (hardware). You take exciting classes in programming, coding, design and analysis, computation, and electrical engineering.
About the Major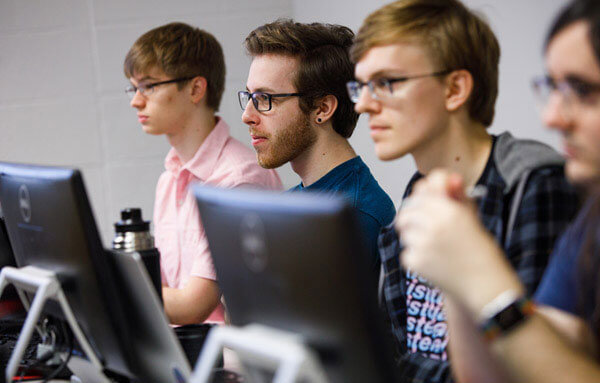 The Computer Science and Engineering (CSE) program provides a solid foundation in computer engineering combined with a strong groundwork in software design and development. Our program will give you a thorough understanding of how software is synthesized with hardware, giving you a complete understanding of how a computer works. This strong foundation prepares you to address any computing system challenge across the software-hardware spectrum. In addition, our expert faculty support you with one-on-one instruction and academic advising.
Degree Requirements  
You must complete a total of 96 credits that includes a combination of core computer science, mathematics, science, and engineering courses.
Among the required courses are:
Fundamentals of Computing I and II
Architecture and Assembly Language  
Calculus I and II
Differential Equations  
Engineering and Design
Digital System Logic
College Chemistry I
Calculus-Based Physics   
For more information, and to see a complete list of degree requirements, visit the Course Catalog.
ABET Engineering Accreditation Commission (EAC) Student Learning Outcomes
The following
ABET
Engineering Accreditation Commission Student Learning Outcomes describe the skills and knowledge acquired by CSE graduates:
An ability to identify, formulate, and solve complex engineering problems by applying principles of engineering, science, and mathematics.
An ability to apply engineering design to produce solutions that meet specified needs with consideration of public health, safety, and welfare, as well as global, cultural, social, environmental, and economic factors.
An ability to communicate effectively with a range of audiences.
An ability to recognize ethical and professional responsibilities in engineering situations and make informed judgments, which must consider the impact of engineering solutions in global, economic, environmental, and societal contexts.
An ability to function effectively on a team whose members together provide leadership, create a collaborative and inclusive environment, establish goals, plan tasks, and meet objectives.
An ability to develop and conduct appropriate experimentation, analyze and interpret data, and use engineering judgment to draw conclusions   
An ability to acquire and apply new knowledge as needed, using appropriate learning strategies.
ABET Computing Accreditation Commission (CAC) Student Learning Outcomes
The following
ABET
 Computing Accreditation Commission Student Learning Outcomes (SLOs) describe the skills and knowledge acquired by CSE graduates:
Analyze a complex computing problem and to apply principles of computing and other relevant disciplines to identify solutions.
Design, implement, and evaluate a computing-based solution to meet a given set of computing requirements in the context of the program's discipline.
Communicate effectively in a variety of professional contexts.
Recognize professional responsibilities and make informed judgments in computing practice based on legal and ethical principles.
Function effectively as a member or leader of a team engaged in activities appropriate to the program's discipline.
Apply computer science theory and software development fundamentals to produce computing-based solutions.
Career Outlook
 Some of the careers you can prepare for are:
Hardware architect and engineer
Network architect
Systems engineering
Information security analyst
Daniel Baqaeen
Computer Science and Engineering , '22
Daniel is considering multiple software engineer positions which will allow him to work remotely and travel the country before he decides where he wants to live. Daniel is also a recipient of the 2022 Senior Regents Honors Award which recognizes high-performing students.
Daniel says he chose to study computer science and engineering because he wants to be a part of the fast-growing tech industry and have an impact on the world and says UHart's program allowed him to learn valuable coding skills and advance his knowledge in algorithms.
Read more
.
Maggie Piotrowski
Computer Science and Engineering, '22
Enrolling in the CSE program gave Maggie, an aviation enthusiast who is taking flying lessons, the opportunity to strengthen her strong technical skills and immerse herself in a versatile environment. She also was happy to learn the CSE major combined all of her favorite subjects through the integration of electrical engineering and computer engineering with computer science.
Learn more
. 
UHart has helped me find the balance between flight school, academic life, and work life, and my professors and advisors have been very supportive of my goals."