If you enjoy working with computers and using your creativity and imagination to solve problems, consider making a career out of it!
Our computer science programs encourage hands-on learning in both group and individual classroom settings.
Find the Right Program for You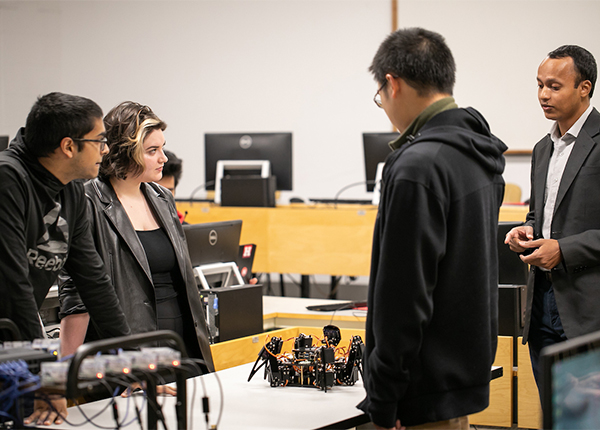 The Department of Computing Sciences offers three undergraduate programs and one graduate program. You can also major in computer engineering through our College of Engineering, Technology, and Architecture.
MAJORS
Bachelor of Arts in Computer Science: You'll take a set of required core courses with the flexibility to choose from among a wide variety of elective courses in the various areas of computer science.
Bachelor of Science in Computer Science: Learn about computer languages, programming, database systems, and how to create software that serves the needs of a wide variety of industries. It is recommended if you plan to apply to graduate school.
Bachelor of Science in Computer Science and Engineering: This combines aspects of computer science (software) and computer engineering (hardware) while being introduced to the field of electronic engineering. Here you'll learn about digital circuit design and micro-controllers, all while understanding how the entire computer works.
MINORS
Computer Science: This minor can enhance any program of study. Your working knowledge of programming languages, computer technology, database maintenance, and computer graphics will give you an edge in any profession.
Cybersecurity: In our newest minor, you learn fundamentals of computer, data, and network security and the techniques and algorithms for detecting unusual activities that typically signal a cyber break-in or breach, including techniques for detecting evasive or stealthy attacks.
MASTERS - program begins fall 2024
Computer Science: This program will combines innovative coursework with research and capstone project opportunities to give you a competitive edge when applying for upper-level and management positions, or to a PhD in computer science program. The department will also offer an accelerated 

4+1 option for students to earn a bachelor's degree and a master's in computer science in one program. You can complete both degrees in five years - four years for the bachelor's degree and one year for the master's degree. Students can apply starting August 2023.
If you want to study Computer Engineering with a strong foundation in mathematics and the physical sciences, you will find it in the University's College of Engineering, Technology, and Architecture.
Still Not Sure Which Program is the Right Fit?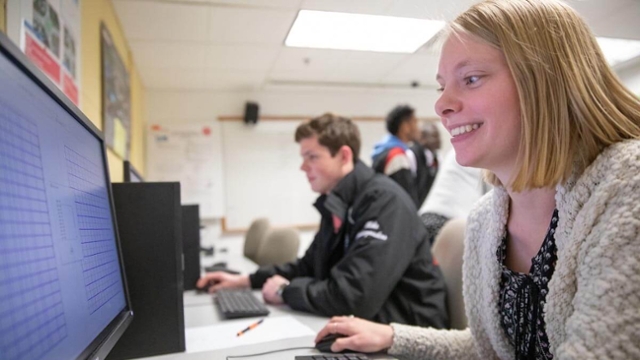 120 Credits.
Specifics: Create software that supports a wide variety of industries and applications.
Career possibilities: database administrator, Information security analyst, network administrator, programmer, and software developer. Learn more.
131 Credits
Specifics: Work with software and hardware to develop complete solutions in a variety of situations.
Career possibilities: hardware architect/engineer, information security analyst, network architect, project manager, software developer, and system developer. Learn more.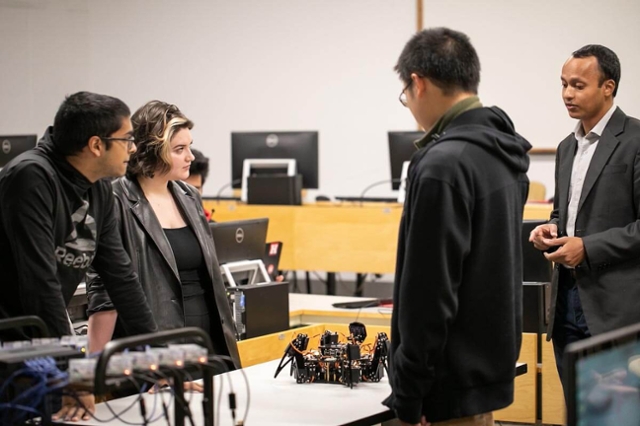 133 Credits
Specifics: Design at the microscopic (chip design) and macroscopic (cloud system, Internet-of- things) levels to develop the integrated systems we use in our daily life.
Career possibilities: computer engineer, hardware architect/engineer, network architect, project manager, and system engineer. Learn more.

   
Career Outlook
The computer and technology industries continue to accelerate and branch out in many new and exciting directions.
The average annual salary for computer science majors is approximately $136,620 according to the U.S. Department of Labor Statistics, the employment of computer and information research scientists is projected to grow 23 percent from 2022 to 2032, much faster than the average for all occupations.
Some of our recent graduates work at companies like FitBit, YouTube, United Technologies, and General Electric.
Tutoring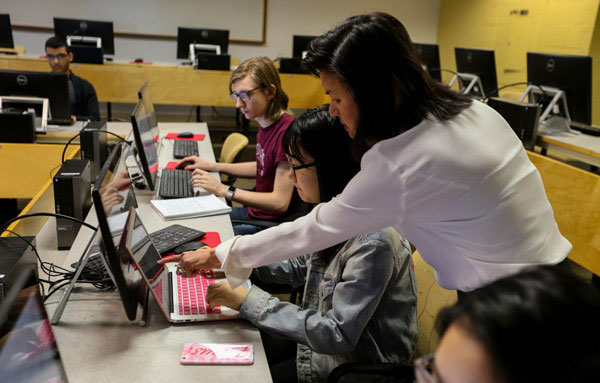 You can receive one-on-one help from an upper-class student by signing up for a tutoring session in the Center for Student Success. It's a great way to enhance your coursework. Sign up is easy! 
Ingrid Russell, MPhil
Professor of Computer Science ,
Professor Ingrid Russell has been recognized internationlly as a Distinguished Member of the Association of Computing Machinery (ACM) for her Outstanding Educational Contributions to Computing. ACM is the world's largest computing society and is the premiere global scientific and educational organization dedicated to advancing computing.
Students come to UHart with mixed levels of ability and varying learning styles, Helping these students move forward and seeing them succeed is both a challenge and a reward.
Meet the Computing Sciences Department