The University of Hartford is a great place to study physics! Our small class sizes allow you to get one on one instruction from faculty who get to know you and your career goals. There is room for many unrestricted electives which allows you to tailor a program to your individual goals and interests. There is even an opportunity to take special graduate-level courses or combine your physics major with a variety of minors and courses such as engineering, computer science, mathematics, business, English, music, art, or education. This flexibility can prepare you for a wide range of careers, both in and outside of the field of physics.
We offer two undergraduate physics programs:
The Bachelor of Arts in Physics includes a concentration in physics with requirements in mathematics and chemistry, and a broad range of required and elective courses in the arts and sciences.
The Bachelor of Science in Physics is an intensive program to prepare you for graduate study in physics or for employment in industries such as health sciences, telecommunications, fiber optics technology, laser applications, or computer modeling.
A minor in physics is also available if you are interested in physics but are majoring in other areas like computer science, mathematics, or biology.
Hands-On Experience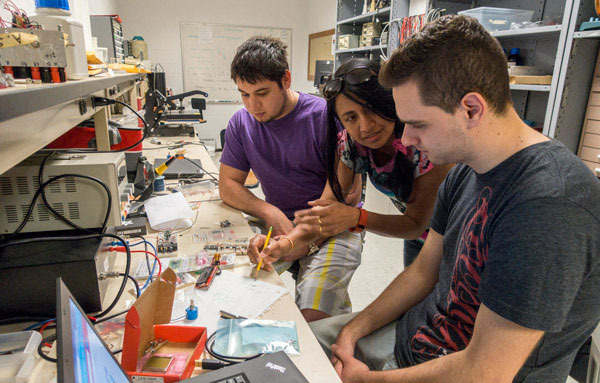 No matter what you are interested in, you'll have the opportunity to conduct research alongside professors in the areas of computational physics, geophysics, astrophysics, solid-state physics, nuclear physics, and advancements in physics instruction. You also may publish your work in professional journals or present your research at regional and the national conferences such as the American Physical Society Division of Nuclear Physics. There also are opportunities for internships. Our students have interned at places like the Brookhaven National Laboratory, the Thomas Jefferson National Accelerator Facility, or the Los Alamos National Laboratory.
Meet the Physics Department