The Hartt School
Performing Arts Management
As a performing arts management major at Hartt, you will learn the skills to have a career in the performing arts of the commercial music business.  You are given the opportunity to concentrate in many different areas of management and business including the recording industry, touring, arts marketing, fundraising, for and non-profit management and entrepreneurial studies. Not only will you explore a variety of current problems inherent to the industry through classroom discussions, guest speakers, case studies and assignments, but also attend conferences and go on field trips to Connecticut arts institutions, as well as those in Boston and New York.
Core classes give you practical and hands-on experience including Arts Management Practicum and Internship, which enhance your leadership, teamwork and networking skills, while helping you grow personally and professionally. Recent students interned at The Bushnell Center for the Arts, The Newport Jazz Festival, Live Nation, City Parks Foundation, Tanglewood, Motema Records and many more.
With a Bachelor of Arts degree, your career-ready skills will be put to work at talent agencies, recording studios, performing arts centers, artist management companies, as well as professional dance and theatre companies.
Minor in Performing Arts Management
The minor in performing arts management is open to all University of Hartford students who wish to gain a basic understanding of management in the arts.
This 18-credit minor offers students additional tools for the understanding and application of knowledge and practices in various business aspects of the performing arts industries.
Degree Requirements
126 credits are required to complete the Bachelor of Arts in Performing Arts Management. The curriculum includes arts, communications, business, and industry specific courses. Students must complete an internship as part of the program.
For more information, and to see a complete list of degree requirements, visit the course catalog.
Minor (Hartt Students)
Designed specifically for performers, this minor will support career readiness and an entrepreneurial approach to those entering arts professions.
Core Courses:
Introduction to Arts Management
Arts Management: For Profit or Not for Profit
For more information, or to see a complete list of degree requirements, visit the course catalog.
Minor (Non- Hartt Students)
To complete the minor in performing arts management, the student must register for a letter grade for all required Hartt courses and must receive a grade no lower than a C in each course. Hartt will notify the college of the student's majors when requirements for the minor have been completed.
Core Courses:
Introduction to Arts Management
Arts Management: For Profit or Not for Profit
For more information, and to see a complete list of degree requirements, visit the course catalog.
Our Faculty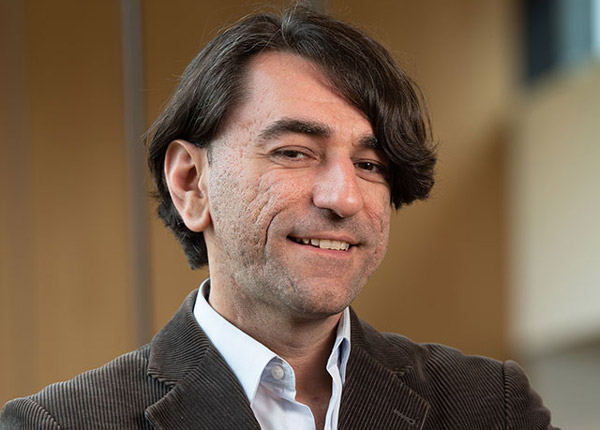 Assistant Professor of Music & Performing Arts Management
Mehmet Dede is a music presenter, arts consultant and educator. Throughout his 20-plus years' career in music, he has produced hundreds of concerts and event series, contributing to international music's growing presence in the US. Fueled by New York's energy and its diverse communities, his passion for introducing and breaking new artists lead him to collaborations with seminal American institutions.
The Internship
All students in the management programs complete a minimum of 180 hours in an internship of their choosing. Although only one internship is required, many students opt to participate in a second internship.
In preparation for the internship, students are required to take two semesters of Management Practicum. This class is designed to prime the student for the internship and for workplace environments. Students work in a "mini-internship," from six to eight hours weekly. Over the course of the semester, students meet in a practicum seminar to discuss everything from leadership skills and resume writing to job ethics and supervisory style. This is a rich opportunity for students to grow both personally and professionally, and to learn a most important skill—networking in the management business.
At the end of the 3-credit internship, students complete an extensive academic paper. The paper objectively analyzes an aspect of the organization they worked for and requires the development of far-reaching recommendations and proposals for reorganization. Students present their papers to their peers in a professional seminar setting.
Hartt students have conducted professional internships at over 230 professional institutions that have helped launch them into successful careers in performing arts management, music publishing, artist management and more. Students have had hands-on experience preparing contracts, arranging tours, working in a recording studio, fundraising, coordinating special events, and managing travel plans for major talent.

These internships include:
Jim Henson Studios, Los Angeles

American Ballet Theatre, New York City

Blue Note Records, New York City

The Bushnell, Hartford

Hartford Stage, Hartford

LiveNation

Springfield Library and Museums Association, Springfield

The Newport Music Festival, Rhode Island

Gamelon and Sony Records, Boston

Primamerica Artists, Manhattan
Andrea Barros
Bachelor of Arts in Performing Arts Management, 2018
Through her connections at Hartt, Andrea Barros was able to land two  internships at Live Nation before she was hired full time. She began working as sponsorship coordinator two months prior to graduating from the University of Hartford. She was a resident assistant for three years and was involved in other campus activities.
I was very introverted and reserved before coming to UHart, and becoming an RA taught me a lot. I use the skills I learned through that experience today in my career.