Performances are central to Hartt's curriculum.  Each year, Hartt showcases dozens of performing organizations and produces more than 400 instrumental and vocal performances, recitals, plays, master classes, dance performances, and musical theatre productions.
Hartt's students often collaborate across disciplines to present fully-staged opera and musical productions, dance concerts, recitals, and other original works. Faculty and students also perform together frequently.
Current Season Highlights
Here at The Hartt School, your passion becomes a profession.  A pivotal componant of this is in the art of the performance.  With hundreds of performances every year across many disciplines, one's craft is perfected by doing.  Current season highlights include fully produced operas, musical theatre productions, music ensembles featuring renowned faculty, and dance performances.
Hartt Opera Theater Presents: Street Scene
Millard Auditorium
Written by Kurt Weill, and set in sweltering 1940s New York, the plot centers around the various residents of a single tenement building, and takes place over just 24 hours.
Collage Concert
Lincoln Theater
Hartt's annual Collage Concert features continuous music, dance, and theatre. As Hartt's gift to the community, this concert is free, but reservations are required. Early reservations are recommended.
Hartt Wind Ensemble and Symphony Band
Lincoln Theater
End of Year Concerts
Hartt Orchestra
Lincoln Theater
Greater Hartt Youth Wind Ensemble and Symphony Band
Lincoln Theater
Jackie McLean Institute of Jazz: Ensembles Concert
Millard Auditorium
Jazz Ensemble concerts feature student ensembles committed to the styles and teachings of the Jackie McLean Institute Jazz offering selections of bebop, swing, hard bop, and much more. Come out and support these amazing students!
The Richard P. Garmany Chamber Music Series: Bang on the Can Week
Foot in the Door (with Bang on the Can)
Lincoln Theater
Foot in the Door is a mixed ensemble of musicians whose repertoire includes music of established as well as emerging 20th and 21st century composers. Members play in a variety of ensemble sizes from small chamber groups to large chamber orchestras. The ensemble has appeared in several of the nation's major cities, and has been heard on Connecticut Public Radio and WNYC-FM and recorded for Opus One and CRI labels. In addition to works by Hartt students, faculty and alumni, the past several seasons have featured music by world-renowned composers including Adams, Bolcom, Berio, Ligeti, Cage, Schoenberg, Schwantner, Reich, Webern, Messiaen, Boulez, and Stravinsky.
The Richard P. Garmany Chamber Music Series: Bang on the Can All Stars
Lincoln Theater
A celebration of the life and work of bassist Robert Black, a founding member of the All-Stars, who is retiring from his Hartt faculty position after 29 years. Also featured will be legendary Bang founders David Lang, Julia Wolfe and Michael Gordon.
Hartt Dances: Spring Dance Concerts
Lincoln Theater
Hartt Dances features choreographic masterworks of classical ballet and modern choreographers alongside the innovative works of contemporary dancemakers, all performed by the dancers of the Hartt School's Dance Division.
Pippin
Millard Theater
Director: Michael O'Flaherty; Music Director: David Kidwell; Choreographer: Taylor Zappone
Pippin becomes a soldier for his father's army, but is upset by the killing and murders his father to stop the war. Now King, he is even more lost and unsure about what he wants in life and turns away from everything, including love, before discovering that what he has been searching for has been there all along.
The Wolves
Edward C. and Ann T. Roberts Foundation Theater
Director: Jill Giles
The Wolves is a play by Sarah DeLappe. It premiered Off-Broadway in in September 2016 and received the American Playwriting Foundation's inaugural Relentless Award, a New York Times Critic's Pick, and was a finalist for the 2017 Pulitzer Prize for Drama.  The Wolves centers on the experiences of high school girls through their weekly Saturday morning pre-game soccer warmups. The young women sometimes continue their gossip from the previous week, bringing up new developments or related topics and conversations that are often inappropriate and cause conflict amongst the teammates.
Godspell
Kent McCray Theater
Director: Joni Weisfeld; Music Director: TBD; Choreographer: Savana Jones
Based primarily on the Book of Matthew, Godspell focuses on strangers, all from different walks of life, coming together to tell the lessons and parables of Jesus Christ through, by the end of the show, the strangers learn to carry Jesus' message of kindness, tolerance, and love. 
Much Ado About Nothing
Edward C. and Ann T. Roberts Foundation Theater
Director: Robert Davis
One of Shakespeare's most frequently performed comedies, Much Ado About Nothing includes two quite different stories of romantic love.
Past Season Highlights
During the first week of May 2021, The Hartt School celebrated the Uncertainty of Fate Festival. Creativity in the face of adversity: The "Uncertainty of Fate" Festival commissioned over 45 up and coming and established composers to write multi media /chamber works on what 2020 meant to them.
The new works, with recurring themes of isolation, loss, and rage, will be interwoven with existing pieces by Beethoven, Price, Walker, White, Roumain (DBR), and Mumford in 5 streaming concerts from May 1-5. Hartt faculty, guests, students and alumni perform, some with dance and other media, as well as spoken creative writing pieces written by frontline medical workers.
Uncertainty of Fate Festival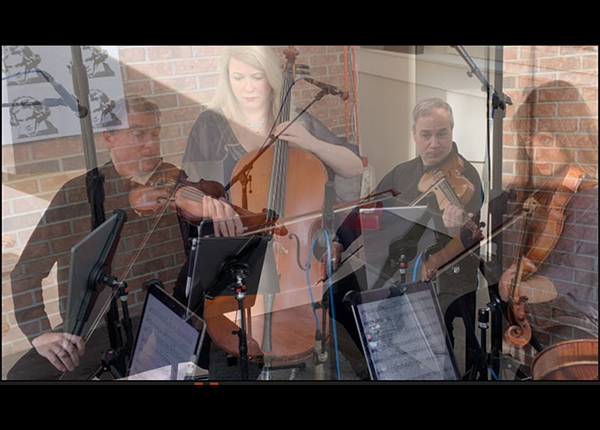 The festival also hosted panel discussions such as, "Activating and agitating systemic change in your respective institutions," & "Healing and Conflict Resolution through creating art" as well as masterclasses.  
Among the composers featured: Errollyn Wallen, Javier Colon, Alexandra Gardner, Juhi Bansal, Ken Steen, Robert Carl, Jonah Sirota, Elena Ruehr, Sarah Gibson, Ethan Wickman, Nathalie Joachim, Paula af Malmborg, Gilda Lyons, and more.
Uncertainty of Fate Chamber Festival: Opening Concert
May 1, 2021, 7:00pm EST
The Uncertainty of Fate Concert 2: Breaking Apart/Coming Together I
May 2, 2021, 5:00pm EST
The Uncertainty of Fate Concert 3: Rage, Uncertainty, Justice
May 3, 2021, 7:00pm EST
Uncertainty of Fate Concert 4: Blues/Meditations
May 4, 2021, 7:00pm EST
Uncertainty of Fate Concert 5: Breaking Apart/Coming Together II
May 5, 2021, 7:00pm EST
Hartt Collage 2021
The Annual Collage Concert is a virtual performance celebrates the magnificent talent of students of The Hartt School, past and present, in one continuous stream of music, dance, and theatre. Hartt Collage gives you the unique opportunity to experience the full range of performing arts disciplines.