The Hartt Recording Studio (HRS) is a professional-quality audio facility, serving The Hartt School, University of Hartford, and Greater Hartford area. Our staff is made up of students, most of whom are majoring in music production and technology. The Hartt Recording Studio and its staff is overseen by Recording Studio Coordinator, Koby Nelson.
Each year, HRS staff records more than 400 performances for The Hartt School, in addition to demo and application recordings for various community members. Most major student ensemble performances are available for CD purchase.
To inquire about obtaining performance recording(s) or to secure other Hartt Recording Studio services, please contact the HRS.
HRS Services Policies/Procedures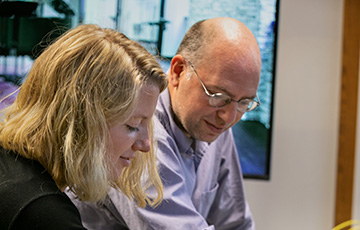 **DUE TO COPYRIGHT RESTRICTIONS, WE CAN MAKE COPIES OF CONCERTS IN OUR ARCHIVE ONLY FOR INDIVIDUALS DIRECTLY INVOLVED IN THE PERFORMANCE. FOR ANY OTHER COPIES, YOU MUST OBTAIN WRITTEN PERMISSION FROM THE PERFORMERS AND THE COPYRIGHT HOLDERS.**
Single-Disc Concert Copy: $15
Double-Disc Concert Copy: $22
ANY Hartt Community Division Performance: $18
All bookings must be made with at least four (4) weeks advance notice.
Hourly rates do not include materials costs.
A one (1) hour minimum booking is required for recording sessions. This includes one hour of setup and tear-down.
Hourly rate - $50 per hour (does not include any media costs)
Audition videos (video and audio recording) - $75 an hour.
On-Campus Recital - $75 ($25 deposit), includes one CD copy (audio only)
Off-Campus Recital (Hartford County only) - $85 ($25 deposit), includes one CD copy (audio only)
On-Campus Recital - $100 ($25 deposit), includes one CD copy (audio only)
Off-Campus Recital (Hartford County only) - $150 ($25 deposit), includes one CD copy (audio only)