Looking to costume an entire show, or just need a few pieces to finish your design? Let us help you!
We have a diverse costume stock that regularly supports large theater, dance, and opera programs.
We will work hard to fulfill your design vision. We only rent to organizations who are producing theatrical productions.
Mikado
Rivals
Seven Brides for Seven Brothers
Caucasian Chalk Circle
On the Twentieth Century
Pippin
Tommy
Miss Saigon
A Little Night Music
The Importance of Being Earnest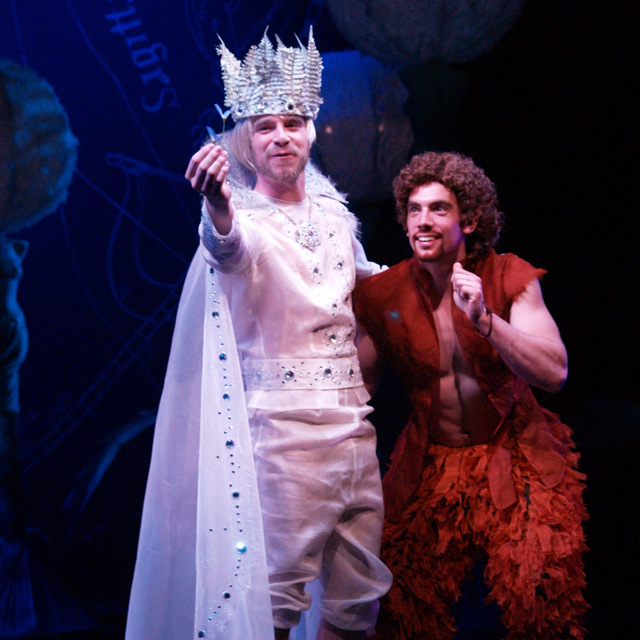 Guys and Dolls- Hot Box Girls
How to Succeed in Business Without Even Trying- Paris Originals, and Treasure Girls
Pirates of Penzance- Daughter dresses,
Equus- Horse heads
Midsummer Nights Dream- Puck, Fairies and Mechanicals
Ragtime- The New Rochelle Women, Evelyn Nesbit and swim wear
Military Costumes
Crinolines
Greek
Medieval
1600's
1700's
1800's
1900's
Modern
Religious
Modern Men's Wear
Costume Rental Procedures
A Certificate of Insurance is required before any costumes are pulled and removed from The Hartt School Rentals. The certificate can be faxed, mailed, or brought to the rental coordinator on day of rental. All rented costumes are to be returned in their original condition unless otherwise specified in writing from rental coordinator. Costumes are to be returned professionally dry-cleaned. There is to be absolutely no cutting or dyeing of costumes unless given written permission by the rental coordinator. A cleaning fee will be charged for any or all items not cleaned prior to return. A restocking fee will be charged for over 15 unused items. You will be charged full price for any unused items returned after the unused items return date. Rental payment is due no more than one week after rented costumes are returned to The Hartt School Rentals.
For More information contact Tim Milligan, Costume Rental and Stock Coordinator