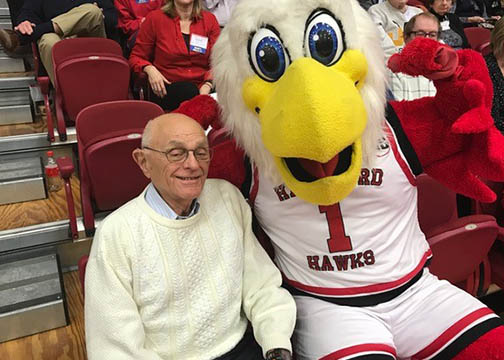 Outstanding Alum: Impact on the University of Hartford
Bernard "Bernie" Hersh Rosen dedicated decades of his life to education, beginning his career in 1966 as a teacher at South Windsor High School, where he worked until 1977. He then went on to New Britain Senior High School from 1971 to 1995, holding positions as an accounting and business law teacher, chairperson of the business department, vice principal, and, lastly, as housemaster. Even in his retirement, he continued his service to education, working as a part-time substitute teacher and acting vice principal at Cromwell High School.
For more than 50 years, Rosen has been passionately devoted to his alma mater, making him UHart's longest-giving donor through his loyal support. In his honor, the Rosen Society was named—a community whose members have made gifts for five or more consecutive years. In addition to his annual giving, in 1985, Rosen established the Bernard H. Rosen Endowed Scholarship Fund to benefit UHart students who have graduated from New Britain High School. 
As a volunteer for UHart, Rosen has sat on a number of boards within the University of Hartford. He was a member of the Library Board of Visitors from 2009 to 2010 and again from 2012 to 2017, and was a member of the Alumni Board of Directors from 1999 to 2003. 
Rosen can be found at almost every Hartford Athletics home baseball game at Fiondella Field. It is tradition for Rosen to lead fellow fans in the singing of "Take Me Out to the Ballgame" in the seventh inning, and a brick bearing his name can be found outside of the entrance to the field.  
As a student, Rosen was a member of the Epsilon Alpha Zeta and Lamba Phi Alpha fraternities, student council, education club, and Hillel. Rosen received his bachelor's degree from the College of Education, Nursing and Health Professions (ENHP), graduating cum laude in 1961, and later received his master's in education from ENHP in 1966. As an undergraduate student, he was an active member of the Epsilon Alpha Zeta and Lamba Phi Alpha fraternities, the Education Club, and Hillel, and served on the student council.