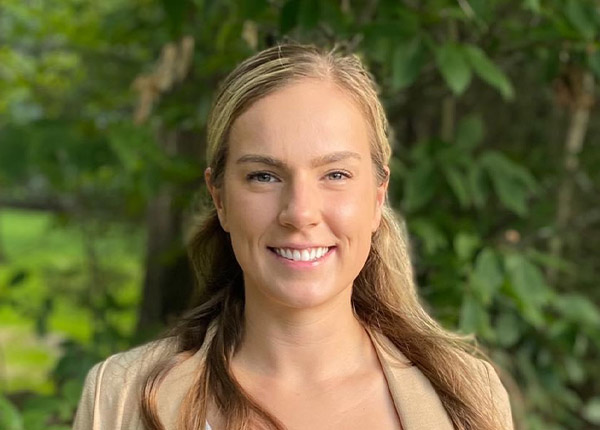 Outstanding Alum: Impact on the University of Hartford
For Alexa Keener, the University of Hartford is more than the place she earned her degrees, it remains a place that holds significance in both her professional and personal lives. Keener serves as a human resources business partner at CVS Health, a position she took on after the acquisition of Aetna by CVS Health. Keener served in a variety of roles at Aetna, including human resources consultant and financial analyst, and was a founder of the Aetna Hartford Alliance, which has helped grow the University's alumni network at Aetna. In addition to her own UHart ties, Keener's brother, McGwire (Mac), and mother, Lesley, both hold University of Hartford degrees; her father, James, worked at the University for nearly 40 years.
As an undergraduate, Keener was a member of the Student Government Association, Barney Leadership Council, Homecoming Planning Committee, and served as a resident advisor and student regent. An active volunteer, she worked with the Barney School of Business, Center for Community Service, Career Center, and Admission. She continues to generously give her time through her partnerships with Police Activities League (PAL) and the annual Aetna Hartford Alliance Summits with the University.
Outside of the University, Keener lends her skills to a number of local organizations. She is the current selectman and board of public safety candidate for the City of Torrington. In 2020, she became the vice chair of the Torrington Democratic Town Committee, a position she still holds today. She continues her volunteer work through her commitments to Big Brothers Big Sisters, Foodshare, NARAL Pro-Choice Connecticut, Planned Parenthood of Southern New England, and Junior Achievement. She previously sat on the board of the Connecticut Alliance for Victims of Violence and Their Families.
Keener and her fiancé, Tony Maljevic, reside in Torrington, Conn., and are planning a wedding in October 2021.