Steve Minkler '86, M'00, D'08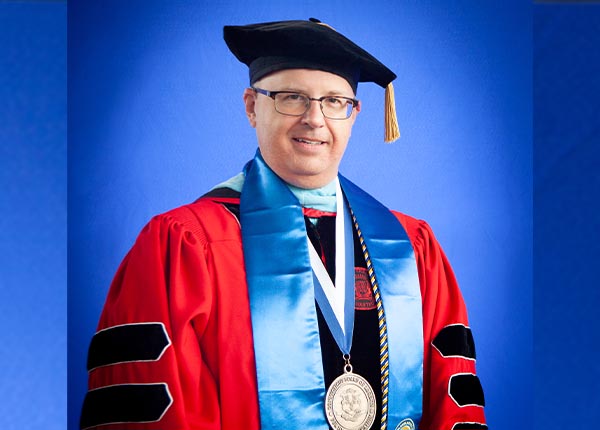 Outstanding Alum: Exceptional Professional Success
Steven Minkler is chief executive officer (CEO) of Middlesex Community College in Middletown, Connecticut. He leads an institution with nearly 5,000 students enrolled in associate degree, certificate, and workforce development programs offered at its main campus, a satellite location in Meriden, manufacturing centers at two technical high schools, online, and at numerous dual-enrollment, clinical, and internships sites.
A proud University of Hartford alumnus, Minkler holds three degrees from the University: a bachelor's and master's in communication, and a doctorate in educational leadership. While an undergraduate, he served as co-editor of the yearbook and chair of the Student Union Board of Governors. Sine then, he has sat on several dissertation advisory committees for University of Hartford doctoral students.
Minkler's impressive career in higher education spans 35 years at three of Connecticut's community colleges. He joined Middlesex in 2012 as its chief academic officer (CAO), assuming the role of CEO in 2017 while also continuing to serve as CAO for another two years. Previously, he was the academic division director for STEM programs at Northwestern Connecticut Community College, and director of academic media technology at Capital Community College. 
Minkler has worked tirelessly to build a culture of compassion, collaboration, inclusion, and civility at Middlesex, and his impact is evident in the communities he serves. He has secured more than $13 million in private and public grants to support academic programs and student wrap-around services such as the college's "Magic Food Bus" food pantry. In 2016, Minkler played a key role in Middlesex deciding to join Wesleyan University in expanding its Center for Prison Education. This public-private partnership has gained national attention for its liberal arts focus, and for seeing 30 students earn their associate degrees while incarcerated at two of the state's correctional institutions.
Minkler lives in Waterbury with his wife, Karen. An amateur musician, he and his daughter Rosemary, an accomplished jazz pianist in her own right, have hosted and performed an annual "Cool Yule" holiday concert since 2002 to benefit a local soup kitchen and food bank.