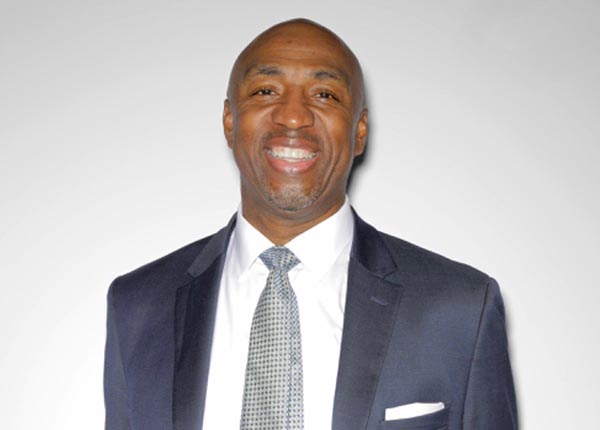 Distinguished Alum
Vincent "Vin" Baker is assistant coach of the 2021 NBA champion Milwaukee Bucks. To date, he remains the greatest men's basketball player in the University of Hartford's history. An All-America forward for the Hartford Hawks, Baker played four years at the University and left as the all-time leading scorer with 2,238 career points, a record he still holds.
As an undergraduate, Baker began at Hillyer College before advancing to the College of Arts and Sciences to major in communication. Baker attended the University from September 1989 until May 1993, when he was drafted into the NBA as the eight overall pick by the Milwaukee Bucks. He was the highest draft pick ever from the North Atlantic (now America East) Conference and only the second Hartford player ever drafted by an NBA club. Baker played for seven teams in his 13-year NBA career and was a four-time All-Star. He was also a member of the gold-medal winning 2000 U.S. Men's Olympic Team.
Prior to joining the Milwaukee Bucks' coaching staff, he served as assistant coach for the Texas Legends for the 2016–17 season, and as an analyst for Fox Sports Wisconsin's "Bucks Life" pregame and postgame shows. Before his tenure coaching, Baker explored an unexpected career path. In 2015, after reaching out to friend and former Seattle Supersonics team owner Howard Schultz, he trained as a barista and future store manager at a Starbucks. To this day, he credits this experience with giving him hope and a new outlook on his journey of sobriety, which he explored in his memoir, God and Starbucks: An NBA Superstar's Journey Through Addiction and Recovery. In 2018, Baker founded Bouncing Back: The Vin Baker Foundation, a nonprofit organization dedicated to reducing the impact of addiction and promoting sobriety. The foundation's mission is to treat, educate, and motivate those who are most endangered by addiction with life-saving work that enriches the lives of individuals, families, and communities.
Displaying tremendous success on and off the court, Baker remains an admired member of the UHart community. He received a number of awards during his Hartford Hawks career, including the Jim Harrington Award, the Melvin Fine Award, and the Vin Baker Award, named in his honor for the year's top scorer. Since then, awards like the Vin Baker Endowed Athletics Scholarship and the Vin Baker Endowment for Hartford Scholars were established to assist students from Hartford schools who aspired to attend the University of Hartford. His jersey, #42, hangs on the east wall of Chase Arena in the Reich Family Pavilion and remains the only men's or women's basketball number to be retired by the University.
Baker is a father of four and husband to his wife of seven years, Shawnee.