"THE ALUMNI NETWORK IS AN INCREDIBLE FORCE...I BELIEVE IN FACILITATING CONNECTIONS TO CREATE MORE SYNERGY AROUND A TOPIC OR SHARED BELIEF."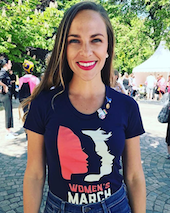 Christiana Lang '12 is making a difference in communities from India to Thailand, taking her mission internationally as a peace-builder, women's rights advocate, and activist. She writes to us from Sweden and tells us why she stays connected to UHart:
What's your fondest memory?
Much of my experience at UHart centered around Athletics as part of an incredible women's soccer team. When I think back on fond memories, the most defining moments came from the most difficult times. For example, waking up for lifting practice at 6 a.m. felt like torture, but, afterward, eating all the scrambled eggs the cooks at Commons could make (with hot sauce, obviously) became a fond ritual. I may have been bitter about it then, but I now look back on it with smiles, picturing tables of my teammates and me, extremely tired, but loving the hot-sauce eggs.
I was a transfer student to UHart, arriving as a junior. The only way I could have been able to attend the University was through an athletic scholarship. I am extremely grateful and indebted to Coach John Natale for giving me the opportunity of an education while playing the sport I loved most.
Before moving to Connecticut, I spent my entire life in southern California. I thought scarves were an accessory, and didn't know that rainboots were not made for the snow. The two years I spent at UHart also happened to be two of the coldest years the state had experienced. After taking a few lessons on the art of layering from friends, I finally began to understand how to survive east coast winter as a west coast novice!
What's the one class or one professor you would recommend to students today?
It is hard to choose just one class or one teacher I would recommend. In truth, I would recommend the entire Politics, Economics, and International Studies Department. The professors teaching law; international relations; social, culture and race intersectionality; and environment really shaped my understanding of both classically understood narratives. More importantly, the classes challenged me to form my own opinions, and to be prepared to speak about them with references and applied theory.
Was there a defining moment you had as a student that led you on the path you are on today?
There were many defining moments. Some good, some not good, and some so powerful, without which I wouldn't be where I am today. This is how I believe many students view college.
During an extremely bad snow storm, one of my academic advisors, Leslie Smith, braved the roads to come into the office and helped me submit an internship application on the day of the deadline. That internship gave me so much knowledge and a platform to continue moving in the direction of politics, policy, and social justice. Professor Smith has continued to be an advocate for me (as have many of the politics and government faculty) through my additional applications to fellowships, programs, and my current university in Sweden.
Many alumni choose to stay engaged with UHart after they graduate. Can you tell us what inspires you to give back and stay connected?
The alumni network is an incredible force. My engagement with UHart at this point is speaking with students through presentations or mentoring calls. It inspires me to hear what drives students toward their goals and what their plans after graduation are. I believe in facilitating connections to create more synergy around a topic or a shared belief.
What advice would you give to current students and young alumni?
My advice to current students regarding their studies is to be clear and curious about your own beliefs while remembering to always consult the beliefs of others, as well. Read history and support your claims with references. Go to your professor's office hours. I went to every single minute of my statistics professor's office hours, which was the only way I completely understood the concepts. Sometimes hands-on training is needed. UHart is so special because that kind of support is accessible.
When searching for your major, or your purpose, or even what job to apply for, consult mentors. Reach out to teachers, alumni, strangers on LinkedIn, or even people who are already working where you would like to. Create a list or a picture of things you would like to do or places you would like to go. Then, take steps to get there. Success is rarely an individual event. Allow those around you to share in your goals by consulting them for their advice, or asking about their story.
More about Lang: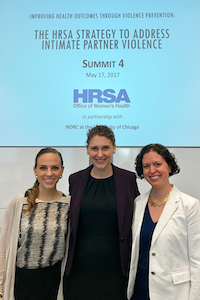 Originally from California, Christiana Lang has lived, studied, and worked on both coasts of the United States, Thailand, India, Sweden, and Switzerland. She is a peace-builder, an activist, and an upholder of equality. Lang's education is in politics and government, sociology, anthropology, and international peace and conflict resolution from universities in California, Connecticut, and Uppsala, Sweden. For the past seven years, Lang has worked in many sectors in the grassroots, local, state, federal, and international levels. She is a Returned Peace Corps Volunteer, and lived for two and a half years as a youth and community development specialist in a rural Thai village. In Jaipur, India, she worked with volunteers on health and education programs at Vihaan, a school within the slums. While in the U.S., Lang directed NGO youth programs and worked at the federal level in the HHS/HRSA Office of Women's Health on the prevention of intimate partner violence.
Currently, Lang is a Rotary Peace Fellow at Uppsala University where her research focuses on women in the peace process, women's health as a predictor of conflict, feminist foreign policies, global diplomacy, and international conflict resolution mechanisms.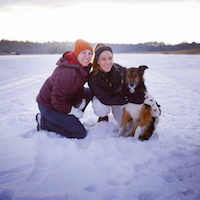 Through the Rotary Peace Fellowship, she has directly contributed to work between Mediators Beyond Borders International and Geneva Center for Security Policy, and the United Nations Office of the High Commissioner for Human Rights.
Outside of work, Lang enjoys teaching and practicing yoga, running, converting people to vegetarianism, and exploring nature. She and her wife, Melanie, a writer and Reserve Officer in the U.S. Navy, currently live with their dog, Cooper, in Sweden.
To learn more about Lang and her work, read her blog posts for the Swedish Organization for Global Health on the Girls' Globe.