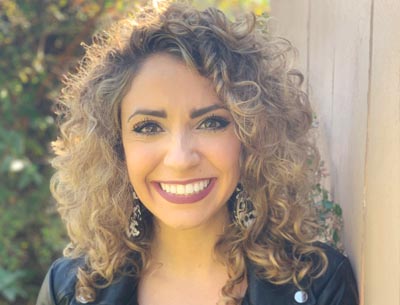 "The common theme through everything I've done so far has been a love of creating communities that are positive and uplifting."
Lauren Szuman '12 translated the leadership skills she learned as a Red Cap to an exciting career in the nonprofit sector, then took on a role as a team lead at the popular styling service, Stitch Fix. Her path took her from Hartford, Conn., to San Diego, Calif., and she's thrilled for the adventures her future holds. 
How did your time at the University of Hartford equip you for where you are now?
I believe that everything I was involved in at UHart led me to take on my career. I was a Red Cap and on the Red Cap committee—I hired my now-husband as a Red Cap—and I was in a sorority, Delta Gamma. All of the programs I was involved in were really what shaped me for after college.
The common theme through everything I've done so far has  been a love of creating communities that are positive and uplifting. I want to connect people to each other and create positive experiences for others. The jobs that I've had since I graduated have been very different from each other, but I can still see that common theme.
During my time at UHart, I was also involved in a national nonprofit for college students called Greek InterVarsity, a Christian organization for fraternity and sorority students. I was a student leader for that organization starting during my junior year, and continued to work for them for six years to build connections and open up safe conversations about faith in the Greek community.
What's it like to work at Stitch Fix?
A lot of my role was to develop leadership, manage people, and foster a sense of community across Greek organizations on college campuses. It was an incredibly impactful part of my experience at UHart. The reason why my husband and I moved to San Diego was to continue the journey I had been on, to help build a branch of that organization at San Diego State.
I've always loved fashion. It's always been close to my heart, but I didn't think I'd ever be working in the industry. When I heard about Stitch Fix, what immediately jumped out to me was that I could impact other women in a positive way by styling them in an unexpected way that makes them feel confident. I loved that I could empower women through body positivity, and I've been able to empower my team to be the best versions of themselves, as well.
All of my experiences at UHart—developing others, and inspiring them to do what they love—have translated to my job now.
Were there any discoveries you made about yourself during your time at UHart that positioned you for your career now?
As a Red Cap introducing first-year students to the university, you get a rush when you see someone so excited to start something new. Helping first-year students start a fresh chapters in definitely encouraged me to take on the opportunities I've had since graduation.
What's been the most surprising thing about your post-college journey?
What surprised me the most was that other people didn't have the same positive experience at college as I did at UHart. I left college feeling really excited about the next chapter of my life, and feeling really energized for that, so it was surprising to me to hear from people I hadn't gone to college with. I had a lot of positive and eye-opening experiences at the University of Hartford, so I'm really grateful for my time there.
I also didn't expect to step away from the journalism track when I left college. I'm still using my communications degree now, but it was unexpected that so much of my journey grew from college experiences in general. Beyond my classes in journalism and writing, I also learned about who I was as a person and as a leader. I didn't know how much I enjoyed leadership, developing teams, and fostering community until I started my career. Holding leadership roles helped me realize that I wanted to pursue that kind of role outside of college.
Do you have any advice for students who are preparing to transition to post-collegiate life?
Follow your heart. Look at the last four years of your journey at UHart and see the beauty of how you've grown. Look at who you are today versus who you were when you first stepped onto campus. Look at all that you've learned. The skills that you have now might be totally different from those you had when you started college. The life experiences that you have while you're a part of the UHart community have so much value in themselves. It's ok if you do something totally different from what you set out to do.
Your experiences and your passion are what matter. What you're doing right now might not be the rest of your life, but it's a part of what will drive your future success.
"I hired Greg as a Red Cap," says Lauren. "We were together though college, and now we're married, living in San Diego."