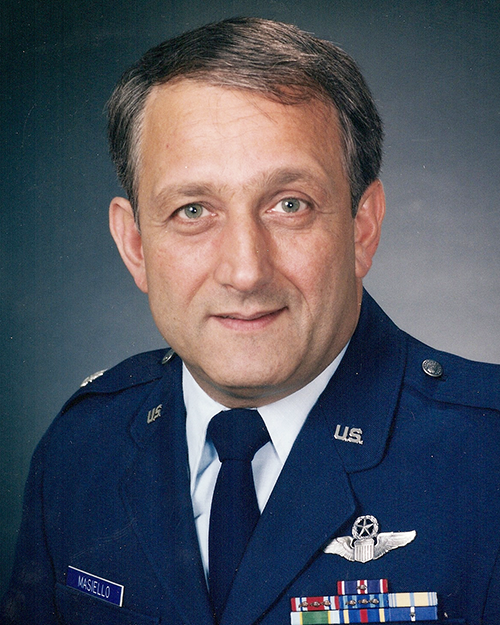 "I sincerely believe my careers with both Square D and the military would not have been possible without attending and graduating from the University of Hartford."
For Lenny Masiello '69, P'98, engineering classes at the University of Hartford led him on a career path, which made one of the most important moments in American history possible. In the mid-1960s, he joined the Apollo Program and helped test and develop the space suit astronauts would later wear to the moon. This year marks the Class of 1969's Golden Hawks 50th Reunion and Masiello reflects back on his life's path since his UHart days:
How does it feel to be a "Golden Hawk" about to celebrate your 50th reunion and how has the University made a difference in your life?
It is still hard to believe that 50 years have passed since graduating from the University. I sincerely believe my careers with both Square D and the military would not have been possible without attending and graduating from the University of Hartford.
Before graduation, you became a pilot and served our country in the Air National Guard. Tell us about that experience.
 In December 1965, I was working at Hamilton Standard while attending the University of Hartford's evening engineering classes. I decided it was time to fulfill a lifetime dream, postpone my education, and attend Air Force pilot training. While awaiting the mandatory background check, I was approached and asked to get involved in the Apollo Space Program. This was an exciting opportunity having the very first Apollo Space Suit designed specifically for me by International Latex of Dover Delaware. Testing of this new suit included conducting experiments and performing electron beam welding in a vacuum chamber at 100,000 feet (pressure altitude).
In the summer of 1966, I was sent to the NASA Space Center in Houston, Texas to demonstrate the flexibility and capabilities of this new space suit. In attendance were astronauts John Glenn, Jack Swigert M'67, Gordon Cooper, Alan Shepard, and Gus Grissom.
In November of 1966, I was commissioned a second lieutenant and departed for pilot training at Laredo AFB, Texas, graduating in December 1967. Additional fighter pilot training was completed in March 1968. I returned to University of Hartford and completed my senior year graduating in June 1969 with a Bachelor of Science in Electrical Engineering. I continued flying a variety of fighter jets with the Air National Guard (ANG) and was designated an instructor pilot and flight commander before retiring 22 years later as Lieutenant Colonel with over 3,000 hours of flight time.
Note: Interestingly, at the time, every fighter squadron had a "call sign" that distinguished it from other squadrons. A bit ironic but our unit call sign was "Hawk"!
Photo: Courtesy of the Archives Division of the National Air and Space Museum, Smithsonian Institution.
You have already shared a great deal regarding your role testing the first Apollo spacesuit. Did you understand then the place you would have in American history?
I have to admit that, at the time, I simply felt honored to have been chosen to work on the Apollo program but never really thought about its overall impact on history.
What was your reaction when man landed on the moon?
I remember this event like it was yesterday. On July 20, 1969, my squadron mates and I were glued to the TV and I literally got goose bumps when Neil Armstrong walked on the moon. It was at that moment that I felt a strong sense of pride knowing that I had a small part in making this historic event possible.
Can you tell us about your career outside of the military with Square D?
Still flying with the ANG on a part-time basis, I joined the Square D Company in 1981 as a sales engineer. My primary responsibility included the Industrial and OEM manufacturers in Vermont, Western Massachusetts, and Connecticut. In 1983, I was promoted to Regional Sales Manager for control and automation products with a team of 12 engineers from Maine to Virginia. I continued in that role until 1995 being promoted to Sales VP for the Mid-Atlantic region. In 1999, another great opportunity arose as Director of Global Strategic Accounts, responsible for an international team calling on major manufacturers that spanned the globe. This position allowed me to work with international engineering teams on electrical projects while enjoying the benefits of traveling throughout the United States, Europe, and Asia.
What advice would you give to current students and young alumni?
When I reflect back on my career experiences, I would advise graduates to determine as early as possible if this is the job and/or company they wish to stay with long term. The 22 years of military flying and 25 years with Square D Company were the absolute best and I enjoyed both immensely.
Did you have a favorite professor or mentor who helped shape your University of Hartford experience?
Professor Carl Alsing and Dean Alexander Zerban. Both were extremely helpful in guiding my course selection and career.
F-100D Barnes Municipal Airport (MAP), 1975
Heading home in an F100-D, 1976
F-100D (close formation), 1977. Photo taken from another aircraft; wing visible in lower right corner.