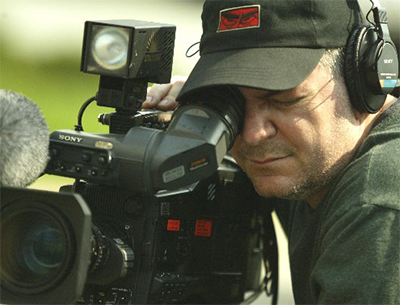 "Do it for the love of it, not with a mind or goal towards what most define as 'success.' Just concentrate on doing good work (art) and your audience will find you."
Writer and director Michael Mongillo '90, credits his experience, along with the people he has met at UHart, as key factors for his successes. Mongillo, who recently released the feature film Diane, started at UHart with the intention of pursuing a degree in graphic design. Before long, Mongillo realized he was destined to follow a different path.
Name the 3 best things about UHart.

Professors, mentors, and instructors.

Gene Gort, James Keener, George Michael Evica, Christ Horton, and many more. Gene Gort was the head of what was then the film/video department at the Hartford Art School (HAS). He was an amazing mentor and in many ways I'm still trying to please him with the narrative work I direct. His teachings put an emphasis on the experimental, non-narrative, and a deconstruction of traditional forms of visual storytelling and commercial media. As a student, I leaned towards narrative filmmaking from my love of cinema but Gene always challenged that in the best ways possible. He introduced me to video art, critical essays, and a wide range of concepts on form, content, and style that I never would have been exposed to if I'd gone to NYU or a more traditional film school.
Chris Horton was a big part of that, too. My favorite course was taught by him: experimental studio, which is a bit hard to explain. It certainly intersected with the same concepts of deconstruction and analysis extending to all mediums and forms of expression, and wild theories and rants on constructs and systems that delved into mathematics and philosophy.
With Gene and Chris, you could never be lazy; you always had to have answers for the choices you made. Even if your answer was as basic as, I used the color green in this painting because I like green better than blue, these guys demanded that level of awareness in the choices you made so, if I can call myself an artist today, it's because of people like Gene and Chris and all of my very talented peers.
Jim Keener was also a big influence. He was the head of the communications department, ran the TV studio, so he had all the toys. That's why I signed up but I ended up taking as many courses as I could with Jim because he was just as demanding as Gene and Chris and he had a way of making everything fun. At graduation, he gave me a book from his personal library, Encountering Directors, interviews with directors like Hitchcock, Truffaut, and Fellini. Inside, he inscribed it, "If you gain any information that will help you towards your goal, you will not have wasted your time reading it. Of course, you have to read it first." To me, that was Jim's humor and kindness in a nutshell and that's what made him such a great educator.

Was there a defining moment at UHart that led you on the path to where you are today?

Changing my intended major of graphic design to film/video. I decided to change my major from graphic design to film/video because I had what will now be considered a very old-fashioned notion: that art is something you make with your hands. I came to HAS at the advent of computers, when graphic design was becoming reliant on that technology. And really, I was hedging my bets, seeking a marketable skillset to enhance my strengths as an illustrator so I could land a job after I graduated. I transferred from BU because they made it nearly impossible to do cross-disciplinary studies between departments and schools; not at all the same situation at UHart. A big part of my choice to transfer was because I wanted to take as many film lit and production classes as I could while pursuing a design degree. So, with all the mind-bending stuff I was learning in film/video and experimental studio, it wasn't't hard to convince myself to follow my real passion, filmmaking and cinema studies, as unrealistic and impractical as it seemed at the time. Even with all the breaks I've had, it's nearly as unrealistic and impractical now as it was then, but I'm still doing it. It's what I love.


Photo at top: © 2008, Dave Zajac, Mean Time Productions, LLC.
Michael Mongillo, while enrolled at HAS, visiting New York City, circa 1987.
On the set of Welcome to Earth. Photo: © 2005, Dave Zajac, Mean Time Productions.
On location for The Wind. Photo: © 2001, Dave Zajac, Mean Time Productions.
Being Michael Madsen movie poster
More about Mongillo as a Writer and Director:

Michael Mongillo '90 is an accomplished feature film director, screenwriter, and producer, who has been described as an "indie filmmaker on the rise" by the Starz Denver International Film Festival. He earned this reputation with his debut feature, The Wind, a dreamy morality tale about misconceptions and murder. This psychological thriller was awarded Best Picture at Shriekfest and Bare Bones International. Praise from maverick director Ralph Bakshi and a full-page article in Fangoria magazine helped secure the film's cult status. Mongillo's follow-up feature, Welcome to Earth, chronicles a microcosm of ordinary people during the global countdown to alien visitation. Shot in just six days, this sci-fi dramedy was selected for NewFilmmakers NY. Mongillo's next feature, the mockumentary Being Michael Madsen had its world premiere at Raindance Film Festival, was the Opening Night Feature at DancesWithFilms, was honored with the Audience Award at the Faux Film Festival, and won Mongillo the Best Director award at MockFest. Just two years later, the film was handpicked to screen in New Horizons International Film Festival's mockumentary retrospective alongside such landmark films as This is Spinal Tap and Man Bites Dog. Mongillo's fourth feature, Diane, is a throwback to both American filmmaking of the early '70s and the Danish movement, Dogme 95. The director describes this supernatural mystery as "Stephen King meets Elmore Leonard." Following its world premiere at FrightFest London and screening at New York City Horror Film Festival, Diane was nominated for a 2018 Rondo Hatton Classic Horror Award for Best Limited Release Independent Film among a list of notable nominees. Mongillo is currently in pre-production on his fifth feature, The Changed, a revisionist sci-fi horror thriller. This Invasion of the Body Snatchers-inspired story is scheduled to begin principal photography in 2020. See more of Mongillo's work at meantimeprod.com.



Would you like to share your story and be featured in a spotlight? Email us or share your story here.