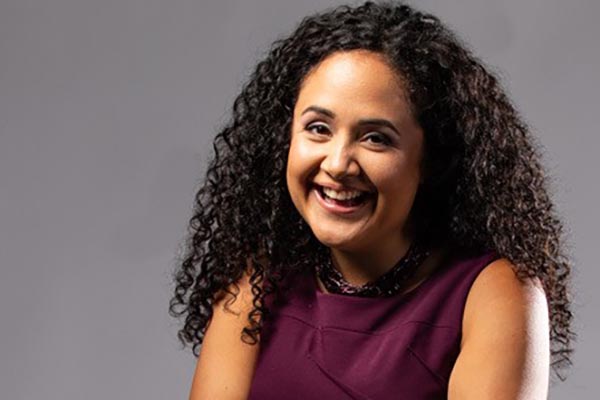 The University of Hartford has graduated many accomplished and notable alumni over the years, representing a wide range of industries from the performing arts to business and technology.
By Industry
Kalena Bovell MM'14, GPD'15 (Hartt)
Assistant conductor of the Memphis Symphony Orchestra; conductor of the Memphis Youth Symphony
Peter Boyer M'93 (Hartt), D'95 (Hartt)
Composer, orchestrator, and conductor, whose Grammy-nominated work Ellis Island: The Dream of America will be featured on PBS's Great Performances series in the 2017–18 season
Phillip Boykin '95 (Hartt)
American bass-baritone, Broadway, opera, film, and stage actor
Franc D'Ambrosio '81 (Hartt)
Broadway actor who gained distinction as the world's longest running Phantom in Phantom of the Opera
Steve Davis '89 (Hartt)
Jazz trombonist
Mark Dion '86 (HAS)
Noted artist
Christine Dwyer '07 (Hartt)
Broadway actress who played Elphaba in the musical Wicked
Ryan Speedo Green '08 (Hartt)
Bass-baritone opera singer
Marin Ireland '00 (Hartt) 
Actress who won the 2009 Theatre World Award and was a Tony Nominee for her performance in Reasons to be Pretty
Jae Yong Kim '98 (HAS)
Visual artist and sculptor
Annette Lemieux '81 (HAS)
Visual artist; senior lecturer on art, film, and visual studies, Harvard University
Nancy Bergman Pantirer '77 (HAS)
Visual artist
Shane Shanahan M'98 (Hartt)
Two-time Grammy award-winning percussionist and original member of Yo-Yo Ma's Silk Road Ensemble
Timothy Stella '75 (Hartt)
Musician, musical director, and associate conductor of Broadway's Phantom of the Opera
Jeff Bagwell
National Baseball Hall of Fame member, former all-star for the Houston Astros
Vin Baker
Former NBA All-Star
Kathy Behrens '85 (ENHP)
President of Social Responsibility and Player Programs for the National Basketball Association
Matt Bessette '07 (A&S)
Mixed martial artist in Bellator
Lou D'Angeli A'94 (Hillyer), '95 (A&S)
Extreme Championship and WWE professional wrestler
Jerry Kelley '89 (Barney)
PGA Senior Tour professional
Gary LaRocque '75 (ENHP)
Director of player development for the St. Louis Cardinals
Sean Newcomb
Professional baseball player in the Atlanta Braves system, 2014 first-round draft pick
Tim Petrovic '88 (A&S)
PGA professional
Christopher Albert M'10 (Barney)
Partner, Deloitte Tax, LLP; 2020 Anchor Award recipient
Don Allan '86 (Barney)
Senior Vice President and CFO, Stanley, Black and Decker
Abdulaziz AlOtham '14 (CETA)
Management consultant, Strategy and Transformation, Ernst & Young;
2020 Anchor Award recipient
Thomas O. Barnes Sr. '72 (Barney)
Chair, Barnes Group Foundation
Andrew Block '90 (Barney)
CEO of DariFair Foods, known for inventing Reddi-Whip
Richard Booth '69 (Barney), M'77 (Barney), H'05
Retired Chairman, President, and CEO, Hartford Steam Boiler
Mark Boxer '83 (CETA), '83 (A&S)
Executive Vice President and Chief Operating Officer, University of Hartford;
Retired Executive Vice President and Global CIO, CIGNA Corporation
Richard Cardin '62 (A&S)
Retired Head of Corporate Human Relations, UPS
Jean-Louis Chave '90 (Barney)
Owner, Domaine Jean-Louis Chave winery
David Cordani M'95 (Barney)
President and CEO, Cigna
June Ressler Coldren '77 (HAS)
Founder and President of Cenergy International Services, a woman-owned, global provider of specialized personnel for the oil and gas industry
Stephen Dalyai '61 (Ward), A'09 (CETA), '13 (CETA) 
President and CEO of Quindar Electronics, Inc., credited with the introduction of the first transistor voice frequency
Diana Delva '10 (Barney)
Founder, Chèlbè
Brett Gerstenblatt '94 (HAS)
Enterprise Creative Director for CVS Corporation, responsible for the campaign that ended the sale of tobacco products at all of its stores
Kenneth Glueck '89 (A&S)
Executive vice president, Oracle Corporation
Jeff Goffman '80 (Barney)
Chairman and CEO of the Integrated Oncology Network
Allyn Golub '62 (A&S)
Vice President of Clinical and Technical Affairs, Key Pharmaceuticals
John Harris M'83 (Barney)
Historian, author and former President and CEO of Quality Time Video, Inc.
Nicole Hughey M'99 (Barney)
Vice President, Diversity and Inclusion at SiriusXM + Pandora
Francis "Frank" X. Hursey A'73 (CETA), '77 (CETA)
President and Founder of On Site Gas Systems, Co-Founder of Z-Medica, and inventor of QuikClot
Rachna Khanna M'03 (Barney)
Founder and managing partner, Rachna Khanna Law, LLC; real estate investor; 2020 Anchor Award recipient
Justin Ross Lee '06 (Barney), M'08 (Barney)
Socialite and businessman
David Nord '79 (Barney)
CEO and President, Hubbell, Inc
Jerry Orefice '66 (Barney)
President, JA Orefice and Company
Chuck Pagano '84 (CETA), M'07 (A&S)
Former Executive Vice President of Technology and Chief Technology Officer, ESPN
Anne Parthiot-Mons '91 (Barney), M'92 (Barney)
President, Permal Group SAS
Deverell Smith '00 (Ward)
Retail real estate and development, Apple, Inc.
Ruth Smith '81 (A&S), M'86 (Barney)
Executive Vice President, National Life Group
Kristiana Spaulding '90 (Hillyer)
Founder, Silver Trailer
Evaristo Stanziale '87 (Barney)
Founding Partner and Senior Vice President, SCS Commodities
Jeffrey Wolf '82 (A&S)
Partner and internationally recognized franchise law attorney at Quarles & Brady
Scott Bradlee '08 (Hartt)
Founder and band member of the musical group Postmodern Jukebox
Alex Briley
The "military man" from the band Village People
Tina Chen (A&S)
Stage, film, and television actress, director, and producer
Javier Colon '00 (Hartt)
Singer and songwriter who won NBC's reality singing competition The Voice
Justin Foley M'01 (Hartt)
Drummer for the Grammy-nominated metal band Killswitch Engage
Jim Ford '04 (Hartt)
Actor and stuntman
Jimmy Greene '97 (Hartt)
Grammy-nominated musician and performer
A.J. Hammer '88 (Barney)
Radio personality and television host of CNN's Showbiz Tonight
Liane Hansen H'07
Host of National Public Radio's Weekend Edition Sunday
Jack Hardy '70 (A&S)
Singer and songwriter
Jonathan Lee Iverson '98 (Hartt)
First African-American ringmaster of Ringling Bros. and Barnum & Bailey Circus
Tony Leone '92 (Hartt)
Professional rock/country drummer
Kent McCray '51 (Hartt), H'07
Television industry pioneer, produced numerous successful series for television and film
Michael Mongillo '90 (HAS)
Award-winning film director and screen writer
Keir O'Donnell '00 (Hartt)
Actor who has appeared in such movies as The Wedding Crashers and American Sniper
David Pritikin '94 (A&S)
Emmy-award winning producer of reality TV shows, including Deadliest Catch, Sarah Palin's Alaska, and Survivor
Dionne Warwick H'86
Grammy-Award winning singer, actress and television show host.
Joxel Garcia '99 (Barney)
Former President and Dean, Ponce Medical School

Seymour Itzkoff A'48 (Hillyer), '50 (A&S)
Professor and researcher in intelligence
Katharina Lindner '03, M'05 (A&S)
Lecturer in film and media and member, Centre for Gener & Feminist Studies, University of Stirling, UK; published author; former player, Glasgow City FC; namesake, The Kat Lindner Award for Outstanding Athletics & Academic Achievement, Scottish Women's Football; 2020 Anchor Awards recipient (posthumous)
Bernie Rosen '61, M'66 (ENHP)
Retired teacher and administrator serving Connecticut schools; 2020 Anchor Award recipient; and namesake for the University of Hartford's Rosen Society
Leonard Boyle '80 (A&S)
Director of the Terrorist Screening Center for the FBI
The Honorable John Danaher M'77 (A&S)
Connecticut Superior Court Judge and former Commissioner of the State of Connecticut Department of Public Safety
The Honorable Robert N. Davis '75 (A&S)
Judge of the United States Court of Appeals for Veterans Claims
Francisco Flores A'79 (Hillyer), H'00
Former President of El Salvador
Katherine Hammack M'90 (Barney)
Assistant Secretary of the Army (Installations, Energy, and Environment), U.S. Department of Defense
Sidney Kaplan '69 (Hartt)
Retired foreign service officer, U.S. Department of State; member, 43rd Senior Seminar, Depaertment of State; fellow, Academy of Public Administration; 2020 Anchor Award recipient
Valerie Lewis H'08
Retired Commissioner of Higher Education, State of Connecticut
Mia Love '97 (Hartt)
U.S. House of Representatives, representing Utah's 4th House District
Douglas McCrory '88, M'95
State senator serving Connecticut's 2nd District
William J. Murphy '85 (A&S)
Former Speaker of the House for the State of Rhode Island
Richard Neal M'76 (Barney)
U.S. House of Representatives, representing Massachusetts' 1st House District
Jackalyne Pfannenstiel M'78 (Barney)
Former Assistant Secretary of the Navy, Energy, Installations and Environment, U.S. Department of the Navy
Jack Swigert Jr. M'67 (Barney)
Former NASA astronaut and Colorado Congressman-Elect
Nelba Márquez-Greene '97 (Hartt)
Founder, The Ana Grace Project; Intervention specialist, Capitol Region Education Council; 2020 Distinguished Alumna Award recipient