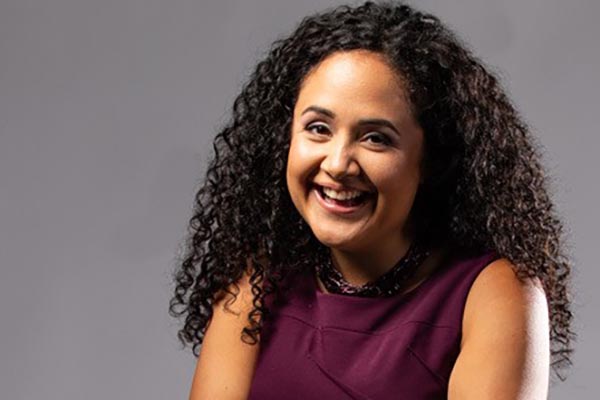 The University of Hartford has graduated many accomplished and notable alumni over the years, representing a wide range of industries from the performing arts to business and technology.
By Industry
Marian Anderson H'58
The first African American singer to perform at the White House and the Metropolitan Opera
Cindy Blackman Santana M'79 (A&S)
American jazz and rock drummer
Janet Arms '81 (Hartt)
Fluest, faculty member, and 2019 Anchor Award Recipient
Papa Asante '11 (CETA)
Founder of The LAB Media Empire LLC, a recording studio and rehersal space and a 2019 Anchor Award Recipient
Kalena Bovell MM'14, GPD'15 (Hartt)
Assistant conductor of the Memphis Symphony Orchestra; conductor of the Memphis Youth Symphony
Ronnie S. Bowman Jr. '17 (Hartt)
Broadway actor
Peter Boyer M'93 (Hartt), D'95 (Hartt)
Composer, orchestrator, and conductor, whose Grammy-nominated work Ellis Island: The Dream of America will be featured on PBS's Great Performances series in the 2017–18 season
Phillip Boykin '95 (Hartt)
American bass-baritone, Broadway, opera, film, and stage actor
Steve Collins '89 (Hartt)
President and CEO, Hartford Symphony Orchestra; Anchor Award recipient
Misty Copeland H'14
The first African American female principal dancer with the prestigious American Ballet Theatre
Franc D'Ambrosio '81 (Hartt)
Broadway actor who gained distinction as the world's longest running Phantom in Phantom of the Opera
Steve Davis '89 (Hartt)
Jazz trombonist
Mark Dion '86 (HAS)
Noted artist
Christine Dwyer '07 (Hartt)
Broadway actress who played Elphaba in the musical Wicked
Nikki Giovanni H'20 
World-renowned poet
Ryan Speedo Green '08 (Hartt)
Bass-baritone opera singer
Marin Ireland '00 (Hartt) 
Actress who won the 2009 Theatre World Award and was a Tony Nominee for her performance in Reasons to be Pretty
Jae Yong Kim '98 (HAS)
Visual artist and sculptor
Peggy Lyman Hayes '06, H'11 (Hartt)
Helped found the Dance Division of The Hartt School and director from 2001–04; former principal dancer at the Martha Graham Dance Company
Douglas Lyons '09 (Hartt)
Actor, writer, director, composer, and playwright; credits include The Book of Mormon and Beautiful: The Carol King Musical, and his Broadway play Chicken and Biscuits
Annette Lemieux '81 (HAS)
Visual artist; senior lecturer on art, film, and visual studies, Harvard University
Nancy Bergman Pantirer '77 (HAS)
Visual artist
Shane Shanahan M'98 (Hartt)
Two-time Grammy award-winning percussionist and original member of Yo-Yo Ma's Silk Road Ensemble
Timothy Stella '75 (Hartt)
Musician, musical director, and associate conductor of Broadway's Phantom of the Opera
Arthur Ashe H'90
Inducted into the International Tennis Hall of Fame in 1985 and the first black player selected for the U.S. Davis Cup and only black man ever to win Wimbledon, the US Open, and Australian Open. 
Jeff Bagwell
National Baseball Hall of Fame member, former all-star for the Houston Astros
Vin Baker
Former NBA All-Star
Kathy Behrens '85 (ENHP)
President of Social Responsibility and Player Programs for the National Basketball Association
Matt Bessette '07 (A&S)
Mixed martial artist in Bellator
Lou D'Angeli A'94 (Hillyer), '95 (A&S)
Extreme Championship and WWE professional wrestler
Danielle Hood '08
First UHart athlete to be drafted to the WNBA in 2008
Jerry Kelley '89 (Barney)
PGA Senior Tour professional
Gary LaRocque '75 (ENHP)
Director of player development for the St. Louis Cardinals
Sean Newcomb
Professional baseball player in the Atlanta Braves system, 2014 first-round draft pick
Tim Petrovic '88 (A&S)
PGA professional
Latasha Jarrett Raineault '08 D'10 (ENHP)
UHart's only recipient of the NCAA Division 1 Sportswoman of the Year Award
Christopher Albert M'10 (Barney)
Partner, Deloitte Tax, LLP; 2020 Anchor Award recipient
Don Allan '86 (Barney)
Senior Vice President and CFO, Stanley, Black and Decker
Abdulaziz AlOtham '14 (CETA)
Management consultant, Strategy and Transformation, Ernst & Young;
2020 Anchor Award recipient
Thomas O. Barnes Sr. '72 (Barney)
Chair, Barnes Group Foundation
Andrew Block '90 (Barney)
CEO of DariFair Foods, known for inventing Reddi-Whip
Richard Booth '69 (Barney), M'77 (Barney), H'05
Retired Chairman, President, and CEO, Hartford Steam Boiler
Mark Boxer '83 (CETA), '83 (A&S)
Executive Vice President and Chief Operating Officer, University of Hartford;
Retired Executive Vice President and Global CIO, CIGNA Corporation
Richard Cardin '62 (A&S)
Retired Head of Corporate Human Relations, UPS
Jean-Louis Chave '90 (Barney)
Owner, Domaine Jean-Louis Chave winery
David Cordani M'95 (Barney)
President and CEO, Cigna
June Ressler Coldren '77 (HAS)
Founder and President of Cenergy International Services, a woman-owned, global provider of specialized personnel for the oil and gas industry
Gino Cordone '14 (CETA)
Founder of Pleasant Podcasts, a podcast editing and recording company
Stephen Dalyai '61 (Ward), A'09 (CETA), '13 (CETA) 
President and CEO of Quindar Electronics, Inc., credited with the introduction of the first transistor voice frequency
Diana Delva '10 (Barney)
Founder, Chèlbè
John Dillon '66 (Barney)
Senior Advisor Evercore, Former CEO International Paper
Brett Gerstenblatt '94 (HAS)
Enterprise Creative Director for CVS Corporation, responsible for the campaign that ended the sale of tobacco products at all of its stores
Kenneth Glueck '89 (A&S)
Executive vice president, Oracle Corporation
Jeff Goffman '80 (Barney)
Chairman and CEO of the Integrated Oncology Network
Allyn Golub '62 (A&S)
Vice President of Clinical and Technical Affairs, Key Pharmaceuticals
John Harris M'83 (Barney)
Historian, author and former President and CEO of Quality Time Video, Inc.
Nicole Hughey M'99 (Barney)
Vice President, Diversity and Inclusion at SiriusXM + Pandora
Francis "Frank" X. Hursey A'73 (CETA), '77 (CETA)
President and Founder of On Site Gas Systems, Co-Founder of Z-Medica, and inventor of QuikClot
Julie Jansen '81 (A&S)
2017 Anchor Award recipient
Martin John '92, M'94
Senior VP, Head of Financial Planning and Analysis, Hartford Steam Boiler
Rachna Khanna M'03 (Barney)
Founder and managing partner, Rachna Khanna Law, LLC; real estate investor; 2020 Anchor Award recipient
Justin Ross Lee '06 (Barney), M'08 (Barney)
Socialite and businessman
David Nord '79 (Barney)
CEO and President, Hubbell, Inc
Jerry Orefice '66 (Barney)
President, JA Orefice and Company
Valerie Orsoni '91 (Barney)
CEO and founder of LeBootCamp.com; CEO and founder of Lili Warrior; and author
Chuck Pagano '84 (CETA), M'07 (A&S)
Former Executive Vice President of Technology and Chief Technology Officer, ESPN
Anne Parthiot-Mons '91 (Barney), M'92 (Barney)
President, Permal Group SAS
Mary Silva '11 (Barney)
2017 Anchor Award Recipient
Deverell Smith '00 (Ward)
Retail real estate and development, Apple, Inc.
Ruth Smith '81 (A&S), M'86 (Barney)
Executive Vice President, National Life Group
Kristiana Spaulding '90 (Hillyer)
Founder, Silver Trailer
Evaristo Stanziale '87 (Barney)
Founding Partner and Senior Vice President, SCS Commodities
Jeffrey Wolf '82 (A&S)
Partner and internationally recognized franchise law attorney at Quarles & Brady
Scott Bradlee '08 (Hartt)
Founder and band member of the musical group Postmodern Jukebox
Alex Briley
The "military man" from the band Village People
Tina Chen (A&S)
Stage, film, and television actress, director, and producer
Javier Colon '00 (Hartt)
Singer and songwriter who won NBC's reality singing competition The Voice
Justin Foley M'01 (Hartt)
Drummer for the Grammy-nominated metal band Killswitch Engage
Jim Ford '04 (Hartt)
Actor and stuntman
Ben Golder-Novick '03 (Hartt)
Saxophonist and member of Postmodern Jukebox
Jimmy Greene '97 (Hartt)
Grammy-nominated musician and performer
A.J. Hammer '88 (Barney)
Radio personality and television host of CNN's Showbiz Tonight
Liane Hansen H'07
Host of National Public Radio's Weekend Edition Sunday
Jack Hardy '70 (A&S)
Singer and songwriter
Jonathan Lee Iverson '98 (Hartt)
First African-American ringmaster of Ringling Bros. and Barnum & Bailey Circus
Adam Kubota '04 (Hartt)
Bassist and member of Postmodern Jukebox
Tony Leone '92 (Hartt)
Professional rock/country drummer
Brandon Korn A'11 (Hillyer)
Music Producer at Sony/ATV Music Publishing and owner of Bkorn Music Productions LLC; Grammy nominated for Best Album in the Rap/Hip-Hop category; RIAA 3x Platinum Certified Producer; 2017 BMI London Music Award Winner
Kent McCray '51 (Hartt), H'07
Television industry pioneer, produced numerous successful series for television and film
Michael Mongillo '90 (HAS)
Award-winning film director and screen writer
Keir O'Donnell '00 (Hartt)
Actor who has appeared in such movies as The Wedding Crashers and American Sniper
Jerell Parker '04 (A&S)
Senior VP?Midwest Regional Manager, CBS Media Ventures; Director, First Step YOuth Foundation; Anchor Award recipient
David Pritikin '94 (A&S)
Emmy-award winning producer of reality TV shows, including Deadliest Catch, Sarah Palin's Alaska, and Survivor
Barry Sandrew, PhD '70 (A&S)
Founder, Legend3D (formerly Legend Films; entrepreneur and digital imaging and visual effects pioneer; CTO, Aria Network; Director of Entrepreneurship, Westcliff University; neuroscientist
Dionne Warwick H'86
Grammy-Award winning singer, actress and television show host.
Orin Wolf '01
President, NETworks Productions, current University Regent
David Bosso M'04 (ENHP)
Social Studies teacher at Berlin High School, 2021 Connecticut Teacher of the Year, 2019 Inductee to the National Teacher Hall of Fame
Mark Benigni M'96, D'01 (ENHP)
Superintendent of Meriden Public Schools; Mayor of the City of Meriden 2001–08
Angela Davis H'18
Academic, activist and author
Joxel Garcia '99 (Barney)
Former President and Dean, Ponce Medical School

Seymour Itzkoff A'48 (Hillyer), '50 (A&S)
Professor and researcher in intelligence
Katharina Lindner '03, M'05 (A&S)
Lecturer in film and media and member, Centre for Gener & Feminist Studies, University of Stirling, UK; published author; former player, Glasgow City FC; namesake, The Kat Lindner Award for Outstanding Athletics & Academic Achievement, Scottish Women's Football; 2020 Anchor Awards recipient (posthumous)
Steve Minkler '86, M'00, D'08 (A&S, ENHP)
Chief Executive Officer, Middlesex Community College
Bernie Rosen '61, M'66 (ENHP)
Retired teacher and administrator serving Connecticut schools; 2020 Anchor Award recipient; and namesake for the University of Hartford's Rosen Society
Heather Fraser '99 (CETA)
Architecture and planning project manager; 2017 Anchor Award Recipient
Leslie Haines '85 (CETA)
Structural/project engineer; 2017 Anchor Award Recipient
Lisa O'Conner '95, M'98, D'06 (ENHP)
Dean of the School of Nursing at Quinnipiac University
Leonard Boyle '80 (A&S)
Director of the Terrorist Screening Center for the FBI
The Honorable John Danaher M'77 (A&S)
Connecticut Superior Court Judge and former Commissioner of the State of Connecticut Department of Public Safety
The Honorable Robert N. Davis '75 (A&S)
Judge of the United States Court of Appeals for Veterans Claims
Francisco Flores A'79 (Hillyer), H'00
Former President of El Salvador
Jessica Floyd '18 (A&S)
Politics producer and correspondent at TheGrio
Sonya Halpern '90 (Barney)
Georgia State Senator; Anchor Award recipient
Katherine Hammack M'90 (Barney)
Assistant Secretary of the Army (Installations, Energy, and Environment), U.S. Department of Defense
Sidney Kaplan '69 (Hartt)
Retired foreign service officer, U.S. Department of State; member, 43rd Senior Seminar, Department of State; fellow, Academy of Public Administration; 2020 Anchor Award recipient
Bernard Kavaler '79 M'88 (A&S)
President of the Connecticut Foundation for Open Government; serves on the board of Leadership Greater Hartford; 2018 Anchor Award Recipient
Valerie Lewis H'08
Retired Commissioner of Higher Education, State of Connecticut
Mia Love '97 (Hartt)
U.S. House of Representatives, representing Utah's 4th House District
Douglas McCrory '88, M'95
State senator serving Connecticut's 2nd District
Constance Baker Motley H'73
Lead trial attorney in many significant U.S. civil rights cases and the first African American woman to argue a case before the U.S. Supreme Court and to become a federal judge
William J. Murphy '85 (A&S)
Former Speaker of the House for the State of Rhode Island
Richard Neal M'76 (Barney)
U.S. House of Representatives, representing Massachusetts' 1st House District
Jackalyne Pfannenstiel M'78 (Barney)
Former Assistant Secretary of the Navy, Energy, Installations and Environment, U.S. Department of the Navy
James C. Rovella '80, M'87 (A&S, Barney)
Commissioner, Connecticut Department of Emergency Services and Public Protection
Jack Swigert Jr. M'67 (Barney)
Former NASA astronaut and Colorado Congressman-Elect
Glynda Carr '96 (Hartt)
Co-founder of Higher Heights; 2018 Anchor Award Recipient
Barbara and Leib Lurie '76 M'81 (Barney)
Co-founder of Kids Read Now (KRN); 2019 Anchor Award Recipient
Nelba Márquez-Greene '97 (Hartt)
Founder, The Ana Grace Project; Intervention specialist, Capitol Region Education Council; 2020 Distinguished Alumna Award recipient
Bayard Rustin H'79
Organized the March on Washington for Jobs and Freedom
Donald Shaw M'77 (Barney)
2018 Anchor Award Recipient
Samantha Belotte '06 (Barney)
Creator and founder of Love Bites
Chantell Boissiere-Kelly M'05 (A&S)
Owner of Capital Ice Cream and teacher
Brian Bugnacki '05 (Barney) and Mike Larson '06 (CETA)
Founders of Alvarium Beer Company
Naima Craft '07, D'10 (ENHP)
Owner of The Craft
Marshall Epstein '74 (Barney)
Co-owner of Rosedale Farms and Vineyards
Frank Finelli '15 (Barney)
Founder of Doughwich
Andrea Hawkins M'08 (Barney)
Owner of Berkin Blend
Suzie Hunter '14 (A&S) and Amanda Zwirn '14 (Hartt)
Creators of Nacho Scout
Sara Mellas '14 (Hartt)
Author of The Easy Baked Donut Cookbook, The One-Pot Casserole Cookbook, and the Quick and Easy Breakfast Cookbook
Toni Moshen '07 (HAS)
Owner of Sweet T's Bakeshop
Chris Sayer '15 (Barney)
Founder of Brewery Legitimus
John Simonian '87 (A&S)
Owner of Beanstock Coffee
Nicole Steinhilber '13 (A&S)
Founder of Craft Solutions Consulting and lab manager of Edmund's Last Brewing Company
Chaz Davis '16 (A&S)
In 2016, he ran in the Rio Paralympics, then set a new American marathon record for the T12/B2 visual impairment category. 
Jake Fay '16 (A&S)
Director, screenwriter
Luis A. Garcia-Altagracia M'19 (CETA)
Transportation engineer trainee at the Connecticut Department of Transportation
Mimi Gonzalez A'15 '17 M'18 (Hillyer, A&S)
Activist and organizer, participated in the Obama Foundation Community Leadership Program in 2019. Read more about Gonzalez.
Mohammad Manzur Murshid M'18 (CETA)
Senior robotics and software engineer at SubUAS LLC
Bryson Owens '18 M'20 (A&S)
Associate video producer for Newsweek