Don't lose touch with your alma mater! There are a number of ways to stay connected with UHart, with your fellow alumni, and with what's happening on campus. Follow along and share your own stories!
THE LINK
The Link is a monthly alumni e-newsletter highlighting UHart alumni stories, events, and updates. Are you an alum and not receiving The Link? We must not have the right email for you! Update your info to get The Link.
SHARE YOUR NEWS IN CLASS NOTES
Class notes are the best way to let your classmates and your alma mater know what you've been up to since graduation! Did you get married or have a baby? Have you recently started a business, been promoted, or published a book? Or did you recently have a fun gathering with fellow alumni and want to share photos? Tag us on social media or submit a class note!
EVENTS AND CAREER NETWORKING
Connect with us for events from beer tastings, to trivia and book discussions, to career webinars hosted in-person and online. UHart alumni can be a great resource for your professional network too! See upcoming events.

Don't see something where you live? Check out Event In a Box to organize your own.
H MAGAZINE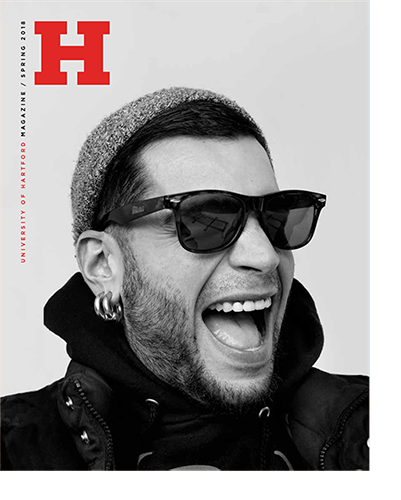 H is the University's magazine, introduced in Spring 2018. Published twice a year, it features class notes, in-depth stories on alumni and students, and so much more. Not receiving H? Update your information.
Having trouble updating your contact information? Email alumni@hartford.edu and we'll make the appropriate updates to our database.

Your personal information is not shared without your permission. See our information release policy.
Get Social        
Follow us on Facebook, Instagram, Twitter, and LinkedIn. See what's happening with the University and your fellow Hawks. And if you've got a story to share, let us know!
#UHart #UHartAlumni #UHart4Life