Hartford College for Women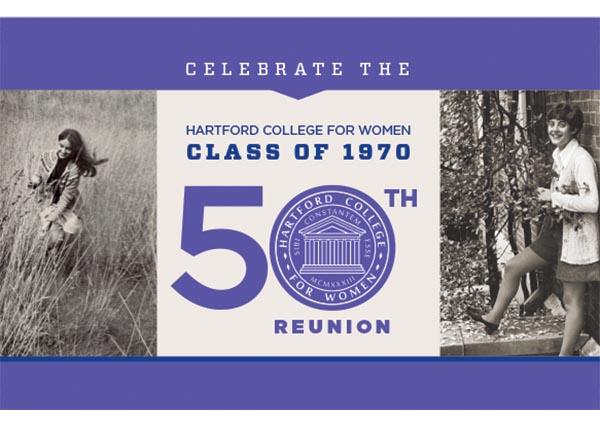 Class of 1970 50th Reunion
Friday–Saturday, April 23–24, 2021
Due to the pandemic, we were saddened to have to postpone our 50th reunion in 2020 but look forward to celebrating in-person with you in April 2021!
To receive reunion updates, HCW event news, and information, please send an email to womenadv@hartford.edu with your updated mailing address, phone number, and email.
Schedule of Events
Friday, April 23
Casual Cocktail Reception, 6 p.m.
Asylum Avenue, Hartford, Conn.
Hosted by Jan Zaleski Klein HCW'70
Saturday, April 24
Then and Now Welcome, 9:30 a.m..
Meet at Parking Lot B, University of Hartford
Reconnect with classmates, visit Butterworth Hall, and enjoy tea and continental breakfast hosted by students in The Women's Advancement Initiative's LEAD program (Leadership Education and Development), which was inspired by the way students at HCW were challenged and supported.
Visit the HCW Garden, 11:30 a.m..
Tour the HCW Garden prominently located at the center of the University of Hartford campus.
HCW Alumnae Luncheon, noon
1877 Club, University of Hartford
Share your HCW memories and talk to students in LEAD.
Complimentary for HCW classmates. $30 per person for spouse/guest.
Music and Memories with the HCW Archives, 1:30 p.m.
KF Room, Mortensen Library
See HCW treasures and share your memories.
50th Reunion Dinner, 6 p.m.
Location and cost per person are to be determined.
For the health and safety of our community, this schedule of events is subject to change.
HCW Class of 1970 50th Reunion Committee
Shirley Zelinka Baucom
Rebecca Friedman Danchak
Jan Zaleski Klein
Linda Kautz Macy
Cynthia Gilpin Winters
The Hartford College for Women 50th Reunion is supported by The Women's Advancement Initiative at the University of Hartford, Institutional Advancement, and HCW alumnae. Make a gift today and join fellow alumnae in supporting The Women's Advancement Initiative at the University of Hartford.