Barney School of Business
Risk Management and Insurance
The Risk Management and Insurance major prepares you for jobs related to the identification, evaluation, mitigation, and financing of risks faced by businesses and individuals alike.
About the Major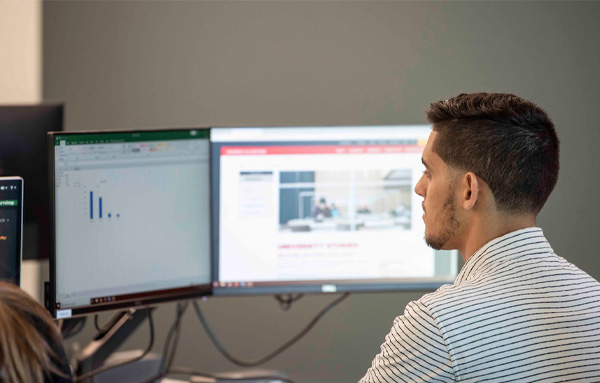 Our robust curriculum gives you industry-focused knowledge, skills, and professional development to help you become a business leader and decision maker. Partner with risk and insurance-related companies on practical business projects to gain real-world experience. Like all undergraduate majors at the Barney School, you will also complete an internship before you graduate.
Degree Requirements
You will complete 7 courses in this area of study, including an internship. See the course catalog for the additional requirements to earn your Bachelor of Science in Business Administration.
Principles of Insurance
Risk Analysis and Management
Life Insurance
Property and Liability Insurance
Social Insurance
Employee Benefits
InsurTech Venturing
Cybersecurity and Privacy Risk Management and Insurance
You will take two electives in insurance, finance, or analytics, as well as four electives in insurance at the 300 or 400 levels.
World of Business
Technical Skills for Business Success
Exploring and Planning Career Options
Business Statistics
Career Outlook
By majoring in Risk Management and Insurance, you'll be in demand. Prepare to be a leader and decision maker in this growing field. Career paths include:
Actuarial science
Claims oversight
Corporate risk management
Data analytics
Finance
Sales/distribution
Strategic product marketing
Underwriting/book of business assessment
Success Story
Ijahnay Reid '23
Double major in risk management & insurance and business management, minor in project management
All of Reid's hard work and consistency led her to be hired for The Hartford Apprentice Program. After receiving her degree, Ijahnay will be starting an internship with IAT Insurance Group. She also plans on coming back to UHart and Barney to pursue her MBA.
We designed all of our classes, internships, and professional development experiences to help you land your dream job.
About the Minor
Expand your knowledge and building your resume with a minor in Risk Management and Insurance. Visit our course catalog for requirements for Barney students and non-Barney students.
Admissions
Applications for admission are considered on a "rolling basis." We look forward to welcoming you to Barney!
Risk Management and Insurance Spotlight