The Emeriti Association of the University of Hartford is comprised of retired faculty and administrators who have been granted emeritus status by the Board of Regents and who continue to contribute to the university's vibrancy and growth.
Emeriti Association members have a relationship that spans over fifty years with the UHart. Along with the memory they carry, comes a commitment by our members to strive to keep the University financially healthy, interesting, knowledgeable, able to handle the intricacies of a challenging world, and dedication to the well-being of our students and the contexts in which we live. While many students will pass through their time here without a glance backward, others will treasure their association with us for a lifetime, assured that some of us are still here, upholding the standards of the University and its continuity. We had a fruitful relationship with many of our students: we remember them and they often remember us. We are a resource that can be available for student recruitment, contact with alumni, and development of community constituents.
Each year we provide scholarships for worthy UHart undergraduate students and encourage students to apply.
Alzheimer's disease: the status quo and the emergence of new hypotheses (and treatments)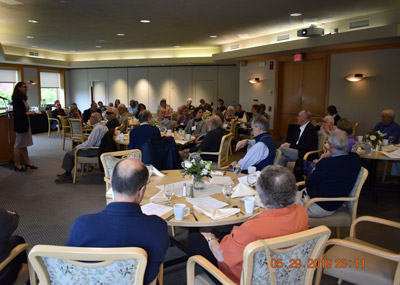 Paola Sacchetti, Ph.D., UHart Assistant Professor Department of Biology, presented "Alzheimer's disease: the status quo and the emergence of new hypotheses (and treatments) to a well-attended Emeriti Association meeting on May 30, 2019. Download Dr. Sacchetti's presentation. Provost Fred Sweitzer provided an update on UHart current status and future plans. We also introduced new members of the Emeriti Association.
2019 Annual Reception for Scholarship Awardees and Donors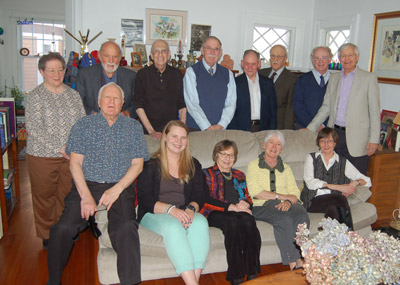 On April 10, 2019, Regina Miller hosted her annual reception for scholarship awardees and donors. 2018 scholarship awardees Samantha Chasse and Quimby Wechter attended. Leo Smith provided a status on Emeriti scholarships noting that: we had 36 applicants for the three $2,000 awards; as of 2020, at least one reference must be from a faculty member of UHart and for the first time Quimby Wechter will be a repeat awardee.
Please support the Emeriti Scholarship Fund
One of the most rewarding undertakings as an Association since our founding is our Emeriti Scholarship Program. Our student awardees are both dedicated scholars and contributors to the University community and beyond.