The College of Engineering, Technology, and Architecture 2019 Graduates Embark On Bright Futures
Nearly 200 CETA students graduate this spring.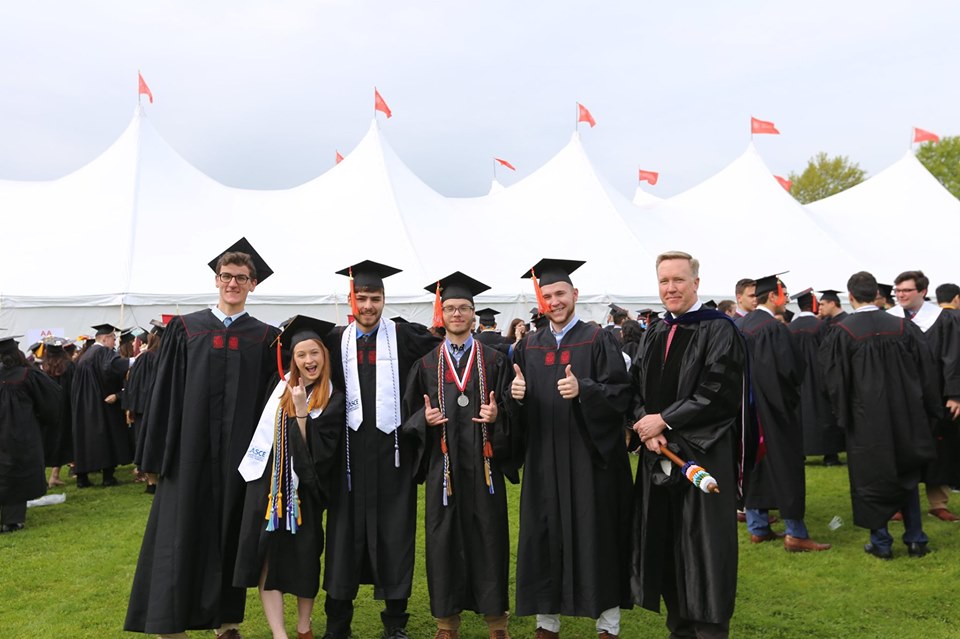 The College of Engineering, Technology, and Architecture (CETA) is pleased to congratulate nearly 200 graduates in the Class of 2019 who are on their way to bright futures, exciting careers, and inspiring paths this summer.
In his opening remarks, Dean Hisham Alnajjar encouraged the graduates to reflect on what they have worked so hard for, including their experiences and what lies ahead of them. "Act as if what you do makes a difference because it does. Be confident, be authentic, act with attention and live with gratitude. We thank you for allowing us to learn and grow with you," says Alnajjar.

Board of Visitor and President/Chief Executive Officer of Bauer, Inc. Louis Auletta Jr. P'16 followed Dean Alnajjar with an inspirational message for the graduates. "Be determined to succeed. It is absolutely true that the things that are most rewarding in life are those things that you work hard to achieve." says Auletta.
Many of our graduates received job offers before the end of the semester. Many are also continuing their education at graduate school, following up on research, and more. Here's what some of our recent graduates will be up to next:
Magic Santos '19, Architectural Engineering Technology
Magic Santos is from Ridgefield Park, New Jersey and she's always prided herself in being incredibly active in the community. Throughout her time at UHart, she was involved in the Student Government Association, Residential Life, Red Key Society, Red Caps, and Hispanic & Latino Student Association. Before graduating, she completed three internships in design and construction. She will be returning to UHart in the fall to pursue her Masters in Architecture while working part-time as an Emerging Professional at TLB Architecture in Chester, Connecticut.
David Norris '19, Electrical Engineering
David was also very active during his time at UHart, including his involvement in Eta Kappa Nu and the IEEE Student Chapter. He also represented UHart in engineering related competitions such as Connecticut Tech Challenge and the SIMODE mathematics competition. The opportunity to become an engineering student has encouraged creativity and work ethic in his academic and extracurricular life. David will be staying here in Connecticut to begin working as a Design Engineer at ASML in Wilton, Connecticut. ASML manufactures lithography systems where he will have the opportunity to help design the systems Samsung, Intel, TSMC and all other top microchip manufacturing companies use.
Karolina Pilip '19, Computer Engineering
Karolina initially came to UHart as a recruit for D1 athletics. She has gained a valuable amount of experience through her active roles in the CETA Student Ambassadors & Leadership Society as well as a graduating member of IEEE Eta Kappa Nu, the International Electrical and Computer Engineering Honor Society. She is heading to work at Pratt & Whitney this summer as a Software Engineer. In the coming years, she plans to return to school for a Master's degree.
Eric Daluz '19, Electromechanical Engineering Technology
Eric Dulaz is an inspiring engineer who saw much success during his senior year at UHart. His senior design capstone project for ECT 481P with fellow classmates Jordan Paradise '19 and Brett Yoder '19—Emergency Response Drone—placed first at the CETA Design Expo in May. He is thrilled to be the first member of his family to graduate with a Bachelor's degree. Eric will be working as an RF Engineer for Times Microwave Systems in Wallingford CT starting this summer.
Lauren Gallagher '19, Audio Engineering Technology
Lauren has been highly involved at UHart as a Peer Tutor, Red Cap, CETA Red Key, Studio Assistant, Senior Senator, and member of Sigma Alpha Iota. Her internship at Telefunken Elektroakustik was her turning point pointing her in a specific direction after graduation. Starting in June, she will begin her career as an Electrical Engineer with Belcan in Windsor, CT. Through her role, she will be handling hands on projects for Aerospace companies to create parts for their major projects.