Katharine Owens Named Director of the Rell Center for Public Service at the University of Hartford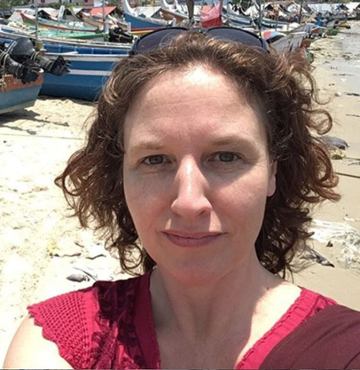 Katharine Owens of Middletown
has been named director of
The Governor M. Jodi Rell Center for Public Service
at the University of Hartford. Owens is an associate professor in the department of
Politics, Economics, and International Studies
at the University of Hartford and director of the University Interdisciplinary Studies program.
"I am so very pleased and excited that Kat has joined the Rell Center as our new executive director," said former Gov. M. Jodi Rell. "Her enthusiasm for our programs and educational opportunities make her a perfect fit for the job."
Owens has undergraduate degrees in biology, anthropology, and studio art, a master's degree in environmental studies, and a PhD in governance and sustainability. Her work crosses the social and natural sciences, seeking to link environmental science with policy. Owens recently worked in Thiruvananthapuram, India, as the recipient of a Fulbright Nehru Academic and Professional Excellence Award. There she collaborated with students and faculty at the University of Kerala to link data about the global issue of marine debris with local politicians and policy makers. 
"Katharine (Kat) brings a wealth of experience in public policy research and advocacy, and involving students in this work," said Katherine Black, dean of the University of Hartford's College of Arts and Sciences. "I am thrilled that she is taking the lead of the Rell Center."
The Rell Center has also appointed two new advisory board members.
Liz Kurantowicz of Fairfield,
a professional strategist with more than 15 years of experience reaching all levels of government, politics, non-profit, and corporate public affairs, is principal of The Drury Group. Her work includes a career of fundraising, campaign management and cause related strategy and development for organizations large and small touching all 50 states.
Grace Lewis '22 of Emmaus, Pa
, is a University of Hartford sophomore pursuing degrees in politics and government, and psychology, and a minor in environmental studies. Lewis is an Honors student who also serves as an Admission Ambassador in the College of Arts and Sciences.
The mission of The Governor M. Jodi Rell Center for Public Service at the University of Hartford is to provide a community and academic forum for the discussion of ethics in government, the importance of civil discourse in politics, and citizen involvement in public service and government. The Center also seeks to encourage students and others to pursue careers in public service and to assist in providing a clearinghouse for student public service internships.