Governor M. Jodi Rell Center for Public Service
The Governor M. Jodi Rell Center for Public Service was established at the University of Hartford in 2011. The purpose of the Rell Center is to promote the values exemplified by the life and career of the 87th Governor of Connecticut M. Jodi Rell—specifically the values of integrity in government and public service and responsible participation in public life.
The mission of the Governor M. Jodi Rell Center for Public Service at the University of Hartford is to provide a community and academic forum for the discussion of:
Ethics in government
The importance of civil discourse in politics
Citizen involvement in public service and government
The Center also seeks to encourage students and others to pursue careers in public service and to assist in providing a clearinghouse for student public service internships.
Watch Rell Center Director Katharine Owens Discuss the Mission of the Center on Capitol Report 'After Hours'
About Gov. M. Jodi Rell
M. Jodi Rell served as the 87th Governor of Connecticut from 2004–11. She was the second woman and first Republican woman to serve as governor of the state. Her administration is known for its strong advocacy on behalf of the state of Connecticut and for restoring trust in Connecticut government.
A native of Virginia, Rell relocated to Connecticut in 1967 with her late husband Lou, a commercial airline pilot. In Connecticut, she became involved in community organizations including the Parent Teachers Organization and the fire department auxiliary. This community activism led her to politics. She served as a member of the Republican Town Committee in Brookfield, Connecticut and worked on local campaigns.
In 1985, Rell was urged to run for the 107th District legislative seat being vacated by Rep. David Smith. She was elected and served in the Connecticut General Assembly from 1985–1995. While in the General Assembly, she became a valued member of the leadership, rising to the position of Deputy House Minority Leader. In 1994, she was nominated by the Connecticut Republican party as its candidate for Lieutenant Governor. She served as Lieutenant Governor from 1995–2004. She became governor upon the resignation of Gov. John Rowland in 2004, and she was re-elected to a full term as governor in 2006.
Gov. M. Jodi Rell Accomplishments
Gov. M. Jodi Rell Accomplishments
Led a successful bipartisan effort for a historic Connecticut campaign finance reform bill outlawing contributions by lobbyists and state contractors and enacting public financing for state campaigns. (2005)
Ended the controversial practice of housing Connecticut prisoners in out-of state facilities. (2004)
Signed a bill enacting civil unions for same-sex couples. Connecticut was the first state to adopt civil unions without a court order. (2005)
Successfully championed enactment of the Charter Oak Health Plan providing low cost health coverage for many uninsured adults. (2007)
Led the bipartisan effort to prevent the closure of the Groton/New London Submarine base. (2005)
Reached agreement with legislative leaders on a number of criminal justice reforms which were responsive to the systemic failures prior to the Cheshire home invasion. A special session in late January passed laws to toughen penalties for home invasion and tighten parole procedures. (2008)
Recent Rell Center Events
Here and Now: Social Media and Public Service: April 16, 2019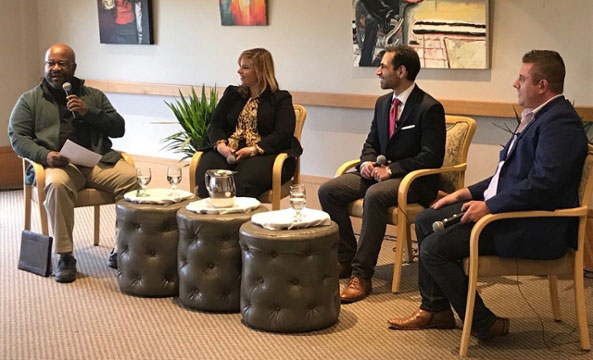 Panel discussion with Connecticut Democratic Party Executive Director Jacqueline Kozin, Connecticut Republican Party Digital Director Patrice Thibodeau, and University of Hartford Applied Assistant Professor of Communication Adam Chiara, moderated by Associate Professor of Political Science Bilal Sekou.
Topics included Connecticut's November election and the long-term impact of social media on political parties and public service.
Networking and Interning for Success: February 14, 2019
 Three UHart alumnae shared tips and insight on how to use connections to launch your career, and how they benefited from internships and networking.
Panelists (from left) Amanda Schoen '14, Deputy Executive Director, Connecticut League of Conservation Voters; Taylor Zitkus '18, Administrative Assistant, Office of the President; and Hailey Gagnon '16 Legislative Aide, Connecticut General Assembly.
The event was presented by the Rell Center for Public Service and the Department of Career Services.
"A Job Like No Other": June 7, 2018
Connecticut voters had a candid and first-of-its-kind glimpse of all qualifying Democratic and Republican candidates for Governor during a program broadcast on Connecticut Public Television (CPTV)
Candidates: Democrat Ned Lamont and Republican Mark Boughton, and two Republican candidates who qualified for the primary without petitioning, Tim Herbst and Steve Obsitnik.
Interviewer: Chris Ulrich
Photos from A Job Like No Other
Rell Center Leadership
M. Jodi Rell, 87th Governor of Connecticut 2004-11
Daniel Arsenault, Senior Director, O'Neill and Associates
Katherine A Black, Dean of the College of Arts and Sciences, University of Hartford
Michael Clancy, Professor and Chair, Department of Politics, Economics & International Studies, University of Hartford
Marshall Collins, Attorney and Lobbyist, International Governmental Strategies, LLC
Liz Kurantowicz, The Drury Group
Paddi LeShane, Chief Executive Officer and Lobbyist, Sullivan & LeShane, Inc.
Grace Lewis '22, University of Hartford, Politics and Government, and Psychology Major
Michael Rell, Lobbyist, International Governmental Strategies, LLC
Herbert J. Shepardson, Partner, Cooney, Scully and Dowling Attorneys at Law
Lon Seidman, Lon.TV, LLC
Contact Information
Governor M. Jodi Rell Center
University of Hartford
200 Bloomfield Avenue
West Hartford, CT 06117
Telephone: 860.768.4234
Fax: 860.768.4251  
Pamela Masi       Office Coordinator        Hillyer Hall 126                      pamasi@hartford.edu