English and Modern Languages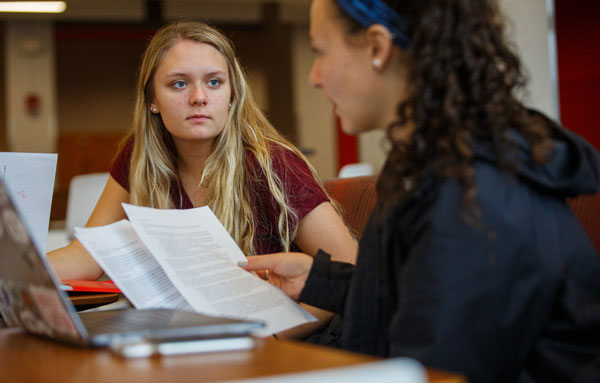 In UHart's Department of English and Modern Languages, you prepare for a successful career by developing critical reading and organizational skills, research techniques, and you'll learn how to use your imagination in our writing-intensive classes. Our faculty are award-winning teachers and published authors who take an interest in your work and get to know you well in our small class sizes.    
English majors can choose from three areas of emphasis:
Creative Writing: Learn good research, writing, editing and storytelling skills while producing your own stories, poems, plays, critical and personal essays.
Literature: Study literature in historical and cultural contexts and learn how the works of generations of writers explore unifying ideas, ideals, achievements, and aspirations. You'll acquire skills in critical thinking, creative expression, close reading, persuasive writing, and effective speaking.
Secondary Education: This emphasis prepares you to teach English at the secondary level and for initial teaching certification for grades 7-12.
3+1 BA in English/MBA Program
A 3+1 BA in English and MBA program is also offered. You take your undergraduate English courses in the College of Arts and Sciences, and Master of Business Administration requirements in UHart's Barney School of Business. This accelerated program allows you to finish both degrees in the same time it would normally take to finish one, and at a reduced cost. Contact Professor and Department of English and Modern Languages Chair Bryan Sinche at sinche@hartford.edu.
English and Modern Languages Department Minors:
If you enjoy reading and thinking about great literature and writing your own essays, poems, plays, and stories, then a minor in English can complement any program of study at UHart. There are two minor tracks in English. A general minor in English allows you to sample a variety of English courses, while the creative writing minor is a little more focused and requires the Introduction to Creative Writing course and three additional creative writing workshops, along with two English electives.
Minors are also offered in French, Italian, and Spanish to increase your knowledge of the language, as well as the particular culture. These minors can enhance any program of study such as criminal justice, communication, history, international studies, or politics and government.
Academic Writing: WRT
The University's required academic writing courses provide a foundation that supports your academic writing in courses inside and outside of your chosen major.
Please visit Honors Program for information on the honors sections of these courses.
Writing Course Sequences
The course sequence you take depends on your major and college. Visit our catalog and search academic writing for course descriptions.
| Schools and Colleges | Courses |
| --- | --- |
| ENHP, the Hartford Art school, and the Hartt School | WRT 110W and WRT 111W |
| College of Arts and Sciences | WRT 110W and WRT 210W |
| Students in the Barney School of Business and in Engineering Technology majors in the College of Engineering, Technology, and Architecture | WRT 110W and WRT 215W |
| Students in Engineering majors in the College of Engineering, Technology, and Architecture | WRT 110W + UIS course |
Waiving a WRT Course
Students can waive the required academic writing courses through SAT, ACT, and AP scores.
SAT Evidence-Based Reading and Writing
700–749: Waive WRT 110W
750+: Waive both writing courses
ACT Composite
30–31: Waive WRT 110W
32–36: Waive both writing courses
AP English Language
4: Waive WRT 110W
5: Waive both writing courses
There are plenty of opportunities to apply the skills you learn in the classroom:
Get Writing Experience
Each year the department publishes Aerie, a literary journal of student work, as well as chapbooks and broadsides. Visit aeriejournal.com for more information. Or you can join the staff and write for the Informer student newspaper. You also get hands-on experiences for credit through internships as a writer for companies and organizations in the Hartford area.
Read the latest issue of the Aerie Journal.
Enter Writing Competitions
Enter your writing in a competition such as the Connecticut Poetry Circuit, or apply to attend a writing conference like the Bread Loaf Writers' Conference in Vermont. On campus, you can compete in the Department's annual Spring Writing Awards, with prizes that can include up to $1,000. There are several writing categories. For a complete list and rules, email Professor Benjamin Grossberg at grossberg@hartford.edu.
Learn more
Internships
Our internship program is where you can earn credit for work as a writers or editor of campus publications, or for comparable work at companies and organizations in the Hartford region.
Join the International English Honor Society
Membership in the Psi Phi chapter of Sigma Tau Delta, the International English Honor Society.  is open to declared English majors who meet high standards in terms of their classroom performance and their academic integrity. The Psi Phi chapter sponsors an annual lecture, performs community service, and offers English majors various social opportunities during the school year.
Spring Cardin Reading Series Events
Each spring the Cardin Reading Series brings some of the most prominent fiction writers, poets, essayists, and scholars from all over the country to speak on our campus. Recent speakers include New York Times best-selling authors, Guggenheim Fellows, recipients of the National Book Awards and of the National Book Critics Circle Award. All events are free and open to the public!
Meet the Department of English and Modern Languages