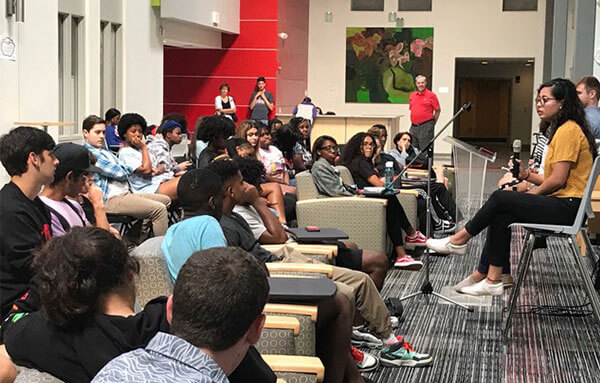 The Humanities Center at the University of Hartford embodies a decades-long commitment to the humanities from UHart scholars in literature, languages, history (including art and music history), philosophy, cinema, rhetoric, creative writing and the communication arts.
About Us
The Humanities Center aims to provide greater visibility for the humanities at UHart and to furnish venues for interdisciplinary exchanges across the humanities and the arts, sciences, technology, media, music, psychology, film, philosophy, history, and literature. It was founded in the University's College of Arts and Sciences through a National Endowment for the Humanities grant.
What We Do
Year-Long Honors Seminars
Each year, the Humanities Center sponsors a year-long honors seminar featuring a topic chosen and taught by a full-time Faculty Fellow. Students of high achievement, from across all programs of study, can apply to take the honors seminar and become a Student Fellow.  Student Fellows are eligible to receive a $500 scholarship once accepted to the honors seminar.
Spring Lecture Series
The Humanities Center also sponsors a lecture series that is open to the public each spring and is based on the topic of the honors seminar. Up to four University of Hartford full-time faculty, chosen as Faculty Fellows of the center, speak in the lecture series. The remaining speakers are both on- and off-campus experts on subjects related to that year's topic.   
Faculty Fellows in Ethnic Studies for 2022-23
The Humanities Center is happy to announce that eight University of Hartford professors have been awarded a fellowship in Ethnic Studies for the 2022-23 academic year. The fellowship was created, thanks to a generous grant from the Cardin Fund, to promote the work of scholars in the humanities whose research and teaching focus on the study of racialized ethnic groups in the United States. In addition to receiving research support, fellows will speak on their proposed research topic in a Fall 2022 lecture series on Ethnic Studies. The fellows are:
Assistant Professor of Africana Studies and Literature Markeysha Davis 

Assistant Professor of Communication Deepa Fadnis 

Assistant Professor of Cinema Dakota Nanton 

Assistant Professor of English Ines Rivera Prosdocimi 

Professor of English Bryan Sinche 

Assistant Professor of Art History Rashmi Viswanathan 

Assistant Professor of History Rachel Walker

Assistant Professor of Communication Goyland Williams

Assistant Professor of Judaic Studies Amy Weiss  
Honors Seminar Topics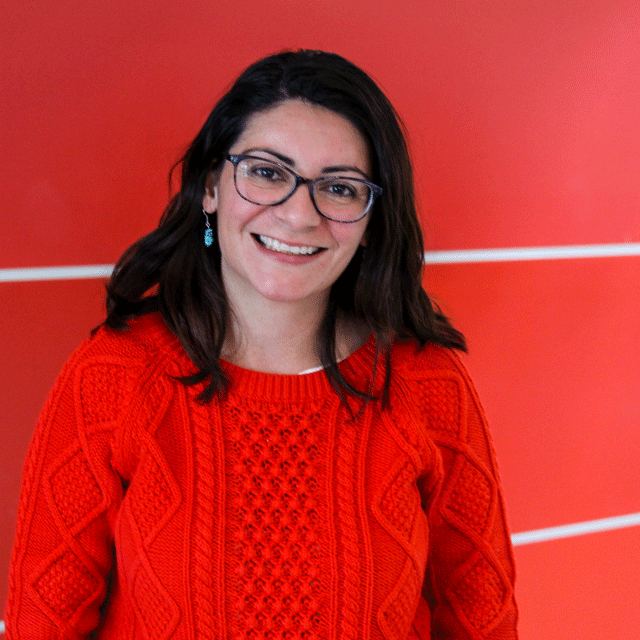 2022-23: Decolonizing the University – Ethnic Studies through Time
Led by Faculty Fellow and Associate Professor of Sociology Karen Tejada-Peña, the seminar will focus on the social movements that led to the creation of Ethnic Studies departments in various universities. Starting from the perspective of what it means to be part of a minoritized racial and/or ethnic group in the United States and how much people have fought for and continue to seek their own liberation, this course will focus on topics such as: Latino/a and Afro-Latino/a art and literature; settler colonialism and Indigenous rights; the establishment of centers for Black, Dominican and Puerto Rican Studies; the literature of Asian migrant families; and the ongoing defunding of Ethnic Studies programs.

Six UHart Humanities Center Faculty Fellows, along with distinguished presenters from other institutions, will speak on selected Mondays from 5-6:00 p.m. in spring 2023. More information will be coming soon.
2021-22: Fearing the Unknown – Irrationality, Anti-Politics, and Conspiracy Theories
Faculty Fellow: Marco Cupolo, Hispanic Studies
2020-21: Lights, Camera, Activism!
Faculty Fellow:  Mala Matacin, Psychology 
2019-20: Transversing Gender, Race, and Class
Faculty Fellow: Kristin Comeforo, Communication
2018-19: Evidence in a Post-Truth World
Faculty Fellow: Lauren Cook, Cinema
2017-18: The Secular and the Spiritual
Faculty Fellow: Richard Freund, Judaic Studies
2016-17: Our Monsters, Ourselves
Faculty Fellow: Amanda Walling, English and Modern Languages
2015-16: Remembering 9/11
Faculty Fellow: Sarah Senk, English and Modern Languages
2022-23 Faculty Fellows
Noel Casiano
Noel Casiano will work on the project "Intergenerational Impacts of Urban Trauma" where he examines how marginalized communities of color have endured generations of poverty, a lack of resources, the destruction of the family system, and a history of traumatic experiences. He will highlight research that has recently argued that trauma not only has emotional and psychological negative effects, but also neurobiological implications. His talk will explore how we are currently faced with making academic, social, and scientific commitments to combat the adverse effects of these generational consequences.
Michael Gale
Michael Gale will work on the project "Unpacking the Psychological and Academic Experiences of Race among BIPOC Students." Here he will explore the vastly different and adverse experiences BIPOC college students bring with them when compared to their White peers, all of which result from a mutifacted system of racial oppression operating at multiple levels from macro (e.g., societal, institutional, and cultural) to micro with impersonal actions born out of prejudice, stereotypes, and stigma (e.g., microaggressions). In his talk, he will also address how the challenges of higher education presented to BIPOC students have been exacerbated by the COVID-19 pandemic along with what has been termed the co-occurring "pandemic of racism."
Karen Gantt
Karen Gantt will present "The Impact of Land Loss on the Racial Wealth Gap," an examination of the historical causes (discriminatory housing policies and lending practices, land loss through legal and illegal means) that have created a gap where the average wealth of the African American community is ten times less than that of the White community. She will specifically explore the 1921 Tulsa Race Massacre as but one historical cause for this wealth gap. The descendants of those affected by the massacre, for instance, continue to question where they could have been financially had they been able to inherit family land or the once successful family business. This will lead to her discussion of other instances of land loss, including Bruce's Beach in California, the Gullah-Geechee in South Carolina and Georgia, Seneca Village in New York, and Malaga Island in Maine.
Jonathan Gordils
Jonathan Gordils will expand his current research regarding the consequences and underlying processes of social group disparities (e.g., intergroup income inequality), as well as the consequences and antecedents of intergroup competition between Black and White individuals in the United States. Here, he will include other populations of color (e.g., non-White Hispanic/Latinx and East Asian groups) to examine whether income gaps between White and non-White groups have the potential to exacerbate negative psychological perceptions.
Edwin Grimsley
Edwin Grimsley will work on the project "Structural Racism: Theory, Empiricism and Future Implications for Eradicating Oppression." Here, he will survey structural racism through two themes: (1) theoretical contributions that maintain white supremacy and the status quo; and (2) empirical analyses that help society understand the contemporary depths of structural racism. This work is part of a wider scholarly project where he examines structural racism in the opioid epidemic as a driver of disparities across institutional systems for Black opioid users in NYC in an epidemic largely known as a "White problem."
Ju-Yong Ha
Ju-Yong Ha will present "From Marginalized to Mainstream: Situating Korean Cultural Studies in the 21st Century" where he develops his current research that focuses on transnationalism, interculturality, and models of how musicians interact with local communities in NYC. Here, he plans to present the image of Korea through its immigrant music and culture in New York as he introduces selected Korean immigrant artists who represent the transplanted "local" tradition alongside those who perform on the intercultural global stage. He will also address the challenge of what is global and what is local, and how traditional music affects K-pop and K-drama/movies.
2022-23 Student Fellows
Rachel Addai (International Studies, A&S)
Elisa Ayende (Art, HAS)
Dylan Barnett (Physical Therapy, ENHP)
Leslie Li (Business, Barney)
Samantha Lillis (Civil Engineering, CETA)
Catherine Mazzei (Politics & Government, A&S)
Grace Maruska (Communication, A&S)
Charyl Prince (Psychology, A&S)
Nato Puello (Politics & Government, A&S)
Steven Rimdzius (Mathematics, A&S)
Evania Soljour (Music Management, Hartt)
Amelie Suero (Chemistry, A&S)
Caitlin Trutnau (Politics & Government, A&S)
2023-24 Honors Seminar
For 2023-24, Rashmi Viswanathan's seminar, "Fiction, Fabulation, Futurity," will focus on how colonial legacies have come to shape much of the contemporary discourse within the academy, while looking at how such discourse is being informed by new conceptions of race, ethnicity, class, sex and gender. These new conceptions, however, can cause us to dream about remaking our futures through a critical inquiry of the world around us, inquiries that occur through speculative and science fiction and that question received truths and categories of knowledge. As a means of working through these ideas, the course will explore topics such as: contemporary artists and theorists who interrogate race and place, novels such as Octavia Butler's Kindred, classed and colonial histories, Black radical feminism, Indigenous speculation, third-world feminisms, and the rethinking of producer-consumer relations.