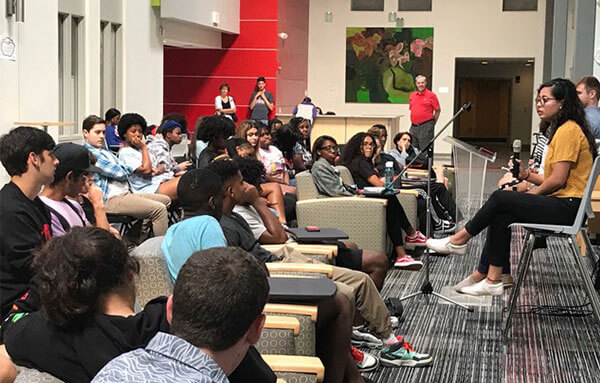 The Humanities Center at the University of Hartford embodies a decades-long commitment to the humanities from UHart scholars in literature, languages, history (including art and music history), philosophy, cinema, rhetoric, creative writing and the communication arts.
About Us
The Humanities Center aims to provide greater visibility for the humanities at UHart and to furnish venues for interdisciplinary exchanges across the humanities and the arts, sciences, technology, media, music, psychology, film, philosophy, history, and literature. It was founded in the University's College of Arts and Sciences through a National Endowment for the Humanities grant.
What We Do
Year-Long Honors Seminars
Each year, the Humanities Center sponsors a year-long honors seminar featuring a topic chosen and taught by a full-time Faculty Fellow. Students of high achievement, from across all programs of study, can apply to take the honors seminar and become a Student Fellow.  Student Fellows are eligible to receive a $500 scholarship once accepted to the honors seminar.
Spring Lecture Series
The Humanities Center also sponsors a lecture series that is open to the public each spring and is based on the topic of the honors seminar. Up to four University of Hartford full-time faculty, chosen as Faculty Fellows of the center, speak in the lecture series. The remaining speakers are both on- and off-campus experts on subjects related to that year's topic.
Honors Seminar Topics
2023-24: Fiction, Fabulation, Futurity
Led by Faculty Fellow and Assistant Professor of Art History Rashmi Viswanathan, this seminar examines how artists and writers have used fictional stories to reimagine the future of human existence in ways that involve new concepts of race, ethnicity, class, sex, and gender. Along the way, students explore how such "reimagined futures" raise questions regarding how we think about these concepts in our contemporary "real world." To help with this, the seminar focuses on artists and writers who have recreated ideas of place (such as Sun Ra and Gloria Anzaldúa), on novels like Art Spiegelman's Maus and Octavia Butler's Kindred, on films and television episodes (such as Whale Rider and the Watchmen), and on an examination of concepts like future urban design and the human body as a cosmos.

Five UHart Humanities Center Faculty Fellows, along with distinguished presenters from other institutions, will speak on selected Mondays from 5-6 p.m. in Spring 2024.
2022-23: Decolonizing the University: Ethnic Studies through Time
Faculty Fellow: Karen Tejada, Sociology
2021-22: Fearing the Unknown – Irrationality, Anti-Politics, and Conspiracy Theories
Faculty Fellow: Marco Cupolo, Hispanic Studies
2020-21: Lights, Camera, Activism!
Faculty Fellow:  Mala Matacin, Psychology 
2019-20: Transversing Gender, Race, and Class
Faculty Fellow: Kristin Comeforo, Communication
2018-19: Evidence in a Post-Truth World
Faculty Fellow: Lauren Cook, Cinema
2017-18: The Secular and the Spiritual
Faculty Fellow: Richard Freund, Judaic Studies
2016-17: Our Monsters, Ourselves
Faculty Fellow: Amanda Walling, English and Modern Languages
2015-16: Remembering 9/11
Faculty Fellow: Sarah Senk, English and Modern Languages
2023-24 Student Fellows
Andrea Adjei-Frimpong (Nursing, ENHP)
Rally Bryan (Art History, HAS)
Julia Cyr (Art History, HAS)
Kayla D'Auria (English, A&S)
Angelina Gargano (Hillyer/Art History, HAS)
Ethan Garstka (Cinema, A&S)
Kellen Grissom (Art History, HAS)
Sequoia Hornsby (English, A&S)
Jenna Kruse (Studio Art, HAS)
Devin Putney (History, A&S)
Todd Richard (Music, Hartt)
Makaila Robinson (Psychology, A&S)
Teressa Simpkins (Art History, HAS)
JT Tinelli (Architecture, CETA)
Arrington Triantris (Architecture, CETA)