Congratulations, UHart Graduates!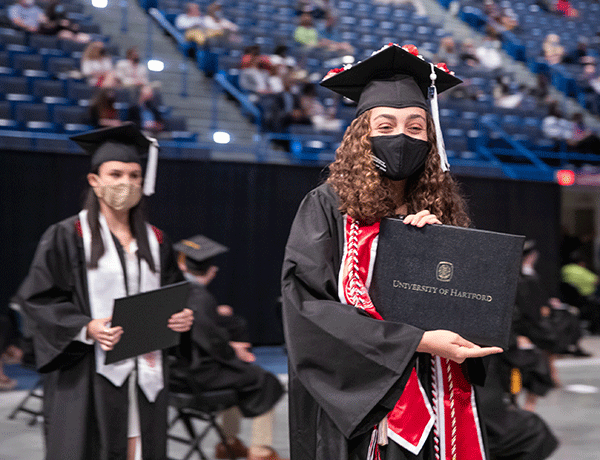 The University of Hartford congratulates the more than 2,300 students who celebrated the completion of their degrees during the University's Commencement Weekend on Saturday, May 15, and Sunday, May 16. Five separate ceremonies in Hartford's XL Center honored the Class of 2021, along with members of the Class of 2020 who had waited a year to hear their name called at a Commencement. Last year's ceremony was postponed due to COVID-19.
"This generation has had some challenges, but there's so much promise in the future that you helped to define and create," University President Gregory Woodward told the graduates. "Today, you cross a milestone that calls and prepares you to contribute to your families, your communities, and the world."

The ceremonies also honored student and faculty award winners from both 2020 and 2021, including Student Government President Juli Dajci '21, who delivered the Charge to the Graduating Class.
From day one, we began this journey of education together. Behind us, we're leaving faculty the mentors who challenged us each day to improve and become better versions of ourselves. Folks who made us fall in love with our craft.
Juli Dajci '21, Delivered the Charge to the Graduating Class
A Day for the Graduates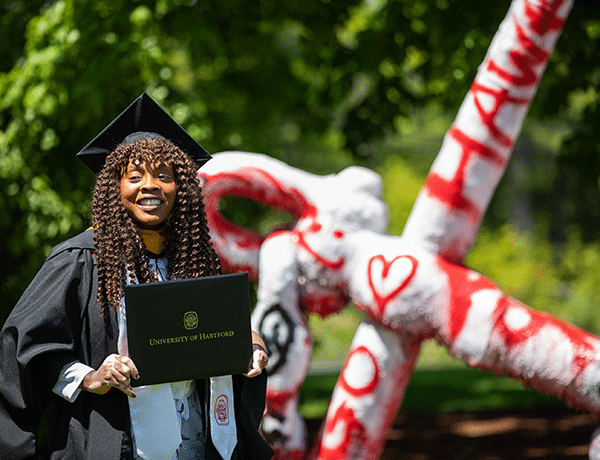 Each of the five ceremonies was streamlined to keep the focus on the graduates. Each student earning a degree, whether attending in person or watching the livestream, had their name read aloud. Although Commencement took place at the XL Center, many graduates and their families took advantage of the beautiful weather and went to campus to take photos and continue the celebration.
The Classes of 2021 and 2020 at a Glance
Class of 2021
840 undergraduate students and 382 graduate students
Undergraduates represent 12 countries and 35 states
Nearly 50% of undergraduates are from Connecticut
Most popular undergraduate programs include psychology, marketing, health science, and mechanical engineering
Class of 2020
768 undergraduate students and 348 graduate students
Undergrads represent 15 countries and 29 states.
Approximately 40% of undergraduates are from Connecticut
Most popular undergraduate programs include psychology, mechanical engineering, communication, and management