Barney Students Make Top 3 In The Future of Insurance Case Study Competition Sponsored By Deloitte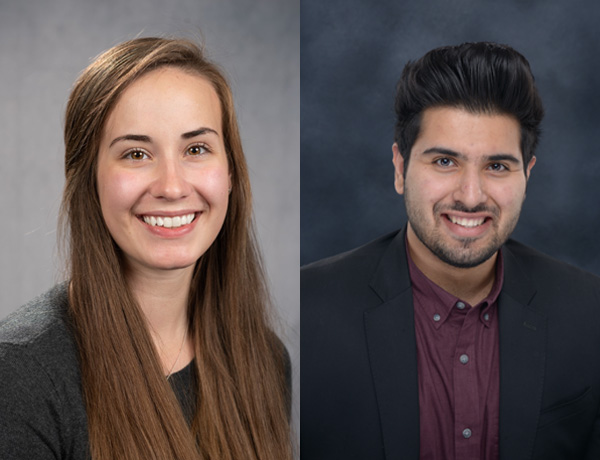 Congratulations to Barney School of Business students, Girik Nagpal (President) and Sarah Gada (Diversity & Inclusion Officer) for making the Top 3 in The Future of Insurance Case Study Competition presented by the Global Insurance Symposium in partnership with Gamma Iota Sigma (GIS).
The Competition, sponsored by Deloitte, analyzes what the insurance industry will look like in 2030 and beyond. The purpose of the competition is to encourage students in Gamma Iota Sigma chapters across the United States to showcase their talents and earn the opportunity to network with peers and industry leaders at the Global Insurance Symposium in Des Moines, Iowa, April 19-21, 2022. Girik and Sarah will be representing the University of Hartford by travelling to Des Moines to present their case to a live audience, competing for a rank within the top 3 chosen teams.
Team members include:
Sarah Gada '23, a Finance major with a Risk Management and Insurance minor.
Girik Nagpal '21, M'23, a Graduate student currently pursuing an MBA (Accounting Concentration) & MSBA. Girik completed his BSBA with a double major in Accounting and Risk Management & Insurance.
"Technology is rapidly changing the insurance ecosystem and the COVID-19 pandemic has accelerated digitalization for insurers," explains Professor Ken Goldstein, a Clinical Instructor of Risk Management and Insurance at Barney. "Sarah and Girik timely reinforced this dynamic by examining how the increased use of technology creates a variety of benefits to customers, including personalized pricing, timely loss control and mitigation services, and more." 
"Girik and Sarah have taken significant leadership roles in Gamma Iota Sigma and have welcomed the opportunity to immerse themselves in experiential learning," suggests Professor John Thomson, Assistant Dean of Career Ready Programs at Barney. "They are honored for the opportunity to compete in the next stage of the Future of Insurance Case Study Competition." We are very proud of them!"