Community Conversation: UHart Hosts Timely Discussions About Race and Place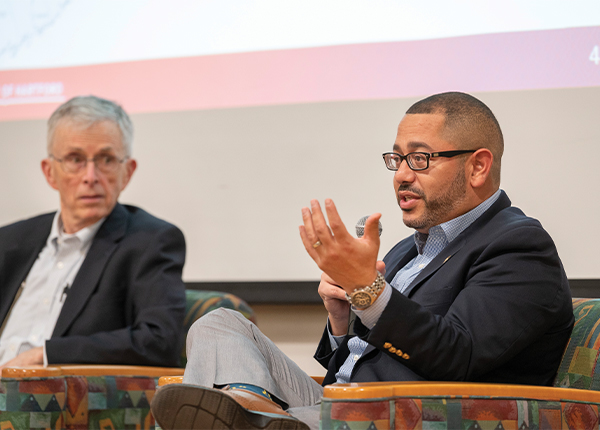 This story was featured in the recent issue of H magazine:
With America writing the next chapter in its struggle with racism and racial justice, the University of Hartford's Presidents' College and the Office of Diversity and Community Engagement have collaborated with Leadership Greater Hartford (LGH) and the Connecticut Mirror to examine
where color lines continue to segregate Connecticut.

In a series of four sessions held last fall and available online, The Two Connecticuts: Conversations About Race and Place explores, through 16 informed experts, how segregation in housing, education, and regionalism is depriving people of color of personal dignity, economic opportunity, and access to health care and safety while putting the state of Connecticut at a disadvantage.

Michele Troy, director of the Presidents' College, UHart's lifelong learning program, said the series, offered in person and online, was born of a desire in the community for a discussion about social change.

"David Barrett, who was head of [Hartford's] West End Civic Association for many years, was part of a team at the Third Age Initiative at Leadership Greater Hartford that wanted to do something on the Two Connecticuts," Troy says. "They had their theme, but they didn't have a home for it. He asked if the Presidents' College would be willing to do a course." When Troy agreed, the nine-member LGH team—David Barrett, Holly DeYoung, Harriet Winograd, Diana Evans, Ann Brandwein, Christie Davis, Robert Fishman, Greg DeFrancesco, and Tom Condon—worked with LGH's Doe Hentschel, setting their sights high to curate the panels.

Troy immediately knew that she wanted to work with UHart's Office of Diversity and Community Engagement on the project. "I'm so grateful because it turned out to be much bigger than we thought," she notes, with 1,400 individuals registering for the series. Christine Grant, executive director of diversity and community engagement, says, "What was really timely about the conversations was COVID, which has, as we all know, elevated and highlighted inequities related to people of color, Black people, Latinx groups. The timeliness was important. It was another way we could, as an institution, say, 'We're relevant. We recognize what's going on in our external world.' … This was also an awesome opportunity to reconnect with the community."

The first session, "A House Divided," set the stage for the enlightening series with panelists Dana Peterson, executive vice president and chief economist with the Conference Board; Connecticut Attorney General William Tong; and Jay Williams, president of the Hartford Foundation for Public Giving, sharing personal stories about their encounters with racism. Lucy Nalpathanchil, executive producer and host of WNPR's morning talk show Where We Live, moderated the discussion that defined racism and examined how it alienates, isolates, and otherwise keeps people of color from reaching their potential. The panel also took a close look at how racism negatively affects the United States economy.

The second session, "Housing," featured panelists Sara Bronin, founder and lead organizer of Desegregate Connecticut; Karen DuBois-Walton, president of Elm City Communities/Housing Authority of the City of New Haven; and Jim Perras, CEO of Connecticut's Home Builders and Remodelers Association. Moderator Jacqueline Rabe Thomas, an investigative reporter with Connecticut Public's Accountability Project, led the panelists and audience in a discussion of Connecticut's exclusionary zoning as a significant element of systemic racism.

The third session, "Education," examined efforts to improve educational equity, teaching, parental involvement, and other challenges with panelists Jack Dougherty, professor of educational studies at Trinity College; Claudia Tenaglia, social studies teacher at Dwight Bellizzi Dual Language Academy; and Ruth-Terry Walden, literature teacher at Westhill High School. Bilal Sekou, associate professor of political science at UHart's Hillyer College, moderated the session.

Regionalism was the topic of the final session, which included panelists the Rev. Trevor Beauford, senior pastor at Union Baptist Church in Hartford; Tom Condon, urban and regional issues reporter at the Connecticut Mirror; and Jason Rojas, majority leader in the State House of Representatives. John Dankosky, director of events at the Connecticut Mirror, moderated the session, which discussed city and town boundaries drawn hundreds of years ago that confer extraordinary privilege on the state's more affluent residents.

Peterson, co-author of a 2020 Citibank study, "Closing the Racial Inequality Gaps: The Economic Cost of Black Inequality in the U.S.", said in the opening session that being an economist on a diversity committee born in the aftermath of George Floyd's death led her to remove emotions from the disparities equation and explore the gap between the races from an economic perspective.

"We looked at the hard data to come up with an estimate of how much money is being tossed away because we as a society are allowing gaps to persist," Peterson explains. "We came up with a wild and incredible number. That was $16 trillion—the U.S. economy in any one year is close to $20 trillion—so that's a lot of money that's being left on the table because people are not aware of or not willing to do anything about the racial economic gaps. And this was just looking at gaps for the Black person. I imagine the amount would be even greater if we added on gaps for women and other ethnic groups."

Troy and Grant say that they hope the conversations continue with a broader audience. Because all four sessions are available and worthy of binge-watching online, they believe that many more people could benefit from listening to individual panels and discussing them in a group setting. "Churches could show a recording on a Friday evening to bring it out into the local community," Troy suggests, brainstorming with Grant. "We were thinking of schools initially, but there are several different ways to bring that out. And we think it would be important to do so."

Collaboration, Troy and Grant agree, is what made the Two Connecticuts series possible; collaboration is also exactly the force for good that they want to cultivate to keep these important conversations about race and place happening on our campus and in our communities alike.