Students Soar in Stanley Black & Decker Program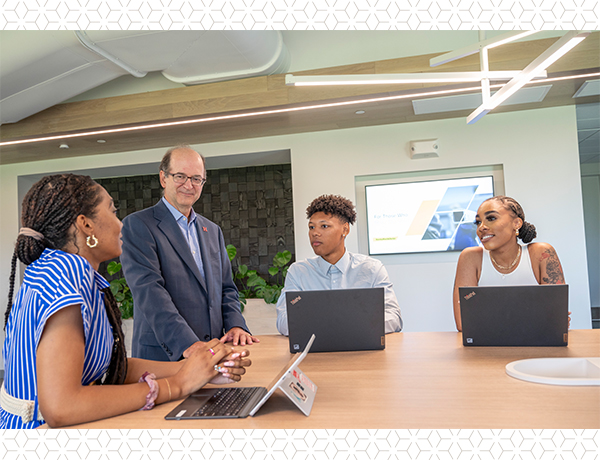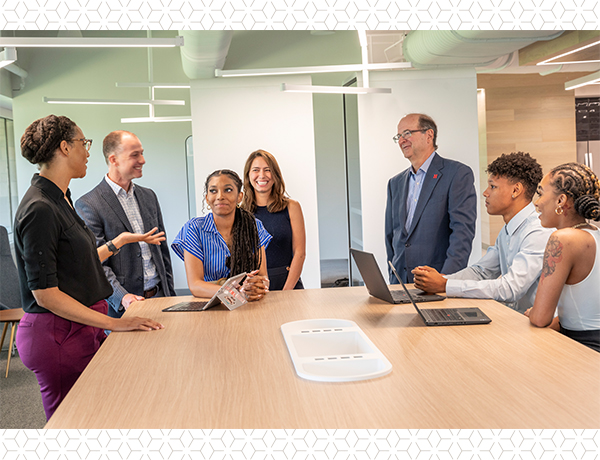 De'Kyiah Morey '24 couldn't tell you much about tools before this summer. It's fair to say drills, sanders, and saws weren't her forte.
She certainly knows a lot about them now—and about inventory levels and distribution plants, and how to manage a time zone difference to work with colleagues overseas, and how it all relates to her finance major at the University of Hartford.
Morey and three other Barney School of Business students are interns for Stanley Black & Decker, the worldwide leader in tools and outdoor. They're a few members of the company's inaugural UHart class of "Be a Force for Good Scholarship" participants. Seven new students were also just been chosen to join this coming academic year.
The initial group was selected last fall for the program, which provides a scholarship of up to $10,000 per year, company mentors, workshops, tours at headquarters, and a guaranteed interview for a potential internship. 
Safe to say the students aced their interviews. They're working 40-hour weeks, earning a paycheck, and collaborating with coworkers in more ways than they'd imagined (there's definitely no coffee-fetching for these interns).
"I love it. Being able to actually work with real data—that's the most amazing thing. Although I'm at an intern level, I'm sitting in those meetings and absorbing the information, and there's a lot to it," says Sarah Sprinthall '24, a technology and analytics intern at Stanley Black & Decker, with a major of business analytics and managerial economics at UHart.
Morey, a finance major, is a global inventory control intern who says she actually hasn't felt like an intern at all. She recently worked on an end-of-quarter presentation and regularly collaborates with colleagues in Europe, Asia, South America, and North America. 
"I wasn't expecting to be communicating with so many people overseas, and I love hearing about their experiences. One manager went to UHart for their master's. I'm so happy with the group I'm in, and I could really see myself doing this," Morey shares. 
The original Stanley Black & Decker Scholars cohort will continue with the program this year (with the exception of a student who has graduated), and be joined by new participants Gabriella Irwin-Parra '26, Lawson Correia '26, David David '25, Shamari Henry '26, Simone Romano-Pringle '25, Oladele Falade '25, and Amaryia Peterson '26.
Students must meet criteria centered on GPA, class year, and major to be eligible to apply. This year's application was also open to engineering undergraduates in UHart's College of Engineering, Technology, and Architecture, as well as data science majors in the College of Arts and Sciences.
"We quickly saw in our first year that the 'Be a Force for Good Scholarship' program will have a major impact on students as they explore career options and forge relationships with professionals who could very well be their colleagues in the future. The scholarship funding, combined with the opportunity, has opened doors for these students that they might not otherwise have had, and has provided Stanley Black & Decker with a chance at recruiting diverse, skilled talent," says Alex Coury '08, M'10, associate vice president for corporate partnerships and career experiences at UHart.
"We hope other area corporations will consider making such an impact on young lives in a similar fashion in the years ahead. We would love to see this opportunity granted to more students at the University of Hartford."