First-Year Residential Experience
Living on campus is a big part of your college experience—you'll have the opportunity to live amongst other students who we hope you will be able to call life-long friends. 
UHart should feel like home. That's why we offer flexible living arrangements to suit your individual lifestyle and preference.
As a first-year student, you'll have access to a double room, study lounges, and laundry facilities.
Welcome Home to UHart!
We are here to make your transition to living on campus a smooth one! Our team is here to help answer questions you might have regarding housing fees, housing requirements, moving to campus, and residential life.
In addition to our team, you can also get to know our Residential Directors (RD) and Residential Assistants (RA) who will there to help UHart feel like home!
First Year Housing Options
You will have access to various room types, study lounges, and free laundry facilities. We also allow you to choose your own roommate, and first-year students have the option of being a part of a Residential Learning Community.

For your convenience, dining halls, wellness facilities, and academic buildings are just a short walking distance away. Each living area has multiple Resident Assistants (RAs) and a full-time Resident Director (RD), who can help you when you have questions or concerns.
The deadline to apply for first-year housing is June 15. If you are unable to complete the housing application by that date, please reach out to us for next steps! 
Residential Learning Communities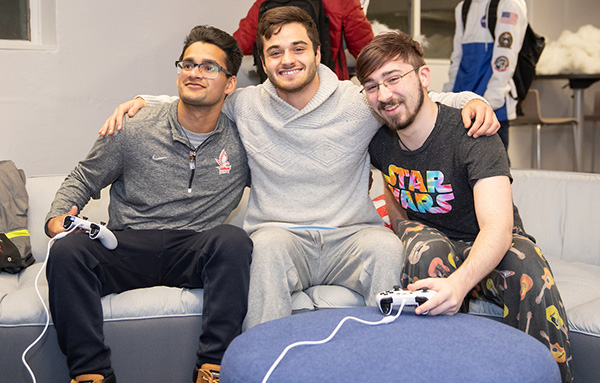 First-year students have the option to live in a Residential Learning Community (RLC). Our four RLCs provide students with a shared residential and academic experience where they connect with like-minded peers in Hawk Hall or Barnard.

Participants engage with faculty program staff and other students in weekly meetings, at Commons, or by attending RLC-specific activities that revolve around your passions. Students form study groups, play ping pong, and have late-night conversations with their classmates—who also happen to be their neighbors—in floor lounges.

Join us for a living and learning experience you won't forget.  
Application Process
New students apply to be a part of a Residential Learning Community by completing the "Residential Learning Community" section on the Housing Application found in Self-Service​. Students can go back in to their application at any time to complete this section.
Hawk Hall has super singles and double rooms on mixed-gender hallways (meaning students of different genders live next door to one another), community kitchen, and community study and social lounges. Shared bathroom facilities, designated by gender, are located in the middle of each floor. Each room is furnished with two XL twin beds and mattresses, two desks, two chairs, two dressers, and closet space.
STEM-C
The STEM-C Residential Learning Community brings students with a common interest in STEM-C together to expand their horizons in rapidly changing industries. Meet and live amongst students majoring in Engineering, Art, Business, Health Sciences and more with a common interest in STEM-C. Together, you will acquire an in-depth knowledge of current STEM-C developments, learn about exciting breakthroughs in different fields of study, strengthen interdisciplinary teamwork skills, collaborate on new concepts, and build the competencies necessary to be a future industry leader. Activities include seminars on the latest discoveries in STEM fields, conversations with STEM entrepreneurs, a field trip to a local museum, and hands-on experiments to gain insight into real-world applications. You could be a part of the next generation of STEM-C leaders! Please note that all STEM-C participants are required to attend a 50-minute biweekly seminar and community activities throughout the fall semester.
HONORS
Take your University Honors experience to another level by living with other Honors students from different schools and colleges on two floors in Hawk Hall. Here, you will gain powerful tools to facilitate your personal and professional development. Your experience revolves around two key concepts: mentoring and networking. Through a series of guided activities, you will learn how to build relationships with upper-level Honors students and UHart alumni who can help guide your college experience and career trajectory. In addition to participating in University Honors events—including President's Reception for First-Year Honors Students, and the Undergraduate Research Colloquium—students will explore campus galleries, and take part in an Alumni panel. Participants will also take either Contemporary American Studies (HON162/USIC-D 212) or Italian Renaissance (HON161/USIA 130), as well as attend a weekly seminar throughout the fall semester. Students must be accepted as a University Honors student to apply; both Honors courses fulfill honors general education requirements for all the Colleges.  
WELLNESS
If you want to pursue wellness and healthy living and help others do the same, the Wellness Community is for you! Students who are part of the Wellness Community explore the many dimensions of wellness: physical, emotional, social, intellectual, environmental, financial, and spiritual wellness. As a member of this community, you will help engage peers in University wellness initiatives, support and encourage one another, improve your overall well-being, and promote healthy lifestyles on and off campus. Students will meet weekly throughout the fall semester in a 50 minute seminar to discuss projects, participate in activities, and coordinate new campus wellness initiatives. Special programming activities and events include meditation, nutrition challenges, self-care discussions, creation of a campus wellness trail, and Wellness Wednesday. Residents will also have also the opportunity to promote healthy lifestyles off campus, through volunteer experiences and participation in Hartford Marathon Day and Helping Hawks Day. 
CULTURAL CONNECTIONS—NEW FOR FALL 2022!
Explore the world with your new community! Cultural Connections combines coursework, study abroad and intercultural friendships in a residential community where students from diverse ethnic backgro​unds and locations engage in explorations of peoples and cultures in the US and around the globe. First-year students who want to engage in conversations, study, and travel to better understand their fellow world citize​ns, are invited to apply. You'll take three classes together—Literature and Films Across Cultures (UISA-D 120) in Fall, and Western Heritage in a Diverse World (UISC-D 180) and Academic Writing 1 (WRT110) in the Spring. Faculty and tutors will meet with you in your residence hall, offering English-language discussion groups, regular world cinema movie nights, an excursion to New York City, group meals with an ethnic flavor, lectures from international faculty and alumni, and global career-planning discussions. Best of all, you'll travel together to Rome and Athens at the end of the year, literally expanding your connections to the world!
Neighborhood Housing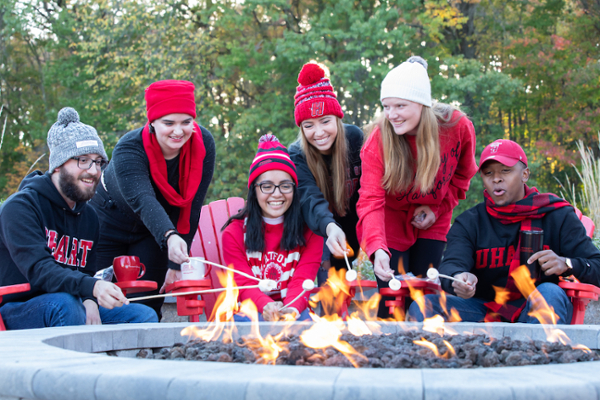 In our neighborhoods, you will have access to a single, super single, or double room as well as study lounges and free laundry facilities. All first-year housing has air conditioning. The Resident Assistants (RAs) assigned to each residence hall makes an effort to get to know you and help you to form connections with other residents around shared interests. In addition to the connections made within the building—they also help you to make connections with other students that have shared interests as you throughout campus! 
You can expect fun events and projects throughout the year within your residence hall and across campus! Your community at UHart awaits.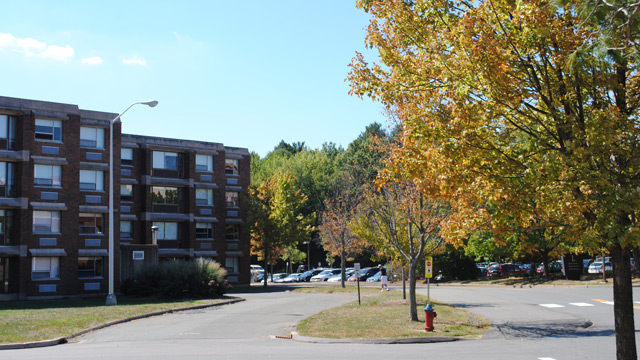 A, B, and C Neighborhoods are traditional-style residence halls comprised of four smaller buildings.
Floors and shared bathrooms are designated by gender.  Each floor houses 8-20 students in super single and double rooms, and buildings share lounges and laundry facilities. The four buildings that comprise each Neighborhood are listed below. 
Neighborhood rooms are furnished with the following per resident:
One XL twin bed and mattress
One desk
One desk chair
Closet space.
There are drawers available in each room, either built into the closet or as a separate unit.
Neighborhood Buildings
A Neighborhood
Andrews
Barlow
Crandall
Olmsted
B Neighborhood
Reeve
Beecher
Stevens
Warner
C Neighborhood
Poe
Willard
Malcolm X
Dubois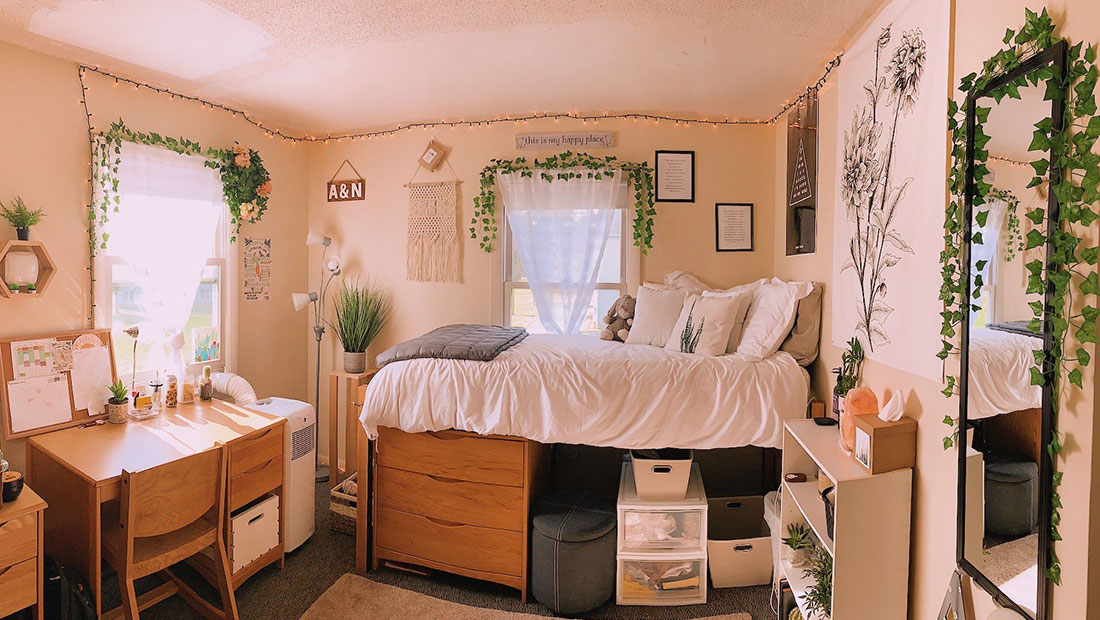 F Neighborhood is comprised of four traditional-style residence halls, housing 6-20 students on each floor. Hallways have rooms not designated by gender, as well as for women- or men-only. Multiple, single-use bathrooms are located in the hallways and shared by the residents of each floor. This Neighborhood offers double and single rooms, as well as laundry facilities and study lounges. 

Each room in F Neighborhood is furnished with:
One XL twin bed and mattress
One desk
One desk chair per resident.
Each room has a closet with either a closet organizer in it with drawers or drawers built into the base of the closet.
Neighborhood Buildings
Stowe
Webster
Gallaudet
Barnard
Welcome to Your UHart Home!