Returning & Transfer Student Housing
Your Home at UHart Awaits.
Whether you choose to live in a neighborhood, or in one of our apartment options, we want it to feel like home. As a a residential student you'll have the added benefit and convenience of being in close proximity to your classes, dining options, sports and recreation, and more.  
Check out below for information on your housing options, the housing selection process, and other important details related to living on campus!
Housing Options
We offer flexible living arrangements to match your individual lifestyle.
You will have access to various room types, study lounges, and free laundry facilities. We also allow you to choose your own roommate.
For your convenience, dining halls, wellness facilities, and academic buildings are just a short walking distance away. Each living area has multiple Resident Assistants (RAs) and a full-time Resident Director (RD), who can help you when you have questions or concerns.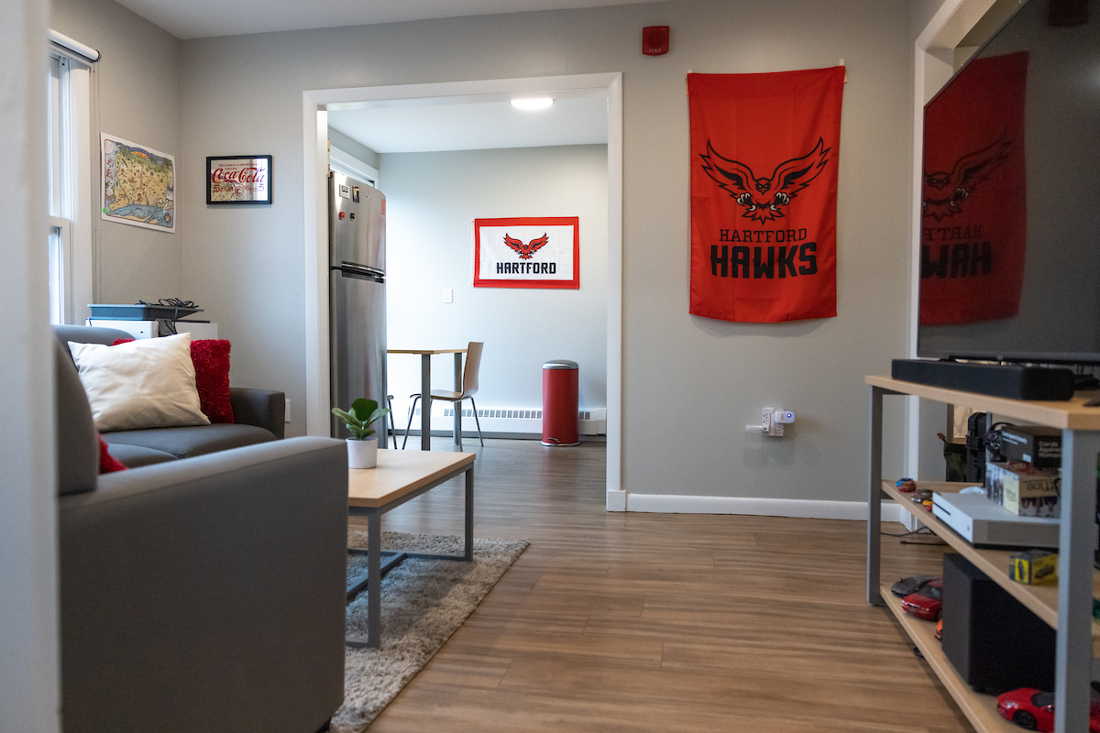 Our apartment style housing provides the opportunity for independent living while also enjoying the convenience and benefit of enjoying the University's on-campus services, facilities, and activities. Students can walk in and make themselves right at home!
Park River Apartments
Park River apartments house four students in two doubles, a double and two singles, or four singles. In each bedroom there is an XL twin bed and a desk set-up. In the common living area, students can enjoy an already furnished space! With two love-seat couches, a coffee table, and kitchen table and chairs—students are able to settle in to their new homes with their living areas already set up.
The common areas include meeting rooms, lounges, recreation, and laundry facilities. Park River offers a high degree of personal responsibility while residents enjoy all the convenience and support of the University's on-campus services, facilities, and activities. These apartments are air conditioned.
Village Apartments Renovations
Our most popular student housing option, the Villages, are home to one third (more than 850) of our residential students. The University completed renovations of all seven quads, containing 207 total apartments. The project was completed in August 2022, just in time for students to move back to campus in the fall.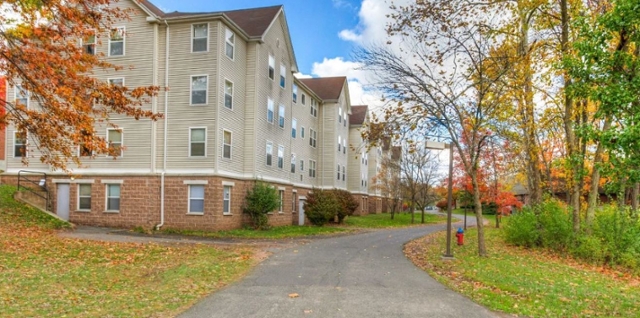 Regents Park Suites
Regents Park suites are fully furnished and include a living room, bedrooms, and a bathroom. The suites are designed to house four students in two doubles, a double and two singles, or four singles.

Each bedroom is furnished with one XL twin mattress and bed, one desk, and one desk chair per resident. The living room space is furnished with two love seat couches, one coffee table, a kitchen table, and four kitchen chairs. Air conditioning is not provided and students are not permitted to bring their own units.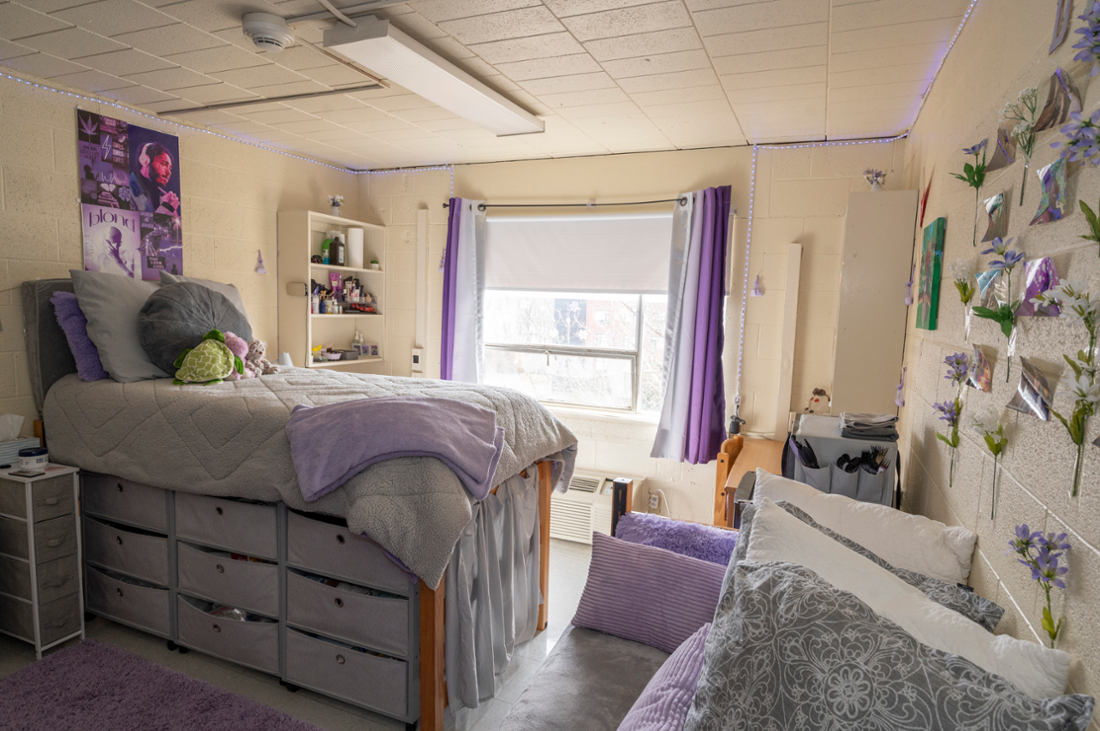 D Neighborhood
D Neighborhood is a traditional-style residence hall comprised of four smaller buildings. Floors and shared bathrooms are designated by gender. Each floor houses 8-20 students in super singles and double rooms, and buildings share lounges and laundry facilities. The four buildings in Neighborhood D are King, Smith, Occum, and Roth.

Neighborhood rooms are furnished with the following per resident: One XL twin bed and mattress, one desk, one desk chair, and closet space. There are drawers available in each room, either built into the closet or as a separate unit.
E Neighborhood
E Neighborhood is comprised of four traditional-style residence halls, housing 6-20 students on each floor. Hallways have rooms not designated by gender, as well as for women- or men-only. Multiple, single-use bathrooms are located in the hallways and shared by the residents of each floor. This Neighborhood offers double and single rooms, as well as laundry facilities, study lounges, and air conditioning. The four buildings that comprise E Neighborhood are Bushnell, Garvey, Hillyer, and Whitney. 

Each room in E Neighborhood is furnished with 1 XL twin bed and mattress, 1 desk, 1 desk chair per resident. Each room has a closet with either a closet organizer in it with drawers or drawers built into the base of the closet. 
Welcome to Your UHart Home