Campus Involvement Enriches Student's Experience and Leads to Career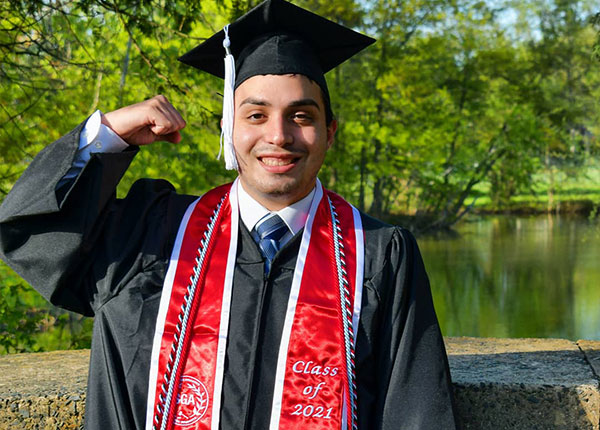 John Lamaita '21, studied psychology in the College of Arts and Sciences. After what he describes as an "amazing" experience at UHart, he is headed to the University of Buffalo to pursue his master of education in higher education and student affairs. In addition, John was offered a graduate assistantship as an assistant residence hall director. John says he took full advantage of getting involved in campus clubs and organizations to develop his leadership skills and make the most of his four years at UHart, ultimately preparing him for his next adventure in higher education.
"I was involved in organizations such as Red Caps, Red Key Society, and Student Government Association, where I gained the experiences that prepared me for this higher education program at Buffalo," he says. These organizations allowed him to hone and develop his love of working with fellow students.
John also utilized on-campus resources such as the Center for Student Success and Career and Professional Development to help him with his application to graduate school. By being a part of student organizations, clubs, and campus activities, John says his experience was enriched, as he was able to expand his campus network and cultivate a love of education.
UHart is a diverse campus and a community of varied interests, talents, and worldviews, and students are encouraged to embrace that eclectic mix and to add to it through a wide range of clubs, activities, and organizations. Getting involved is an important part of the college experience and according to John, "Working in different departments across campus opened many doors and allowed me to gain an interest in working with future college students."
John says his favorite part of part of UHart is the student body. He was able to turn his passion for student life and higher education into a career. Additionally, John encourages students to be themselves. "Don't be afraid to get involved," he says. "It may open many doors for you too."
Working in many different departments across campus opened many doors and allowed me to gain an interest in working with future college students
John Lamaita '21,