Internships and Campus Experiences Prepare Communication Student for his Future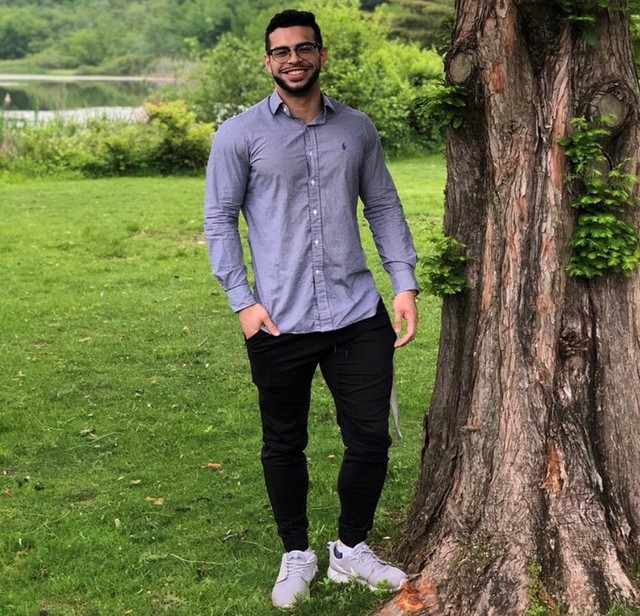 Joshua Marcial '21 recently completed a communication internship with UHart's College of Arts and Sciences that will help him achieve his career goal of working in  corporate communications. A communication major with an emphasis in media & journalism, Joshua's internship with the College focused on writing stories about successful A&S students, alumni, and faculty. Prior to that experience, he worked as an intern for Neighborhood Housing Services of Waterbury (NHSW), which he says helped him learn how vital a role communication plays in the success of an organization.
"At NHSW I wrote newsletters, created a 20-page donor brochure, revised printed materials, and worked on promotional videos about its work to develop houses for homeless people," he says. Upon graduation this spring, Joshua is hoping to spotlight his future employer's achievements through media relations and creating digital and printed content. 
By his sophomore year at UHart, Joshua says he knew he wanted to major in communication but notes his passion for the field dates to high school when he was a student teacher for middle school students. "I taught them programs such as Adobe Photoshop and Adobe Premiere Pro, and how to record Public Service Announcements to attract donors. Some of those kids still message me to this day for guidance about life."
Joshua says the wide variety of courses he took, and the support of faculty in the School of Communication, contributed to his success. In his first year, he was already receiving hands-on training for video production. Later, he had the opportunity to record documentaries, cover UHart athletic events for ESPN3, and host a podcast that focused on how COVID-19 affected Division 1 athletes. He says he attributes much of his success in this area to Assistant Professor of Communication Susan Cardillo. "She has provided me with numerous opportunities to film a documentary with her in Massachusetts and she provided me with the connections for my work with ESPN3. We also recorded two mock television shows for a class that covered business and athletes across UHart."
Joshua also gives credit to Professor of Communication Susan Grantham and the wide variety of courses School of Communication has to offer. "Courses such as Client Relationships, The Studio, Making the Sense of Social Media, and Non-Linear Editing, have expanded my knowledge on the aspect of communications and where I want to head post-graduation."
Outside of the classroom, Joshua served as a resident assistant, a member of the Powerlifting Club, and was involved in the Alpha Sigma Phi fraternity where he was vice president of philanthropy and raised more than $1,000. He currently is a Social Media Ambassador for UHart's Office of Marketing and Communication and is looking to publish his own website that features all the content he has created to date.
When asked what advice he would give to high school seniors looking to major in communication, Joshua recommends branching out. "The field is so wide from journalism, to media coverage, to public relations, and more! The more you dabble in the major, the more experience you will get for post-graduation! You may end up doing a bit of everything, which is perfect for communications."
My brother attended the University, which allowed me the opportunity to receive an early look at the campus. I thought about other schools, but when I saw the School of Communication and the television studio during an open house tour, I knew this would be home for me.
Joshua Marcial , Communication '21