Respiratory Student Kaitlynn Oudekerk '22 is Headed to Mass General Hospital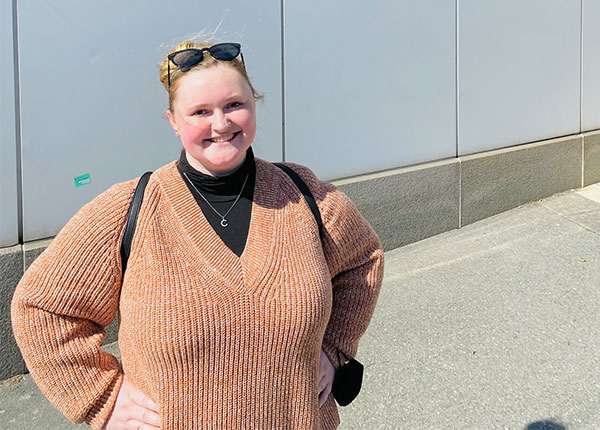 Kaitlynn was hired before graduation thanks to her solid clinical training
Being a respiratory therapist requires a solid understanding of advanced technology and the desire to compassionately care for people with breathing disorders. Kaitlynn Oudekerk '22 has both skills. She graduated from the College of Education, Nursing and Health Professions (ENHP) with a degree in Respiratory Care and will be working as a respiratory therapist at the prestigious Massachusetts General Hospital in Boston. Participation in clinical internships and the faculty attention she received equaled success for Kaitlynn, who was hired before she graduated from UHart.
 
"I was inspired to pursue this area of study because I want to help others," say Oudekerk of her choice to study respiratory care. The BS she received prepared her to work with patients of all ages, from premature infants to older adults, in one of the best hospitals in the country.
 
As a required part of UHart's Respiratory Care curriculum, students participate in more than 750 hours of clinical experience before entering the workforce. Hands-on time in the hospital provided valuable knowledge to Oudekerk as an undergraduate and helped expose her to many different healthcare systems.
"I completed clinical placements at Yale-New Haven Hospital, UConn John Dempsey Hospital, Hartford Hospital, and Connecticut Children's Medical Center," she says of the places she learned to care for patients. It prepared her for what work would be like at Mass General Hospital.
 
"The support I received from faculty and staff was instrumental in landing this opportunity," Oudekerk explains. In this high-tech, high-touch career, UHart's professors provided her with the knowledge, skills, professionalism, and hands-on experience to begin her career as a respiratory therapist. Oudekerk recalls, "All of the opportunities on and around campus prepared me to achieve my career goals."
 
When asked what she liked about UHart she says, "The small diverse community and talent of so many in one place enhanced my experience." Additionally, she fondly recalls the club fairs outside the Sports Center. She believes that "seeing students come together and welcome first years" was a great way to begin her time on campus. The four years Oudekerk spent at the University of Hartford allowed her to turn her passion into a profession, preparing her for work before walking across the graduation stage.
In the respiratory care program I completed clinical internships at Yale-New Haven Hospital, UConn John Dempsey Hospital, Hartford Hospital, and Connecticut Children's Medical Center."
Kaitlynn Oudekerk '22, Respiratory Therapist