College of Education, Nursing and Health Professions
BS in Respiratory Care
Respiratory care is an exciting, fast-paced profession that combines advanced technology with compassionate care of people with breathing disorders. Our program prepares you to work as a respiratory therapist with patients of all ages, from premature infants to older adults, in this high-tech, high-touch career.
About the Major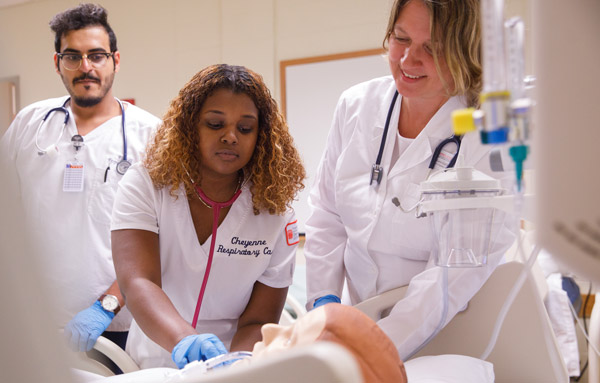 The University of Hartford offers the only entry-level bachelor's degree program in New England. More hospitals are now requiring a bachelor's degree for respiratory therapists, and it gives you an edge throughout your career, from landing your first job to advancing to leadership positions.
Our fully accredited four-year program provides graduates with a Bachelor of Science degree and eligibility for state licensing and credentialing by the National Board for Respiratory Care.
This program offers more than 750 hours of clinical experience and includes clinical training at some of the best medical facilities in New England, including Hartford Hospital, Yale-New Haven Hospital, Brigham and Women's Medical Center, and Boston Children's Hospital.
Our state-of-the-art simulation center on campus gives students the opportunity to practice realistic patient care scenarios that challenge and develop their critical thinking and clinical skills.
Respiratory Quick Facts
#6

Rank in best healthcare jobs by U.S. News & World Report

$78,811

Average salary for a respiratory therapist in CT (Source: Salary.com)

90%

of our students are working in the field within six months of graduation.
Respiratory Care: Teamwork and Technology
In the Respiratory Care program, students learn the importance of teamwork to improve patient care and make a difference in the lives of others. Hear from one of our students and our director of clinical education in this short video.
What can respiratory therapists do?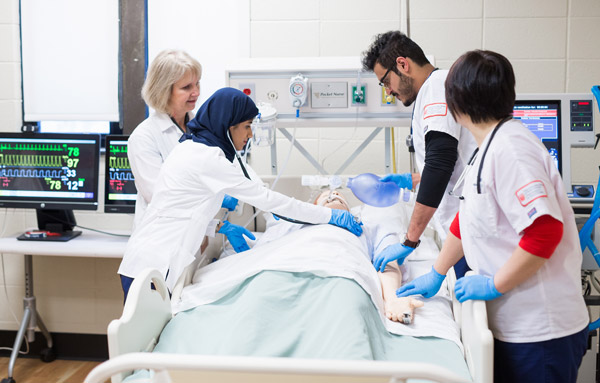 Respiratory therapists care for patients with heart and lung problems. They often treat people who have asthma, chronic bronchitis, emphysema, cystic fibrosis or sleep apnea. Their patients range from premature infants with underdeveloped lungs to elderly patients who have diseased lungs. They also have the skills to respond to emergency situations such as a heart attack or stroke. 
Advances in technology make it possible to help patients get well in ways that were impossible years ago. Respiratory therapists work with sophisticated medical equipment like mechanical ventilators that can breathe for people who can't breathe on their own and other devices such as ECMO that require a knowledge and love of technology.  Respiratory therapists are considered the go-to experts for all high-tech respiratory equipment. 
Respiratory therapists can work in various areas of hospitals as well as outpatient clinics, skilled nursing facilities, doctor's offices, asthma education programs, smoking cessation programs, sleep labs, and even air transport and ambulance programs.
If you're looking for a profession that combines sophisticated technology and bedside patient care, respiratory therapy can be a great career path.
Career Outlook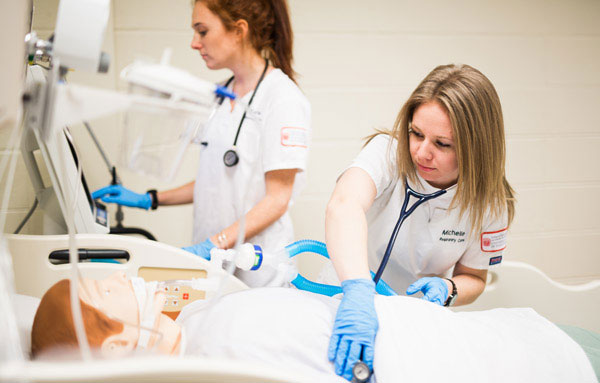 The job outlook for respiratory therapists is strong. The Bureau of Labor Statistics projects that jobs for respiratory therapists will grow 23 percent from 2020 to 2030, much faster than the average for all occupations.
More than 90 percent of our graduates are employed in the field of respiratory care within six months of graduation. Our graduates work at leading hospitals across the region, including:
Hartford Hospital
Yale-New Haven Hospital
Boston Children's Hospital
Connecticut Children's Medical Center
Kaitlynn Oudekerk
BS in Respiratory Care, '22
Kaitlynn was hired before graduation as a respiratory therapist at the prestigious Massachusetts General Hospital in Boston. The clinical placements in UHart's respiratory program and personal attention she received from faculty prepared her well for this opportunity.
Read more
"The support I received from faculty and staff was instrumental in landing this opportunity. All of the opportunities on and around campus prepared me to achieve my career goals."
Degree Requirements
The Respiratory Care program is a total of 125 credits. A sample of courses is listed below. View the full curriculum using the link to the course catalog.
Professional courses in the Respiratory Care program total 51 credits and include:
Respiratory Pharmacology
Pulmonary Diagnostics and Therapy
Mechanical Ventilation and Resuscitation
Medical-Surgical Problems
Ethical Issues in Respiratory Care
Clinical Practice
Science courses total 37-38 credits and include:
Introductory Biology
Human Anatomy and Physiology
Principles of Chemistry
Mechanics, Heat and the Body
General education requirements total 37-38 credits and include:
Academic Writing
Introduction to Healthcare Professions
Everyday Statistics
Business and Professional Communications
In order to perform the tasks required of a respiratory therapist, certain physical/behavioral capabilities are required. Students must demonstrate the ability to perform required functions, as a routine part of classroom, laboratory, or clinical education. Click here to read the full technical standards for the program.
Mission Statement
: 
The Respiratory Therapy Program at The University of Hartford will prepare graduates with demonstrated competence in the cognitive (knowledge), psychomotor (skills) and affective (behavior) learning domains of respiratory care practice as performed by registered respiratory therapists (RRT's). The program will prepare leaders for the field of respiratory care by including curricular content that includes objectives related to acquisition of skills in one or more of the following: management, education, and/ or advanced clinical practice in areas such as adult critical care, neonatal/ pediatric care, emergency room, pulmonary rehabilitation and pulmonary laboratory.
Program Goals
:
Students must be competent in interpersonal and communication skills to effectively interact with diverse population groups.
Students will develop and employ critical thinking skills.
Students will acquire expected knowledge and competencies. 
Students will demonstrate a commitment to professional growth and development. 
Learning Outcomes:
Learning Outcome 1
1.1. Students will demonstrate effective oral communication skills.
1.2. Students will demonstrate effective written communication.
Learning Outcome 2
2.1. Students will apply problem-solving strategies in the patient care setting.
2.2. Students will demonstrate the ability to respond to a critical situation.
Learning Outcome 3
3.1. Students will demonstrate competency in respiratory therapy procedures.
3.2. Students will demonstrate expected knowledge.
Learning Outcome 4
4.1. Students to demonstrate professionalism during their clinical experience.
4.2. Students will integrate a commitment to life-long learning into their professional practice of respiratory therapy.   
Assessment of Program Effectiveness
Students will pass the high cut score of the TMC exam.

Students will be gainfully employed as respiratory therapists within the first 12 months following graduation.

Students will successfully complete the program.

Students will be satisfied with their education.
Employers will be satisfied with the performance of our graduates.
Clinical Training
You will begin your clinical training in your sophomore year at one of our 13 clinical partners. Rotations include neonatal, pediatric, adult critical care, and long-term care, and give you a wide range of clinical experiences. Clinical study is integrated throughout the second, third, and fourth years of the program.
Our clinical sites include the following hospitals and healthcare organizations:
Baystate Medical Center, Springfield, MA
Boston Children's Hospital, Boston, MA
Brigham and Women's Hospital, Boston, MA
Connecticut Children's Medical Center, Hartford, CT
Danbury Hospital, Danbury, CT
Gaylord Hospital, Wallingford, CT
Hartford Hospital, Hartford, CT
Hospital of Central Connecticut, New Britain, CT
Middlesex Hospital, Middletown, CT
Midstate Medical Center, Meriden, CT
Saint Francis Medical Center, Hartford, CT
University of Connecticut Health Center, Farmington, CT
Yale-New Haven Hospital, New Haven, CT
Admission Requirements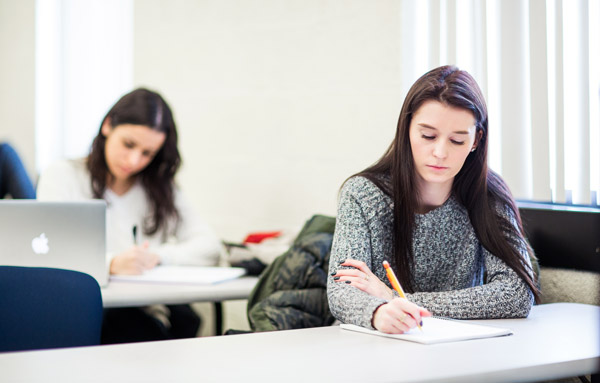 Our program is open to qualified full- and part-time students. Freshmen and transfer students from associate's degree, registered respiratory care programs may apply.
For admission into the Department of Health Sciences, 16 units of secondary subjects are expected, among which the following are strongly recommended:
English - 4 units

Social Studies - 2 units

Foreign Language - 2 units

Math - 3 units including one unit of algebra and trigonometry

Science - 2 units

Other academic subjects - 3 units
Applicants for the Bachelor of Science degree programs, including Respiratory Care, must have three years of college preparatory mathematics. Trigonometry must be one of the courses.
Transfer Admissions
If you are applying as a transfer student, you will submit your application and documentation to our Office of Admission. Our staff are knowledgeable about credit articulation agreements that we have with other institutions and work closely with the College of Education, Nursing and Health Professions to provide transfer students with the information they need to make a smooth transition.