College of Education, Nursing and Health Professions
BS in Exercise Science
Exercise Science is a growing health field that helps people improve and maintain their physical fitness, health and quality of life. The bachelor's degree in Exercise Science will prepare you for a variety of exciting careers in sports medicine, personal training, and strength and conditioning coaching. You'll also be prepared for graduate study in areas such as physical therapy, athletic training, clinical exercise physiology, kinesiology, and public health.
About the Major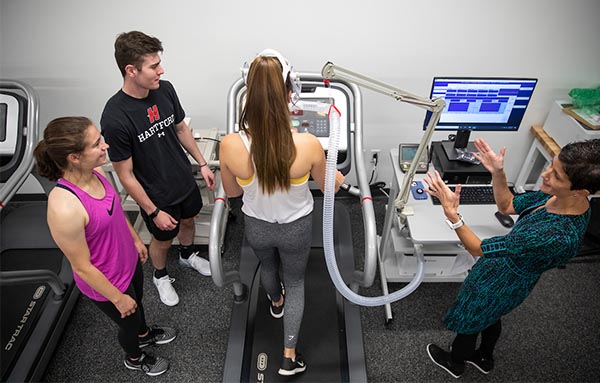 The Exercise Science program combines classroom, laboratory and internship experiences that will give you a comprehensive understanding of physical health, fitness and human performance. You will learn how to recognize and assess metabolic/physical, cardiovascular and pulmonary functions, and design and implement treatment plans for clients that improve their physical fitness and health.
You'll also participate in internships designed to promote career readiness or preparation for graduate education in areas such as sports medicine, strength and conditioning, personal training and clinical research. As a UHart student, you'll have opportunities to work with the University's athletics teams in these internships.
After completing the B.S. in Exercise Science, you'll be qualified to sit for exams for professional certification through several organizations listed below. The B.S. in Exercise Science is also the undergraduate pathway to the combined BS/Doctor of Physical Therapy (DPT) degree program at the University of Hartford.  
BS in Exercise Science and MS in Athletic Training
The University of Hartford and Sacred Heart University offer a combined program for students with career goals in athletic training. UHart students who complete the bachelor's degree in Exercise Science with a cumulative grade point average (GPA) of 3.0 or better, meet pre-requisite requirements, and complete at least 10-15 hours of observation under a Certified Athletic Trainer, will automatically be accepted into the Sacred Heart MS in Athletic Training program. Those with a GPA of less than 3.0 will be reviewed and may be accepted on a space-available basis.
Degree Requirements
The B.S. in Exercise Science is a 120-credit program. A sample of courses is listed below; see the course catalog for the complete list of requirements.
A minimum overall GPA of 2.7 is required for continued enrollment and completion of the program. Students on the pre-DPT track will be required to maintain the following GPAs: 3.0 overall and in science courses by the end of semester three, 3.1 overall and in science courses by the end of semester five, 3.2 overall and in science courses by the end of semester seven. Students who do not meet these requirements will lose their direct entry into the DPT program but are able to remain in the undergraduate program to complete the B.S. in Exercise Science.
Science courses in the Exercise Science program total 32 credits and include:
Introductory Biology I
College Chemistry I, II
Anatomy & Physiology I, II
Electricity and the Body
Mechanics, Heat, and the Body
Medical Microbiology
Professional courses in the Exercise Science program total 45 credits and include:
Introduction to Exercise Science I, II
CPR/First Aid
Public Health
Statistics for Exercise Science
Sports Nutrition
Functional Anatomy
Strength & Conditioning
Motor Control
Exercise Physiology
Injury Care & Prevention
Career Readiness Internship I, II
Exercise Prescription
Clinical Exercise Testing
General Education Requirements
General Education Requirements total 43 credits and include:
Academic Writing I, II
Business and Professional Communication
Introduction to Psychology
Ethics in the Professions
Career Outlook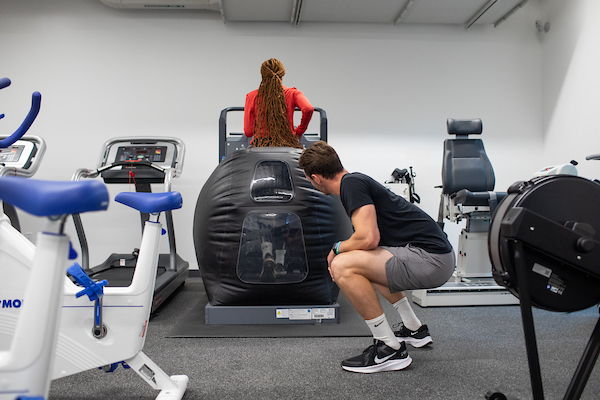 The U.S. Bureau of Labor Statistics projects significant employment growth rates for fitness trainers (10%), exercise physiologists (13%), and athletic trainers (23%) through 2026.

The need for exercise science practitioners is expected to remain strong as the U.S. population ages and the desire to remain physically active continues to grow. The need for healthcare providers who specialize in geriatric care is also growing. Our program includes courses such as Exercise Prescription for Special Populations and internships with local Active Life Plan Communities, preparing students to work with this important population.
Our Home - The Hursey Center
The Francis X. and Nancy Hursey Center for Advanced Engineering and Health Professions opened in Fall 2021 and provides spacious new facilities for our Exercise Science program. Take a look!
The Exercise Physiology Lab contains 1,900 square feet of classroom and lab space with treadmills, exercise bikes, rowing machines, a Biodex to measure muscle strength, and a DXA for measuring body composition.
The adjacent strength and conditioning lab provides 1,300 square feet of space with power racks, weights, a Smith machine, and a TRX suspension trainer.
The exercise physiology lab's anti-gravity treadmill enables individuals to walk or run at a lower percentage of their body weight and rehabilitate with less pain. It is beneficial for anyone suffering a knee, ankle, leg or foot injury.
This close up of the anti-gravity treadmill shows how the lower body is supported by air pressure to make walking or running easier.
Treadmills with metabolic carts are used to measure oxygen consumption, carbon dioxide production, resting energy expenditure, and minute ventilation.
Lab equipment includes wearable metabolic devices, which can be used in both lab and field settings to collect data on maximal oxygen consumption and anaerobic threshold.
The DXA measures bone density and body composition including fat and muscle mass.
Internships
As part of the Exercise Science major, you'll complete a career readiness internship based on your career goals. Internships may include:
Sports medicine: Work with a licensed physical therapist to design and implement injury prevention programs for youth and adolescent sports teams throughout the state.
Scientific inquiry: Work with a faculty mentor on a research project leading to the production of a scholarly product.
Personal training: In conjunction with community partners and the wellness center at UHart, you'll design and implement group fitness classes and individualized personal training plans.
Strength and conditioning: Under the supervision of a Certified Strength and Conditioning Coach at UHart, you will work with the University's athletics teams.
Introduction to athletic training: Working with a Certified Athletic Trainer at UHart, you will gain experience with the University's athletics teams.
Professional Certifications
After completing the B.S. in Exercise Science, you'll be qualified for professional certification through various national associations.
Graduates of the program will have opportunities for career advancement through specialized certifications including:
American College of Sports Medicine (ACSM) - Certified Exercise Physiologist (CEP)
American College of Sports Medicine (ACSM) – Certified Personal Trainer (CPT)
American College of Sports Medicine (ACSM) – Exercise Is Medicine Credential (EIM)
ACSM/American Cancer Society – Certified Cancer Exercise Trainer (CET)
ACSM/National Center on Health, Physical Activity and Disability - Certified Inclusive Fitness Trainer (CIFT)
ACSM/National Physical Activity Society - Physical Activity in Public Health Specialist (PAPHS)
National Strength and Conditioning Association (NSCA) – Certified Strength and Conditioning Specialist (CSCS)
National Strength and Conditioning Association (NSCA) – Certified Special Population Specialist (CSPS)
National Strength and Conditioning Association (NSCA) – Certified Personal Trainer (NSCA-CPT)
National Strength and Conditioning Association (NSCA) – Tactical Strength and Conditioning Facilitator (TSAC-F)
Admission
First-year applications are reviewed on a rolling basis beginning in late September. Students should complete a college-prep high school curriculum that includes math and science courses. For students planning to apply to the combined BS/DPT track, you should complete high school courses in biology, chemistry, physics, and mathematics with an A or B grade point average. 
Questions? Contact the Office of Admission at
860.768.4296 or
admission@hartford.edu
Program Contact
Linda Yamamoto
Assistant Professor of Exercise Science and Program Director
860.768.4390
lyamamoto@hartford.edu