College of Education, Nursing and Health Professions
BS/DPT in Exercise Science/Physical Therapy
Physical therapy is a rewarding, in-demand career that helps people live healthy and active lives. As a physical therapist, you can make a big difference in your patients' quality of life, helping them recover from injuries, get back to a favorite activity, and prevent future health problems.
This program offers a combined Bachelor of Science (BS) degree in Exercise Science and Doctor of Physical Therapy (DPT) degree. The BS in Exercise Science is the undergraduate pathway for direct entry into the DPT program at the University of Hartford.
About the Program
Hands-on learning, small class sizes, and accessible and collaborative faculty provide a solid foundation for you to excel in the combined BS/DPT program.
Our curriculum combines a liberal arts education with a strong science core, giving you the necessary tools for success as a physical therapist, whether your career goals are private practice, education, or research.
The bachelor's degree in Exercise Science provides the prerequisite science and general education courses that prepare you to move into the professional phase of the program. Once accepted into the combined BS/DPT program, you'll move directly from the undergraduate program into the professional program without having to re-apply, provided you maintain the required grade point averages.
There are two options for completing the undergraduate program:
Complete it in a traditional eight semester (four year) schedule
Accelerate your degree in a 3+3 fast-track program that consists of six semesters (three years) with two full-time summers
In both options, you will continue into the 3-year full-time DPT program.
Graduates of our DPT program have 100% job placement rates and have advanced to leadership positions in the profession. Learn more about our DPT program here.
Why study physical therapy?
Physical therapy is a rewarding profession that offers a lot of variety. Physical therapists are movement experts who improve quality of life through prescribed exercise, hands-on care, and patient education. They diagnose and treat patients of all ages, from newborns to the elderly. There are many benefits to a career as a physical therapist:
Career satisfaction: Physical therapists can have a profound impact on people's lives. Helping people recover from their injuries, lessen pain, and improve their quality of life is very satisfying. Physical therapy consistently ranks high in "best jobs" lists.
High salaries: The median annual wage for physical therapists was $89,440 in 2019 according to the Bureau of Labor Statistics.
Variety: You can work in a variety of settings, from hospitals to outpatient clinics, patients' homes, schools, sports and fitness facilities, workplaces, and nursing homes.
Strong job outlook: The Bureau of Labor Statistics expects jobs for physical therapists to grow 22 percent from 2018 to 2028, much faster than the average for all occupations.
Degree Requirements
The undergraduate phase of the combined BS/DPT program is a minimum of 120 credits. A sample of courses is listed below, see the course catalog for the full degree requirements.
Students on the combined BS/DPT track will be required to maintain the following GPAs: 3.0 overall and in science courses by the end of semester three, 3.1 overall and in science courses by the end of semester five, 3.2 overall and in science courses by the end of semester seven. Students who do not meet these requirements will lose their direct entry into the DPT program but are able to remain in the undergraduate program to complete the Exercise Science degree.
Science Core Courses total 51-52 credits and include:
Introductory Biology
Human Anatomy and Physiology
Medical Microbiology
College Chemistry
Exercise Physiology

Pre-Physical Therapy Seminar Courses - 4 credits

Psychology Courses - 13 credits
General Education Requirements
General education requirements total 35-36 credits and include:
Academic Writing
Precalculus with Trigonometry
Business and Professional Communication
Introduction to Sociology
Career Outlook
Physical therapists are in high demand, with jobs expected to grow 22 percent from 2018 to 2028, according to the federal Bureau of Labor Statistics. Physical therapists can work in a variety of settings, including hospitals, private practices, outpatient clinics, home health agencies, schools, sports and fitness facilities, and nursing homes.
Physical therapy is a great career because it has so many diverse specialties. A physical therapist assists individuals in regaining their function from cardiopulmonary, neurological, or musculoskeletal injuries. Helping people regain their function and role in society is a satisfying way to spend your days working."
John Leard, Assistant Professor of Physical Therapy
Learn in Our New Academic Building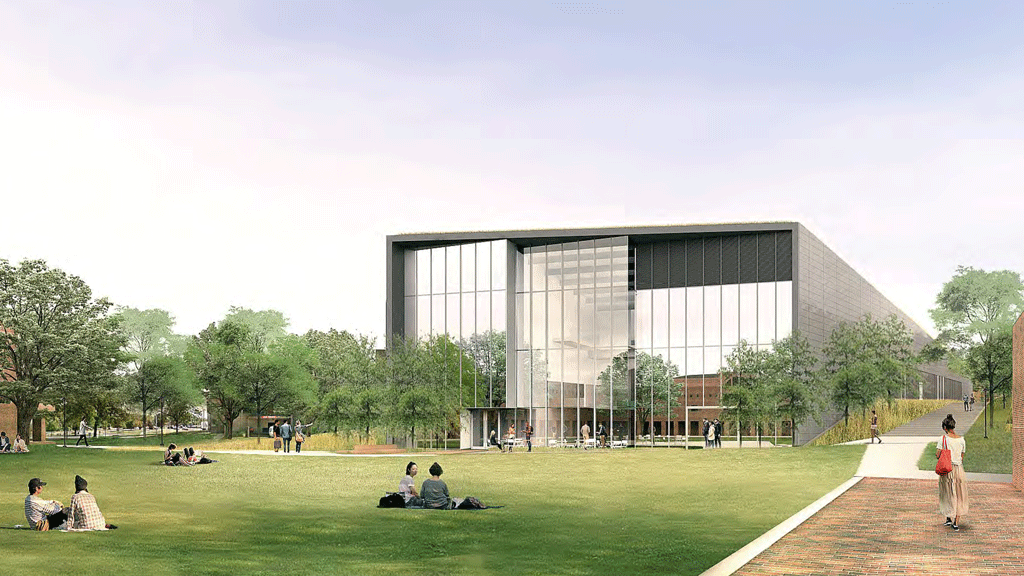 Our new 60,000-square foot academic building, opening in Fall 2021, will include state-of-the-art labs and classrooms for
 ENHP students. Facilities will include labs for motion analysis, human performance, physical therapy, nursing simulation and more. 
BFit Program
Our physical therapy students and professor pioneered an exercise program for children with disabilities that fills a national void.  
Admission
Freshman applications are reviewed on a rolling basis. If you are a high school student interested in the physical therapy program, you should complete courses in biology, chemistry, physics, and mathematics with an A or B grade point average.
Although the University does not require applicants to submit SAT or ACT scores, we strongly encourage candidates for the BS/DPT program to submit scores because they may strengthen your application. You are expected to have a minimum score of 500 each on the verbal and mathematics sections of the SAT with a combined score of 1100 or a score of 21 on the ACT. Strong academic references are recommended. We also recommend that you complete a minimum of 10 hours of physical therapy-related volunteer experiences.
Office of Admission and Financial Aid
800.947.4303
admission@hartford.edu
Additional Information
Tuition and Financial Aid
If you are a full-time undergraduate student applying to the combined BS in Exercise Science and Doctor of Physical Therapy (DPT) Program in the College of Education, Nursing and Health Professions, you will be considered for financial aid programs that the University administers. In addition to our own funds, the University of Hartford participates in all Federal Title IV Programs and Federal Family Education Loan programs. Residents of Connecticut and those states with reciprocal agreements with the State of Connecticut may also be eligible to receive state scholarships or grants.
The following links provide information on tuition and financial aid related to the undergraduate accelerated 3-year or 4-year program of study in Exercise Science.
DPT expenses - For expenses related to the Doctor of Physical Therapy (DPT) component.
To discuss ways to finance your program of study, call the financial aid officer for the College of Education, Nursing and Health Professions at 860.768.4296 or email finaid@hartford.edu.
Physical Therapy On-Site Clinic
Select Physical Therapy is an outpatient private practice located in Health Services at the Sports Center. Select offers wide range of physical therapy sports medicine and work health services and is dedicated to enhancing the quality of our patients' lives. The clinic takes pride in outstanding customer service, excellent patient care, and strong outcomes. We offer complementary injury assessment. Students in the Physical Therapy program are linked to the clinic through their integrated or full-time clinical experiences.
Our hours are currently:
Monday 7am-1pm
Tuesday 9am-5pm
Wednesday 7am-1pm
Thursday 9am-5pm
Friday 7am-1pm

Phone: 860.768.5335
Accreditation

The University of Hartford, including the Exercise Science program within the College of Education, Nursing and Health Professions, is accredited by the Board of Higher Education of the State of Connecticut and by the New England Commission of Higher Education. The Doctor of Physical Therapy Program at the University of Hartford is accredited by the Commission on Accreditation of Physical Therapy Education (CAPTE) 1111 North Fairfax Street, Alexandria, VA 22314, tel: 703.706.3245; email: accreditation@apta.org; website: http://www.capteonline.org. If needing to contact the program/institution directly, please call Catherine Certo at 860.768.5367 or email certo@hartford.edu.