ENHP Honors Catherine Certo with the Excellence Through Relevance Service Award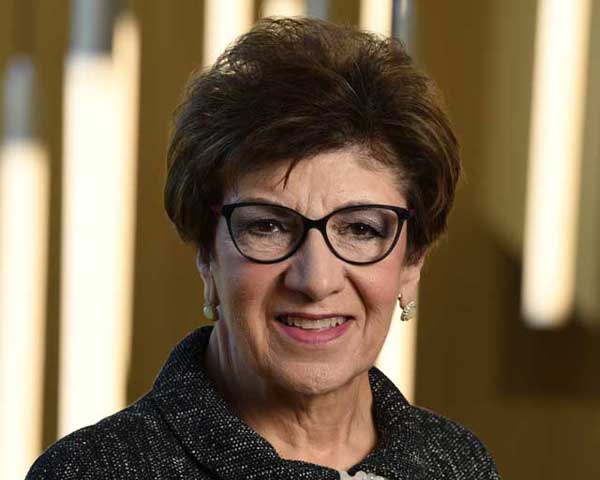 In recognition of her extensive efforts in program development, faculty support, and strategic planning, the College of Education, Nursing and Health Professions has announced that Catherine Certo is the recipient of the ENHP Excellence Through Relevance Service Award for 2020.
"Catherine is a dynamic, passionate leader, an accomplished and dedicated scholar, and an inspired and inspiring teacher who is a strong contributor to the life of this institution on a daily basis," wrote ENHP faculty members Sandra Saavedra and Tricia Prokop in their nomination of Certo for the award.
Certo joined the University in 1997 as chair of the physical therapy program. Under her leadership, the department grew from one undergraduate program with 50 students to four different degree programs serving 245 undergraduates and 192 graduate students. Certo added the Master of Science in Prosthetics and Orthotics, the Transitional Master of Science in Prosthetics and Orthotics, and the Doctor of Physical Therapy programs.
In 2019, she was promoted to Associate Dean and has led efforts to develop a new bachelor's degree program in exercise science and a master's degree program in occupational therapy.
Certo is also regarded as a strategic leader and thinker across the University and has been asked to serve on numerous university-level committees, as well as many professional and community service committees. Catherine's leadership on the University's Strategic Planning Committee resulted in recommendations that have led to many of the new student retention initiatives such as a central, electronic advising database and a one-stop shop for student advising.
"What cannot be appreciated from her vast list of service activities is her service to the faculty of the Department of Rehabilitation Sciences," wrote Saavedra and Prokop. "Catherine has been an informal mentor for many faculty in the department and has encouraged the pursuit of higher education, applications for external grant funding, and establishment of external partnerships and programs, just to name a few examples. Her support and encouragement not only enhances the development of individual faculty members but furthers the reputation of the department and university."
The Excellence Through Relevance Award is normally presented in April at ENHP Day, the college's annual celebration of research and scholarship. With the campus closed due to the COVID-19 pandemic, ENHP will honor Certo at an appropriate time when campus reopens.