I-SEE Affinity Group: "Holidays Around the World: Sharing Our Ethnic Traditions" Feb. 25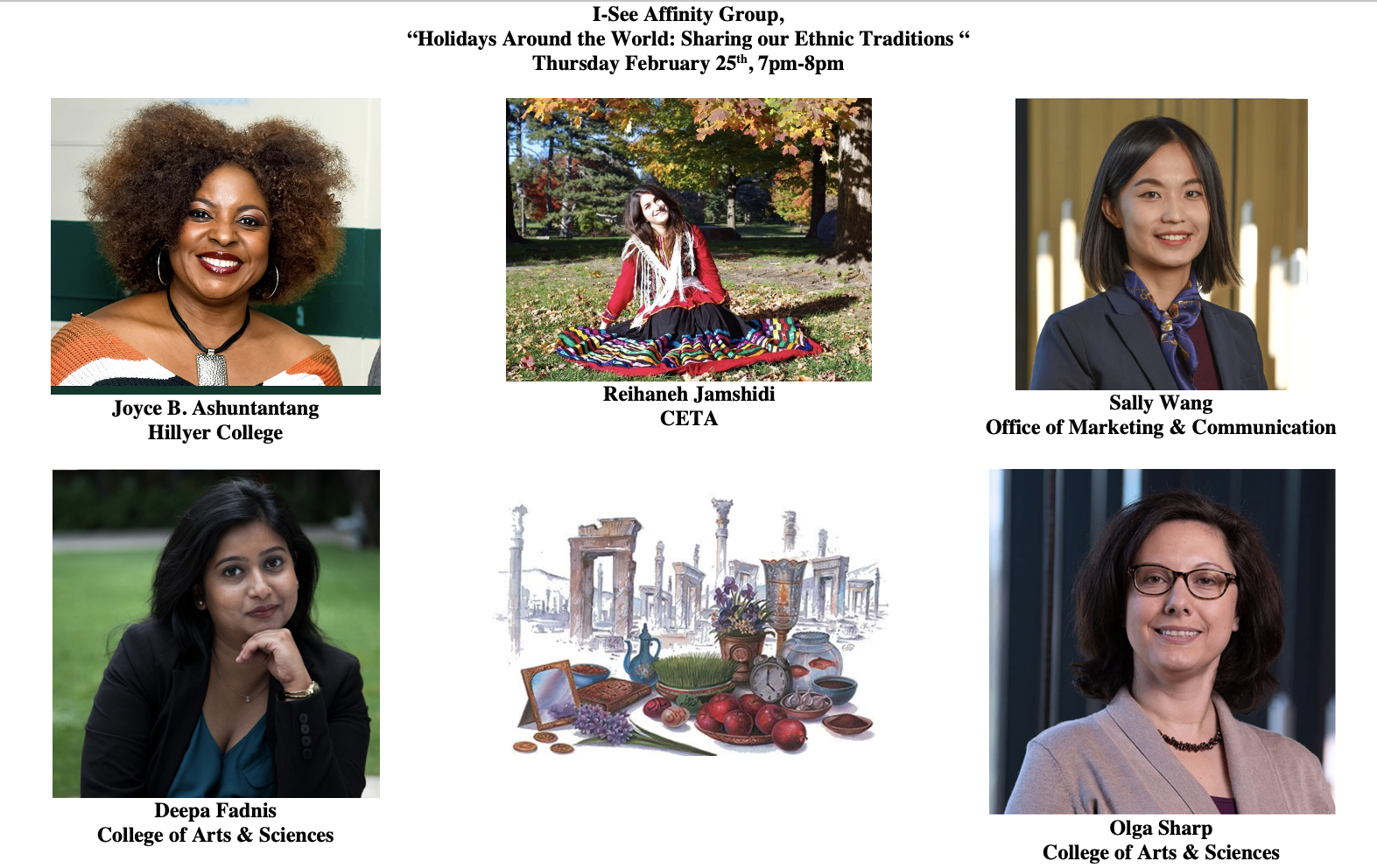 Dear UHart community, welcome back for the Spring Semester 2021. As many of you may know, Lunar New Year was one week ago, celebrated on Feb 12, 2021. New year celebrations are different depending on where one is from and what religion and customs one follows. I-SEE Group would like to take this chance to host a virtual roundtable discussion about different ethnic traditions of holidays around the world, as our kick-off virtual event this semester.
We are so excited to have five speakers from different cultural backgrounds to share their ethnic traditions.
When: 7 p.m.-8 p.m. on Thursday, Feb. 25
Who: All University of Hartford community members – faculty, staff, students and alumni are welcome.
Speakers & Topics:
1.     Joyce B. Ashuntantang, Hillyer College, Christmas in Cameroon
2.     Reihaneh Jamshidi, CETA, Nowruz, Persian New Year Celebration in Iran
3.     Sally Wang, Office of Marketing & Communication, Celebrating Lunar New Year in China
4.     Deepa Fadnis, College of Arts & Sciences, Lunar New Year celebrations in Kolkata, India
5.     Olga Sharp, College of Arts & Science, Celebrating International Women's Day- March 8th
Registration:
https://forms.gle/ZGwP9pZN9zJEz7js5
*Please fill out the registration form above. You will receive a confirmation email with the Zoom meeting link after you register. 
Before the event:
On Thursday Feb. 25, place your order at any of the following local restaurants and enjoy a great meal while we celebrate the holidays around the world.
Mention this event or University of Hartford when you are placing your order and receive 10% discount. 
772 Park Ave., Bloomfield, CT 06002 

 

 

14 Wintonbury Mall, Bloomfield, CT 06002

 

310 Prospect Ave, Hartford, CT 06106

 

 
220 Main Street, Middletown, CT 06457

 

 

54 Memorial Road, West Hartford, CT 06107

 

800 Evergreen Way, South Windsor, CT 06074

 

 
SHU - HARTFORD, FAIRFIELD

156 Shield Street, West Hartford, CT 06110

1795 Post Road, Fairfield, CT 06824

 

280 Main Street, New Hartford, CT 06057

 

74 LaSalle Road, West Hartford, CT 06107

 

 

 

About Us:
I-SEE, International Scholarship Education and Engagement, is an affinity group. Our goals are to facilitate international scholarship, education, and engagement. Our mission is to be the driving force to initiate and implement all efforts that have an international component to help enhance and expand the reputation of the University of Hartford.
Contacts:
I-See co-chairs Yingcui Li, yinli@hartford.edu; Sundeep Muppidi, Muppidi@hartford.edu;
I-See coordinator Sally Wang, KEWANG@hartford.edu