Mehmet Dede Honored with Belle K. Ribicoff Junior Faculty Prize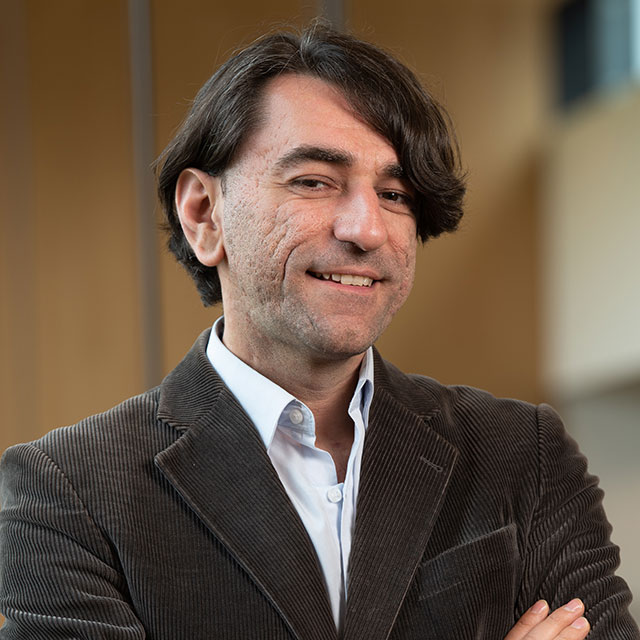 Mehmet Dede, assistant professor of music and performing arts management in The Hartt School, is the 2021 recipient of the Belle K. Ribicoff Junior Faculty Prize.
The award recognizes an outstanding junior faculty member—an assistant professor in a tenure-track position, but not yet tenured—who demonstrates combined excellence in teaching, scholarly or creative activity, and service.

As an internationally recognized, award-winning music curator, festival producer, and tour promoter, Dede encourages and challenges his students to learn by demonstrating that he is a lifelong learner himself. His effectiveness in the classroom is rooted in his years of hands-on experience in this country and the world.

A "cultural connector," Dede has traveled through Europe, Central America, and the Middle East—attending conferences and festivals, late-night jazz sessions in lofts, and social dances in remote villages—to bring a range of contemporary music to the U.S. stage.

Since 2005—the year he co­founded the New York Gypsy Festival—he has produced hundreds of concerts and event series. He has collaborated with such seminal American institutions as the Lincoln Center, Central Park SummerStage, the Town Hall, Symphony Space, the Kennedy Center.
For the last 11 years, Dede has served as director of programming at the lower Manhattan club Drom. With his entrepreneurial and curatorial vision and an eclectic array of Grammy-winners and esteemed performers gracing its stage, The Wall Street Journal has named Drom "New York's premier venue for world music." 

On campus, Dede fully embodies the University's mission to empower every student. He has served that mission through membership on the Innovations in Teaching and Learning Award Committee, Experiential Learning Faculty Learning Community, Teaching Excellence and Innovation Advisory Committee, and Diversity in Curriculum Committee, among many other committees. His University Interdisciplinary Studies course, Cultural Conversations in Music Films and the Performing Arts, was recently approved for the 2021-22 academic year. Through his extensive professional connections, he has helped students network and secure internships and service-learning opportunities.

As Alex Small '20 wrote in support of Dede's nomination for the Belle K. Ribicoff Junior Faculty Prize, "Professor Dede is dedicated to his students' success. With his professional background, he brings an unparalleled perspective to his students. He uses his firsthand experiences as a successful venue manager and curator to expertly educate and advise his students with real-world scenarios beyond the textbook."