Remembering Tom Reich, Hawks' Greatest Supporter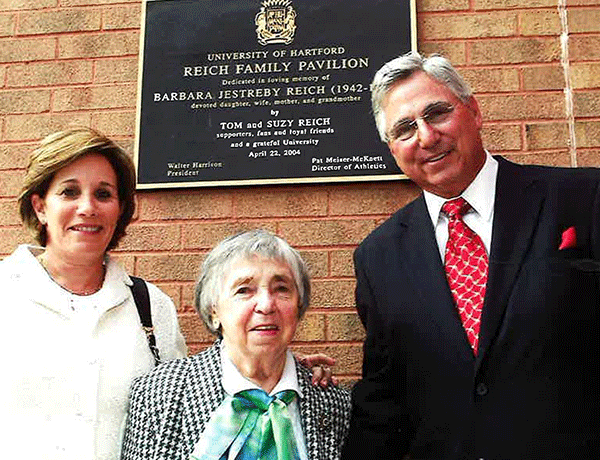 The University of Hartford Department of Athletics is saddened to report the passing of longtime Hawk, Tom Reich, who died Saturday. He was 80.
 
Reich, who is survived by his wife, Suzy, became involved with the University in the early 1980s, when Hartford first began discussing taking its Athletics program to the Division I level – kindling Reich's deep-rooted love for the Hawks, which spanned nearly four decades.
 
"The Department of Athletics and the Hartford community lost a great man today. We are deeply saddened by the passing of Tom Reich and want to extend our sincere condolences to Suzy and the entire Reich family," said Maria Feeley, Vice President, General Counsel, Secretary, and Interim Athletic Director.
"Tom embodied what it means to be a Hartford Hawk. We will be forever grateful for his generosity and passion for the University of Hartford. He will be missed dearly, and his impact on the University and Hawks everywhere will continue to be felt for decades."
Maria Feeley, Vice President, General Counsel, Secretary, and Interim Athletic Director
Reich twice served as a member of the University's Board of Regents, and was a member of both the Hawks Athletic Board and the Athletics Council. He was named an Honorary Alumnus in 1994 and a Lifetime Regent in 2016. A portion of the Sports Center was renamed "The Reich Family Pavilion" in 2004 and, in 2014, Tom and Suzy were jointly inducted into the Hartford Athletics Hall of Fame and received the LoMaglio Award for Service in recognition of their support of the department.
 
"Sir Isaac Newton said, 'If I have seen further than others, it is by standing on the shoulders of giants.' Tom Reich put our entire university's athletic department on his great shoulders. He and his amazing wife Suzy are responsible for many of our athletic successes," said Hartford Head Men's Basketball Coach John Gallagher. "Tom was an impactful contributor to our university, and he touched the lives of hundreds of students and staff in so many ways. I am very grateful to call him a friend, and we are all extremely thankful that he cared so much about the young people who came through our doors. We would not have been able to win championships nor achieve greatness in the classroom without his contributions."
 
Season ticketholders for both Men's and Women's Basketball, the Reichs' commitment to Hartford Athletics was felt throughout the department. The Reich Family Athletics Development Fund, established in memory of Tom's late wife, Barbara, has provided multiple student-athletes with scholarships each year for decades. The Reichs also provided challenge grants and annual support for Athletics, and were instrumental in the success of the annual Hartford Athletics Day of Giving, which grew each year since its inception, in 2017.
 
"I was deeply saddened to hear of Tom's passing," Hartford Head Baseball Coach Justin Blood said. "He and Suzy have greatly impacted my experience at Hartford as I know they have for so many coaches and student-athletes throughout the years. Tom always had something encouraging to say and carried around an aura of positivity. He will forever be remembered here for his generosity and more importantly his genuine approach to caring for people."
 
Tom and Suzy also helped spearhead the fundraising campaign to construct the baseball and softball fields on campus. Their $2 million donation, in 2003, stands as the largest single gift to Athletics in the department's history. They have been the single largest donors to the Department of Athletics annually for close to 30 years.
 
"Today is a somber day for Hartford Athletics," said Senior Associate Athletics Director Brian Mik. "Tom was Hartford's No. 1 fan and supported this department in so many ways. I know it was a joy for him watching his Hartford Men's Basketball team cut down the nets this past March and play in their first NCAA Tournament. Personally, I lost a great friend and role model, and my heart is broken. Rest in peace Tom, you will be forever missed."